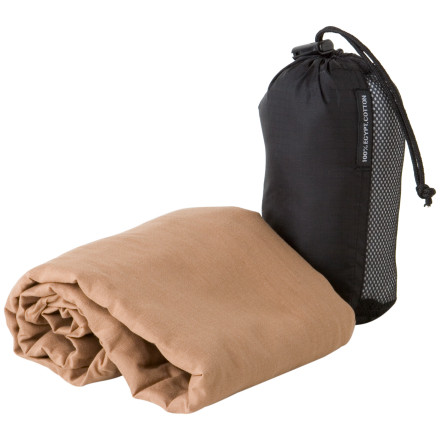 The lightweight and breathable Cocoon Egyptian Cotton Mummy Liner adds comfort to your sleep and lifespan to your sleeping bag. Cocoon made this liner with soft and easy-to-wash Egyptian cotton to help you sleep clean and comfortable wherever your travels take you. The Egyptian Cotton Liner adds warmth to your mummy bag on cold nights, and breathes well to allow moisture to evaporate quickly, cooling you down in hot and humid places. It also greatly extends the life of your sleeping bag by protecting it from harmful dirt and oils. At just over seven ounces, even the thought of it makes your pack seem lighter.
I liked it
Familiarity:

I've used it several times
I thought this was a great bag liner. I got it because my friend and I were taking the ferry from Bellingham, WA to Juneau, AK and we were planning to sleep on the deck and I needed a little extra warmth from my bag. It didn't add a ton of warmth but it was enough for what I was doing. And it's nice not to have the sleeping bag fabric on my skin. There's no zipper or anything but that didn't seem to be a problem for me. I didn't have trouble with it getting tangled. Overall, I think it is a great product for the price.
Not for me
Familiarity:

I returned this product before using it
I have a sleeping bag rated for 15 degrees and wanted to add some extra warmth without too much bulk. This mummy bag is compact and soft but I wanted something a little more substantial. I ended up returning this item and purchased Cocoon's Cool Max Mummy Liner instead.
compact, light and soft
Familiarity:

I've used it several times
I?ve used the liner for a few nights at Sirena Station in Corcovado NP in Costa Rica in some hot and humid weather and as an extra layer inside a sleeping bag up in the mountains.

It was airy and comfortable in the jungle and is pretty much the perfect solution for hot weather, either camping or sleeping in some dodgy hostel. It didn?t retain any moisture and was dry in the morning.

It?s easy to stuff back into the little pouch in the morning when you?re ready to pack out.

For cold weather, it may have added a degree or too in warmth but the main benefit is that it?s easily washable, unlike your sleeping bag?


Soft, warm, and comfortable
Familiarity:

I've put it through the wringer
I have a 30 degree bag from Marmot (Women's Sorcerer) which I love. What I don't love, that sticky-ish feeling of sleeping against nylon and rayon and other man-made fabrics. I read almost every review for almost every bag liner out there and ultimately just had to pick one. I'm glad this is the one I chose.

When it arrived, I was pleased at the feel, it's very soft and as my immediate reaction was to jump inside, I also was pleased by an immediate feeling of warmth. It will certainly make my bag more comfortable and keep me warmer when it's cold out without me having to bring along a heavier bag.

My only two issues are minor. I tend to start the night very cold and like to get cozy and snuggle into my blankets but always get too warm midway through the night. I'll still be able to unzip my bag but my preferred cool-down is to stick my leg out and with this I won't be able to do that. It is also incredibly long (I'm 5'5" and it goes way over my head). The length isn't necessarily a bad thing, in my opinion, but it may be annoying for some people.
I'll never get inside without it...!
So Good! you just feels so good inside it
I go down to New Orleans every year to help rebuild the city. It is hot and muggy in the summer months and we need to pack light. This liner serves me well. About the size of two fists put together and super light, it is the perfect item to have when sleeping in the back of a converted warehouse
Is this mummy shaped? Or rectangle?
Is this mummy shaped? Or rectangle?
Best Answer
Product Name: Cocoon Egyptian Cotton *Mummy* Liner
The Cocoon Egyptian Cotton Mummy Liner is perfect for warm Florida weather. This and a military poncho liner and you're good to ~50-55 degrees (hey, that's cold to us). Highly recommend.