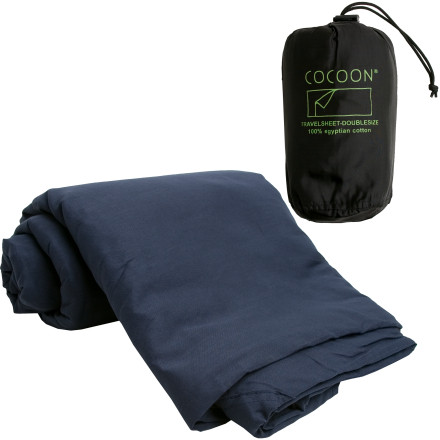 Detail Images
The super fine feel of the Cocoon Egyptian Double Cotton Travelsheet wraps you up in amazing comfort, plus plenty of room for a sleeping partner to keep you warm through the night. Use this Cocoon Double Travelsheet while you and your significant other travel for lightweight packability and amazing comfort. The Egyptian Cotton Double Travelsheet's extra pillow compartment holds you pillow in place, and keeps it from falling onto potentially dirty and unfamiliar floors. The superfine Egyptian cotton fabric might make you give up your bed back at home altogether.
What do you think about this product?
Have questions about this product?
Is there an opening on both sides of this...
Is there an opening on both sides of this double bad liner? Or is one side sewn up, and the other open? I ask because my big agnes sleeping bag has an opening on both sides for each person, and a one sided liner would defeat this functionality.
Best Answer
Okay, so creating double zippers is going to require that two TravelSheet couplers be used together.



Here's a picture and a link:



http://www.cocoon.at/eng/show.php?doc=frameset&page=cocoon_ckat2&kat=8&prod=40&fab=0


I'm afraid that's a picture of the travel sheet coupler, not the double.



Here is the picture of the double travel sheet, and it appears to be sewn on the right side, but I can't tell definitively from the picture.



But I do appreciate the input, you may be right after all.
Hey Eric,



Sorry for the misinformation...it happens sometimes. A quick call to Cocoon and I have the answer- this has no zipper at all. What it does have is a Velcro closure that is on one side and only goes down about 1/3 the length, as it shows in your photo. The picture I posted is the pair of couplers zipped together, and it appears like the only option for getting what you're looking for.