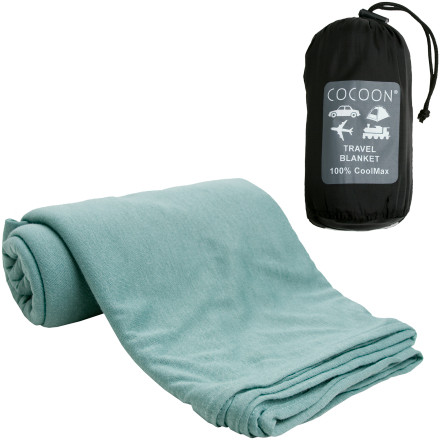 Detail Images
Keep a soft, comfortable, and clean blanket with you at all times when you pack the Cocoon CoolMax Travel Blanket on the plane, in your hotel room, and at the beach. This 70 x 56-inch blanket keeps you from resorting to that sketchy airline blanket when you need a few hours of rest during your trans-Atlantic flight.
nice for travel. Great as a gift. I love that it packs up so nice and small so perfect for travel especially for hiking and air travel. Absolutely suggest it after the horror stories i heard from airline travel.
This is a very lightweight, soft, and cozy blanket. It really helps make a trip more comfortable. The blanket is light, very light however-so you still need to wear a sweater or other warm clothing underneath. My niece found this, and now adores it too. Seems to be a great baby blanket. Has held up well after numerous washings, and has not piled.
This is the perfect airline blanket! It's like a very thin jersey sheet, very soft and ideal for travel. Packs into a small bag a little bigger than a soup can, great for tossing into your handbag, tote or backpack. This isn't designed to keep you warm in an arctic storm, but excellent for keeping the chill off in the car, plane, hotel room, etc. Highly recommended.
Originally bought this thinking that it could work as a substitute for a sleeping bag for summer camping but I believe that it is too light for that. If you were camping in the summer on a tropical island or in the desert it might work. That said, it is still the most comfortable lightweight couch or recliner blankie (for shorties like me). So, I suspect that it will actually work well as a car or air travel blanket. Packs down small in its own stuff sack.
Yes, the blanket is thin and folds up to be very small. It is soft and feels a bit like the cotton jersey sheets that you put on your bed. Great for traveling or stuffing into your purse just in case you encounter temperatures that are a bit chilly. It is not meant to keep your warm like a down comforter. It is huge and easy to wrap around your shoulders or put over your entire body just to 'knock the chill' a bit. I am going to monogram my name on mine just to add a nice personal touch.

When it is folded and put into the pouch that comes with it, it is the size of a Tote umbrella. I would highly recommend it for traveling or to keep in the car. Great product! I plan to order some for my friends and family who travel or sometimes find themselves in places where they might get chilly. What a great product!
Not pleased with it at all!
My husband, daughter and I went on a RV trip this past Spring break so I bought a couple of these blankets. They don't feel like any blanket at all; it's feels like putting a huge tissue paper on you!!! What a waste of money!

I do not recommend this product at all.
Unanswered Question
do you sale Cocoon travel blankets with...
do you sale Cocoon travel blankets with side opening with Velcro closure?
My blanket is great! I can stuff it on my carry on and take it on the plane or wherever I go. It's tiny and is about the size and weight of a can of mtn dew. It's nice to cuddle up in, and it's big enough you can share it with a friend. Or even make a cute new friend on the plane and share it with them. It's also nice to relax and wrap up in it after a long day of boardercross or slalom racing!