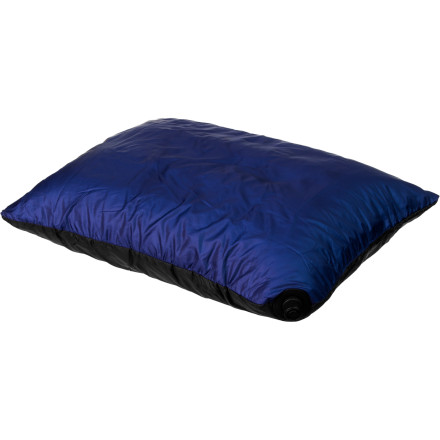 If you're counting ounces when you're packing, you may think it makes sense to stuff a pillowcase with clothing during nights on the road or trail. But why would you do that when you could bring along the Cocoon Air-Core Travel Pillow Hyperlight? It weighs less than two and a half ounces and will deliver a much better night's sleep than that lumpy, potentially smelly pillow. Imagine how you'll feel waking up after a night on a combination of air and premium synthetic fill; then visualize the alternative. All right, then.
An inflatable air core is covered by a layer of premium synthetic fill for unbeatable comfort combined with maximum compressibility
Nylon covering ensures durability
Twist valve lets you easily adjust the level of support
Weighs a mere 2.4 ounces and packs down into an included stuff sack for easy portability
Horrible.
Familiarity:

I've used it once or twice and have initial impressions
Save money, buy a beach ball. Use that to rest your head instead. Used once, went without after that.
A great camping pillow that compresses into a mug. It has a little bit of fill in addition to the air bladder so it is a little more comfortable than the thermarest neo air which tends to be loud/crinkly and less comfortable on cold nights.
You do kinda feel like a bobblehead.
Familiarity:

I've used it several times
This pillow is comfy and easy to inflate. It saves a TON of space in your backpack. If you move around a lot, your head does tend to bounce making you feel like a bobble head, but it is no big deal.
Best choice for a lightweight pillow
Familiarity:

I've put it through the wringer
I've used air-pillows from Big Agnes and Exped, and synthetic pillows from Thermarest and REI. Those pillows have all hit the trash can (OK not literally) and I ONLY carry the Cocoon air core pillow - actually I use two of them, one for my head and one for my knee when I sleep on my side. I do agree with other reviews that the pillow can slip around on the sleeping pad - I solve that problem by putting the pillow in the hood of my sleeping bag. There are FOUR things I really like about this pillow:

1. Low weight (although both of mine are 3.8 oz - maybe earlier version?)

2. Small size - no matter HOW overloaded your pack is, will fit in some nook or cranny;

3. Microfiber cover on one side is soft like a real pillow

4. You can vary the firmness by how much air you put in it -- hard as a rock? Just let out some air.

I've used these pillows a number of times now and just can't imagine replacing them in my pack (unless/until somebody invents a full-size pillow that also is weightless).
Must have for any adventure
Familiarity:

I've put it through the wringer
Smallest, most compact, comfortable, easy to inflate pillow EVER! If you are hesitating to bring a pillow that would increase the luxury of your adventure do not hesitate any more, this travel pillow compacts down so small that really no space is lost when packing it. It's easy to inflate and very worth it to have with you after a long day of hiking. I recommend bringing a pillow case for this pillow if you are sleeping on a synthetic sleeping bag... with out it your pillow will slide right out from under your head - learned this from experience - so if you have the extra room for not only this pillow throw in a pillow case too so you're not up all night chasing the pillow around your tent.
Well worth the weight!!
Familiarity:

I've used it several times
Gettin' older and numerous neck & back injuries over the years have been catching up with me. Using spare clothes jammed into a stuff sack just ain't cutting it for me anymore, so I decided to pick one of these up. I've used this pillow on 4 or 5 backpacking & car camping trips so far & I'm really pleased with it. It's just about the right size, it's really light and it pack down about the size of a Yoplait yogurt container. I'm a tall, lanky side sleeper and have found the inflation sweet spot at about 75% inflated - gives me the elevation & support I need, but it has enough give to be really comfy. The only thing I would change is to make the pillowcase removable for easier washing (you can easily make your own to go over the pillow). The soft nylon cover is pretty comfy, but it does get discolored with body oils pretty quickly. It's right at 3 oz & it's well worth the weight for me - if I know I'll be sleeping outdoors, it's always in my pack. Highly recommended!