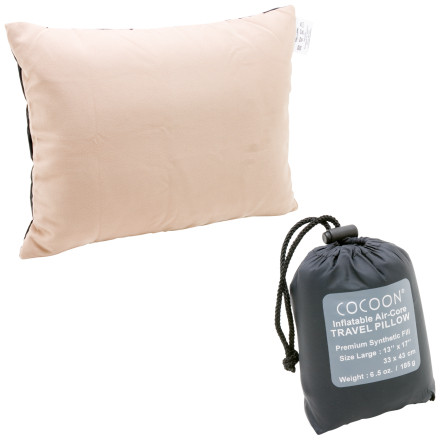 The Cocoon Air-Core Travel Pillow compresses to a tiny 3 x 4 inches to easily fit in your airline carry-on bag for travel or in your backpack on a hiking trip. Internal air cores help you inflate this Cocoon pillow to 13 x 17 inches, and synthetic insulation provides plenty of warmth. The Air-Core Travel Pillow's bottom was made with tough nylon for durability, and the top has a soft microfiber cover for comfort.
Great pillow for backpacking.
Familiarity:

I've used it several times
I have had this for 2 years and like it. I do wish it was fleece on both sides though as it will slide off a sleeping pad. On our trip last weekend my wife put hers in her sleeping bag hood and that worked well she said. Mine is not holding air all night after 2 years of use but I like it so I am getting another one. I think this time I am going to stick a moleskin pad over the nylon side.
Lightweight and compact
Gender:

Male

Familiarity:

I've used it several times
Got this for my Dad. He says, "Took this on a 70 mile Uinta Hike, lightweight and worked perfectly!"
It Slides away from your head
I tried out this pillow the other weekend and was really exited about it at first. It packs down super small and is light weight. It has microfiber on one side and feels great on your head, but the other side is nylon and slips off of anything you have it on. I spent the night using my arm as a pillow and didn't sleep very well.



My dad used it with his hammock and said he loved it so maybe it's only good with a hammock?
Camping just got more comfortable
I've always used a rolled up jacket and clothes as a pillow, but carrying the extra 6.5oz is definitely going to be worth it. It packs down really small and is really comfortable. I love it.
Great pillow, could be a litle bigger, though it would not be so compact. (less than half the size of a Nalgene bottle). I like to inflate it and place it under my head, than slowly let some air out to get the right softness. If you wrap it in a fleece jacket it is even better. I will never pack another "stuffed" pillow.
The pillow i've always wanted.
I hate those pillows that are just fill. Not hard enough, tend to loose shape, sag and make you wonder why you brought it in the first place...

I like my pillows hard, so inflating this thing all the way is to my benefit. Just the right amount of fluff. Depending on how cold it is as to which side I use, Microfiber when cold and Nylon side when warmer. It stays inflated and packs down into a small ball for space saving.
Well, the "air-core" name had me thinking this little baby had some internal structure to it. Maybe it does. But, unless it's inflated pretty solid (in which case it's like sleeping on an egg balloon), the air just moves around inside the pillow, so your head ends up on the hard ground because the air migrates to the other end. It does have a nice soft microfiber cover on the top side, and it sure packs up small--think small soda can size. But I'm sending it back.