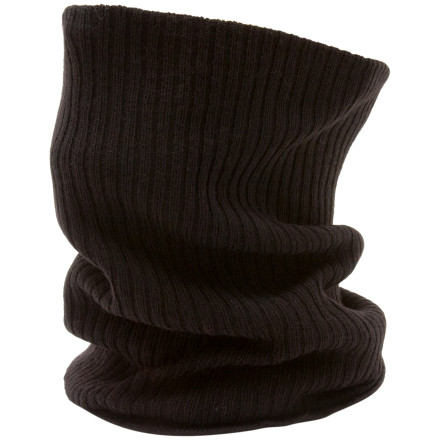 Detail Images
Enjoy a toasty day at the park wrapped up in the vibrantly colored Nichols Neck Warmer. Finely knitted acrylic fabric has a slight stretch that's easy for loosely knotting around your neck and feels as soft as a cloud while you float through your day.
I hate to say it because coal is a great headwear brand, but idk what they were thinking... I mean I like the warmth, the fit, and the color, but why is the bottom separated? why not just connect it? Ok this was a little harsher than I wanted it to be. I really do like this gaiter and I would probably buy it again, it just seems silly not to sew the layers together at the bottom!
Great for Vancouver weather
This neckwarmer works well if you transit a lot like me.

A thick, warm scarf is hard to stash away once you're indoors (mall, school).

Besides that, I prefer neckwarmers as I can leave it on indoors - the cool air has room to flow in and I don't heat up.

For cold snaps this neckwarmer *isn't* thick enough, but for Vancouver Autumn, Spring & sometimes Winter it works like a charm.

1) Stylish, 2) comfortable (breaks in after 2 wears), 3) retains its shape without being rigid..
I like this waaay better then my 2 icebreaker neckwarmers!
My nephew found this in a ski resort gift shop. It's the perfect neck warmer for me because it's big and soft enough to sit on my neck without constricting, easy to flip up and down when needed, provides just enough protection to take the bite off but not so much that I sweat underneath. If you're someone who's always cold, wears many layers and just can't seem to stay warm this is NOT the warmer for you. If you're someone who is generally comfortable in most conditions then this may be the perfect accessory.
This is super cozy and warm. Although, I wish the bottom two layers were sown together so it doesn't slide into a single-layer tube. The gray is stylish.
I Was Kicked Out of My Dojo
When the mountain is pissed off, high winds and ice crystals lay siege to my face. So I like to go ninja and wear a mask to assassinate frost bite. But this neck gaiter makes me look like my mom signed me up for karate so kids would stop stealing my lunch money. The doubled up fabric bunches up way too easy and makes it impossible to keep a tight fit around my mug. I found myself having to readjust between every run. Bottom line, this gaiter takes the stealth out of stealth pow assassin.
I bought this item and I'm telling u that its very good.i like it
I used skiing in Vail on a 5 deg (F) day. A storm even moved in that day in which there were white out conditions. Kept me warm and dry. It's also very comfortable and not itchy. I don't like the loose fit. I prefer a tighter fitting gaiter but I'm very happy with this one on cold, windy days. I'll use it all winter.
beats a scarf any day of the week and kept me warm this weekend at 8F!
warm...2layer..m This neckwarmer is super comfortable keeps the wind out without being bulky. Great for work or riding!
Bought one for wife as an alternative to the scarves she wears in the winter. She wore it for the first time last week and raved over it. Comforable, not itchy, stylish and can fit into a coat pocket when not needed (try that with a scarf). My daughters have the Smartwool Neck Gaiter and love it too for the same reasons. Both good buys.