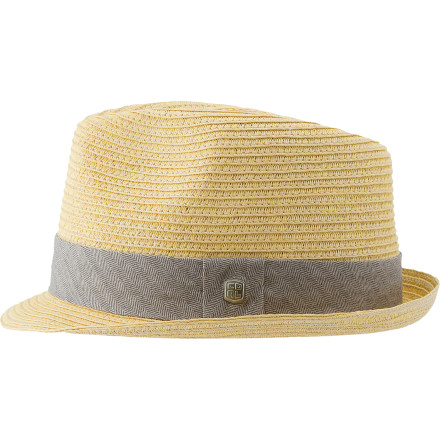 On stifling hot summer days, the Coal Considered Layne Fedora brings old school style to your beach sessions. Woven paper keeps your noggin' from overheating while you crack a few cold ones and dig your toes in the sand, and the reinvented fedora cut dials in a super-chic look, or at least that's what they tell us in France.
this is the only fedora iv ever owned and i bought it only for my senior prom but i find myself wearing it more because of how nice it looks and feels
Nice hat that keeps the sun out! and great color
Got this hat for my boyfriend. He's got a huge head so I ordered a large, fits him perfectly. He rolls the brim up all the way around so it looks more like a pork pie. Got it in black herringbone. Good construction. Rad hat.
what is the difference in measurements...
what is the difference in measurements between large and medium? Cheers
medium, up to 57cm circumference, large 28cm +.
This hat is styling, it looks good on both me and my wife! very good looking and good durable material, easy to clean also.
I have to tell you that after I got this fedora that I immediately started to wear it, and it felt like it was made for my skull. My girlfriend despises it but to her regret any time that I feel that a hat is in order this is the first and only choice. It has now been with me on both a Dallas trip and a Key West one, and no matter the environment (and this is why my girl HATES this hat) I keep getting great comments on it, and mainly from women. Coal, you guys are going to have my business for some time if you keep up with the awesome headgear.
"reinvented fedora cut dials in a super-chic look meant just for the ladies."

learn to read. kthxbye.
Best Answer
Dude, It's a unisex hat. If you look at the heading, its found under home>MEN's clothing>hats>Fedoras... The word is "chic" (stylish) not chick (ladies). It's meant just for the ladies to check you out.
Hey BW - this is a unisex hat ... made for dudes or chicks.
this site does a pretty good job by putting "-womens" after each item if it is womens