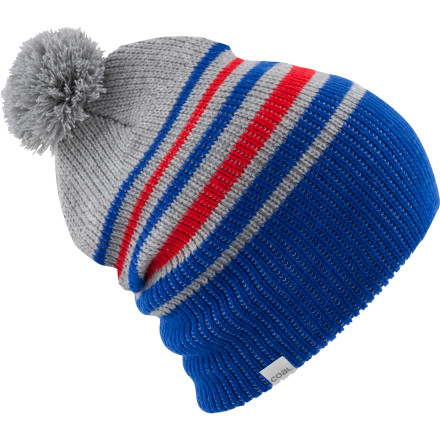 Like your favorite exotic dancer, the Coal Revert Beanie feels cashmere-smooth against your skin and loses its top (pom-pom) at a moment's notice. Vibrantly colored on the outside and finished with solid colors and contrast stitching on the inside, this thick winter beanie might just be better than the local topless coffee shop.
Removable pom! WHAAAAAAAT?!
Good beanie, cool look. My favorite part is that this beanie is completely reversible. You can switch it around completely as the pom is totally removable. Just a quick untie and it's off. You can wear the beanie without the pom, as well, but who would want to? Nice and cozy fit and a good look with this one!
cool colors and they don't fade away.. i put it in the wash and air dried but it shrunk.. o.O
amazing hat you should get it if your reading this
the hat is so comfortable and it is great for just chillin or if you want to wear it skiing or snowboarding and if you want to wear a helmet you can on the inside untie the pom pom because it has a shoelace material knot and when your done just tie it back on. you can wear the hat folded over on the edges or without. overall this hat is amazing like i said if your reading this you should buy it.
I was worried that the colors might not be as pretty as on the pics, but they are! I ordered the fuchsia and it rocks, it's warm, comfortable, long enough and it makes you stand out from the crowd...guitar pick as a perk.
This hat is sick. The colors are super bright, and it's a very thick weave while still being super comfortable. It's pom pom is removable, simply by untying it from the top. However, once it is untied two small grommeted holes remain in the top of the hat. I didn't notice much heat lost through theses holes.