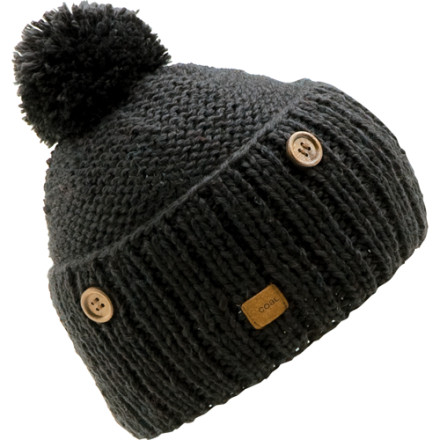 What do you think about this product?
Have questions about this product?
I wanted this hat for over an year and when I saw it I had to buy it. It came in and it looks really CUTE! BUT!!!! I found loose yarn at three different places..which sucks BIG time because my mom had to add yarn to it so it won't come apart.
So if you didn't know, this is not just a beanie. It's also a headband, balaclava, and neck scarf. The headband buttons at four points around the beanie. together, this is a very warm wool beanie that keeps your ears toasty. You can take off the headband if it's too warm and it still looks stylish. the balaclava is more comfortable to wear than i though it would be. the wool is so soft and it doesn't itch in the least. My friends are jealous and ask to borrow my nels beanie all the time. I love it so much I bought two!
Is it 100% cotton? or is it another fabric?...
Is it 100% cotton? or is it another fabric? I am looking for a hat that is like this but only cotton or cotton polyester as I have an allergy to most other fabrics like wool or acrylic or cashmere...
Sorry, it's made with wool. The North Face Elevation Pom Pom Beanie is all cotton though.