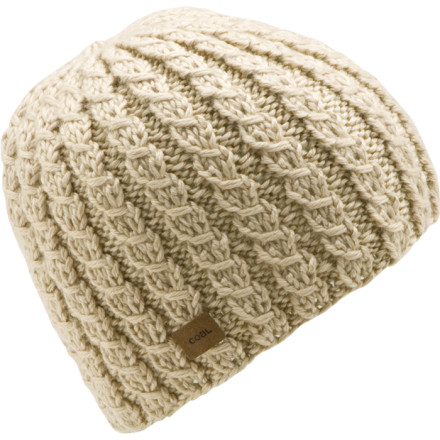 The snug-fitting Coal Mini Beanie gives you wicked warmth and style. Coal knit the silky acrylic fabric into mini cables that hug your head so your beanie won't fly off when you're cruising downhill.
Good fit, good look, very warm. It's my go to for all occasions!
I am an adult woman, medium size all around, except my head. It is slightly smaller then medium and a little larger then small. However, this beanie fits so great! I can flip the brim up or leave it down and it looks awesome. It feels great! Most of all, I get compliments left and right. You may think it may not fit a regular medium head. Well, you're wrong. What you may want to know as well, you can through it into the wash-machine :)
This beanie is pretty good. I have thick hair and have a hard time finding a hat that will fit. This one works great, covers my ears and keeps me really warm. The only drawback is that after a couple hours, it stretches and falls off easily when playing outside.
This is my third Coal Beanie in a row. I bought this one for my wife. She hasn't stopped wearing it. These Beanies are always stylish, warm, and comfortable. My.other two also speak to their durability.
Haven't put it to use yet, but I love it.
It's really warm and definitely is adorable. Fits well, a little bit bigger than I hoped but I generally have a smaller head. The only thing I was slightly disappointed about was its texture. It's not necessarily itchy but after about an hour of wearing it I wanted to take it off. I have a nice hat liner that I wear as extra warmth under some hats so I've just been wearing that. Overall, I really do love it though!
Great buy! Cheap and cute :)
WHat does th einside look like? Why don't...
WHat does th einside look like? Why don't you show any pictures inside? That is what keeps you warm...right?
is this beanie a for a male or for a female....
is this beanie a for a male or for a female. Im trying to get a gift for a specail someone, and i would really like a imput on this beanie as a gift. or if you can suggest something else to i would apprecaite it.
Thank you
Best Answer
It is unisex. It works for either. However just so you know it is a smaller, more snug fitting beanie.
Looked real nice online but its kinda of a weird beanie. The rim of it is woven in a way where it doesn't stretch while the rest of it will flow and conform to your head. I guess I have a small head because some of the fabric just kinda sags behind my neck like a girl's beanie.
, ☃bcs_badge_alumni_label☃
Great hat, tight fit...
I really like this hat...but be forewarned, it fits like a "skully"...not like a "tall boy." If you are looking for a bigger steezed out fit, look at the Coal Frena. If you want a tight-fitting head-hugger, this is your hat.