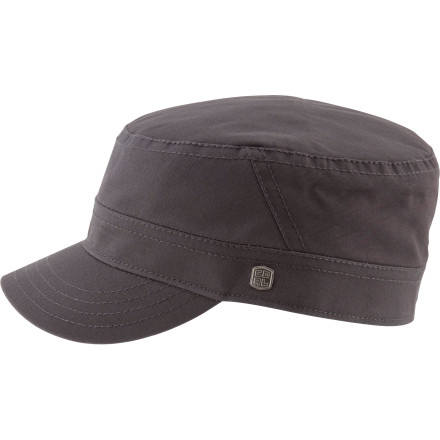 Pop on the Coal Considered Randle Hat, and pull down the pre-curved brim for some privacy. Coal made this military-style cap out of organic cotton, which makes it the greenest cap this side of enemy lines.
Decent Hat, Sizing Off
Gender:

Male

Familiarity:

I've used it several times

Fit:

Runs large
While I still like the look of this hat, I don't wind up wearing it that often because the sizing is huge. I wear 7 1/2 or 7 5/8 baseball caps (or size XL in helmets), and the "Large" still has a couple of fingers worth of room in it. Also, because it's mostly made of wool, this isn't a hat you are going to be washing- so don't plan on sweating in it.
Stylin' cap, even for an old guy
In my youth, caps just didn't come one-size-fits-all. I wasn't a hat-wearin' kinda guy either, but I started liking them when I was in the Army in the late 60s. Somehow, we found ways to make our military caps just a little unique. I guess we had a bit more latitude being in a war zone.

When I left the military, I decided to let my hair down - literally - so hats were out, headbands were in. But as I got older, I began to appreciate a good cap. It helped for safety reasons at work and was a style statement when not working. But good caps were hard to come by, especially those that had a nostalgic military look.

Now, many years later, I discover Dogfunk and a huge selection of great caps and hats. One of the first ones I bought was this Coal Considered Randle Hat. I'd heard that this cap runs large. Maybe that's because so many people think tucking your ears inside the cap is the cool thing to do. Not to me, it isn't, but you do what you wanna do. So, I ordered a medium instead of large. The fit is nice.

I like a well structured hat and Coal caps seem to be very well made this way. It's a substantial cotton with stitching that not only adds to the style, but also to the great construction of this cap. It has a cotton liner and a cushioned hat band that is comfortable and secure, whether I wear it brim down or tilted back.

What I don't like, and this is prevalent in so many brands of apparel and accessories, is giving free advertising space to the manufacturer. The first thing I did when it came in the mail, is yanked that metal brand off the side of the cap. It left 2 small holes where the pins went through the fabric and connected to the metal backing plate, but those holes look better than the billboard medallion to me. Maybe that's just me though. You might further consider that it was appropriate for me to remove that symbol, since I'm prob'ly not even close to the average age of the buyers of this product. It might have appeared that I was longing for my youthful skateboarding days - yes, I had the first skateboard in my community back in the mid-sixties. And no, I do not want to relive those days.

I'm glad I found Dogfunk and the great selection of hats. I've purchased 3 fine chapeaus here now and don't plan to stop.
I really like the military considered hats. The wool is nice and it's great during the winter and cooler months. I usually don't wear it during summer. I have the grey and the black. My only complaint is when I cut off my longer hair these hats are now a bit looser. I got a Large, and i usually wear 7 1/2 comfortably on fitted caps.
I wish I'd followed the advice of the other review -- it really does run large. It's so nice, though, I'm returning it for the small size. Very classy hat.
This hat is huge. I thought I had a big head and I even ordered a Medium when I usually wear Large. Too bad they don't have small. Otherwise, this hat looks great with fantastic quality.
This hat was so cute! Too bad my head wasnt bigger! :(