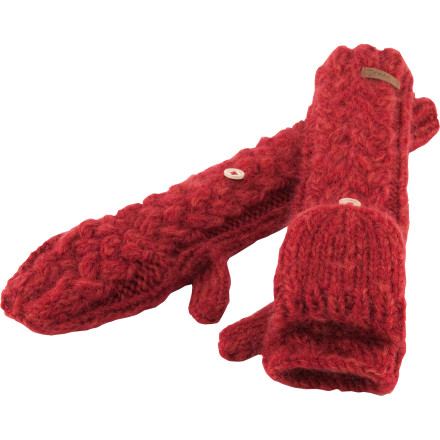 Community Images
Disturb the status quo when you venture out onto the chilly winter street wearing only your favorite tee and the thick, cable-knit Coal Women's Addie Arm Warmers. We're advocates for pants and shoes too, but once you experience the insanely smooth feel and toasty warmth of The Addie, you might decide these convertible arm warmers are all you'll ever need to brave the cold.
These are really warm and soft, but they stretched out pretty easy, and I have skinny arms. So, now they slide down on my arms when I wear them. Very soft, comfortable and warm though. Kinda wish they had the half length finger holes that each finger would go into rather than when you remove the mitt top all fingers are open together.
Mitten flaps barely overlap palms so not comfortable or warm when wearing as mittens. Smaller hands may fit alright. Cool colors and material was nice.
, ☃bcs_badge_alumni_label☃
Coal Mittens
If you ladies want some stylish/warm mittens these are a great choice. Its worth a few extra bucks to get a quality pair like this that will last you. These days with all the touch screen phones the removable finger warmers are great.