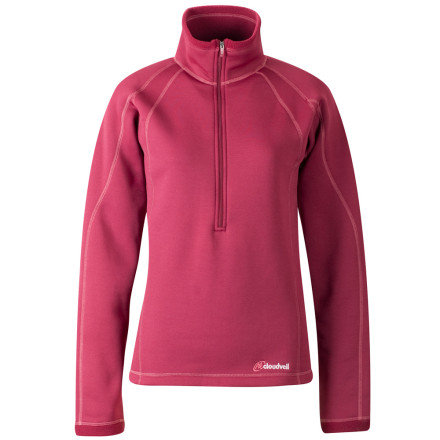 What do you think about this product?
Have questions about this product?
Big Midriff - Tiny Armpits
I have some of the Run Don't Walk shirts from several years ago. Purchased the current version, expecting the same fit & quality. Was very disappointed to find the fit changed considerably. The midriff, sleeve width, and neck are now larger, while the armpits (arm holes) are considerably smaller (like 2 inches smaller). So now the shirt is baggy except for the tight binding armpit which is very uncomfortable, even skin chafing.

The fabric is nice and thick, thicker than the earlier version. I gave it 2 stars for the nice fabric, quality construction.

But I returned the purchase. I'm just too active to have the armpits binding like that, while the rest of the shirt is too loose. Because of the weird (fashion pursuing?) new cut(making the midriff/neck/sleeve width larger and the armpits smaller), one cannot size down or up to correct the fit. Sadly, it seems like Cloudveil has decided to sacrifice technical/active comfort for "the look".
I work as a ski instructor so I have to look nice AND stay warm... this is it! I really like how it's a half zip ... easy to cool off quickly. And I like the feel of it... it's thick but soft, pliable and super warm... and NOT a fleece! I'd like to see it in more colors as I'd pick up another one. It's my favorite, for sure!
Received one for Christmas, love it. Get many compliments & have bought it for others.