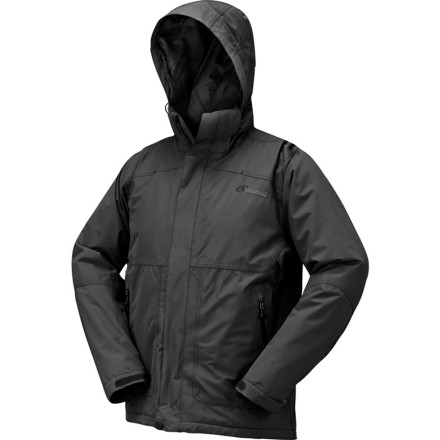 Detail Images

Community Images
Spend your days skiing and your nights partying; Cloudveil made its Hoback Jacket with a Gore-Tex shell and PrimaLoft insulation to keep you warm and dry as you traverse the mountain highs and valley lows.
Spend your days skiing and your nights partying; Cloudveil made its Hoback Jacket with a Gore-Tex shell and PrimaLoft insulation to keep you warm and dry as you traverse the mountain highs and valley lows.
Gore-Tex waterproof breathable fabric is guaranteed to keep you warm and dry—2L construction laminates the Gore-Tex membrane to the jacket fabric for a more comfortable and pliable feel than 3L systems
Fully taped seams block out water and melting snow from sneaking into the jacket's insulation through the fabric joints
Underarm zip vents allow you to dump excess heat when you're booting up to the ridgeline or skiing on warm, spring days
Internal powder skirt helps keep snow from getting in under your jacket
Storm hood protects your head from winter weather and is removable for increased convenience
Recco avalanche rescue system may aid ski patrol in the event of a slide
Got it cheap, picture doesn't represent the black color at all; theres a pattern on the jacket. Quality was great but I returned it because the back to a button fell off and I wasn't really excited about thr pattern on the coat. Other than the button the jacket seemed great
Really good jacket, not too heavy, always dry even when falling into snow several times. Just large enough to fit my helmet under the hood. Great great product.
Went to Whistler for the week and it got cold but the Coat kept me so warm even at the Top
Great jacket, high performance for fraction of price of similar garments. I'm 6'3 180lbs and consider the large to fit well. Pit zips are dumb, I'd rather take off the jacket than try to get those things un-zipped, expect to have your partner do it for you, you can't reach em. I wish the powder skirt had/had more buttons.. there's buttons for something, on a little peice of strapping, but i think it's just to hold the drawstring excess out of the way.. i had to install buttons, which is actually incredibly easy, into the skirt and NOW it's snowproof. otherwise the jacket is super warm, has plenty of room inside for layers or to put those iced up skins into for the run down. lightweight for the warmth. hood is a little weird but all the drawstrings and adjustments allow you to make it do what you want. The velcro wrist straps work sweet, don't pack up with snow. I'll probably stick with cloudveil stuff for as long as they make top notch gear for way cheaper than the other guys.
I am a outdoor enthusiast and I live in eastern North Dakota were it is always cold and windy. The Hoback jacket is worth every penny. It is extremely warm with no bulkiness to it at all. I recently went on a ski trip where the first day was 25 degrees, sunny and no wind. The pit zips worked great to keep me cool. The second day was 5 degrees with 20 mph wind and with just a sweatshirt on as a base layer the Hoback kept me warm. Riding the lifts I got a little chilled but if I would have had a better base on I would have been fine. The hood is my only complaint with this jacket because it is a little tight with a helmet under it. I am 6'2" and 190lbs and I have a large that fits me perfectly no matter what I have on under it.
Great jacket plagued by sizing issues
%he Hoback is a great jacket, with well-thought out functionality and design ideas, at a price point that's hard to match.

Yet, this jacket is wrought with sizing issues, fitting differently than even many products in Cloudveil's own catalog.

This jacket is not made for tall, lean people.I am 6'2" 175. Typically wear Mediums in most companies, including Cloudveil. The Medium in this jacket had the perfect sleeve length, yet was about 2-3 inches too short. The large of this jacket was long enough, yet incredibly bulky in the mid-section. Even the medium was suprisingly bulky in the mid-section--well beyond the notion of providing space for layers.

My friend, who is 5'10 195lbs, fits perfectly into the large. If Cloudveil is listening, I hope they resize these jackets so they have a comparable fit to the rest of their catalog. All Cloudveil products--from the Run Don't Walk Fleece, Vests, Hoody's and Shirts have fit me great in a medium.

If you fit in this jacket, buy it.
Jacket is very warm- i generally like shells but wanted a 2nd ski jacket with insulation and this jacket provides that warmth. Vents have mesh and insulation is heavier than expected so Touring hard is not ideal. Short hikes/skins is ok and ski area's are where this jacket excels. I reduced a layer at the ski area which is more comfortable for me. Its a good jacket just don't plan on touring in it.
LOVE it, but helmet compatible? No way
super warm and toasty. comfortable. tons o' pockets. only way this thing is helmet compatible is if you are a munchkin with a child's helmet on. but otherwise, me love jacket!
The fact that this jacket is made with the same materials as some other jackets that are twice the cost is what lured me into buying the Hobeck Jacket. After wearing it on a week long heli ski trip in Canada I found out a lot about this jacket.
PROS
The synthetic fill keeps you VERY warm without wearing too many other layers.
Held up well and kept my dry in hip deep powder.
Great materials for a fraction of the cost.
CONS
Pit zips SUCK! They are practically on your back, so opening up or closing the armpit ventalation is a HUGE undertaking.
Chest pocket is in a very strange location. Not convenient for quick access.

I'm going to keep this jacket on hand for REALLY cold days resort skiing. The pit zips are a huge bummer on this jacket for me though. With all the insulation it offers, I want to let some heat out quickly and easily while moving, then close them up just as fast for the ride back to the top.
Does the jacket feel puffy with the...
Does the jacket feel puffy with the insulation? I am afraid it may be bulky.
Mike, it actually is not that puffy. It swells a little because of the insulation but nothing serious. I think it would be worth a look.
I'm 6 ft 180 and went with the large and am happy for it. The large fits my frame perfect. Really warm jacket with a lot of useful features. Attractive, yet subtle design features. I found the hood shape to be very awkward. Besides the hood, the jacket is everything that I want.
I was looking for an all purpose jacket I could wear everyday and I found it in the Hoback.
It is built very nicely and keeps me warm in pretty much any weather here in Michigan. I love having the hood. Seems to cut down on the wind and repels water. The sleeves are a tad tight and allow a bit of cold in due to the thin layer of primaloft in the sleeves. I really like the fit and the look of this jacket. I got the plain black in large and it seems true to size to me and I am 5'11" around 200 pounds.
I'm 5'9" 155lb. Medium is a perfect fit for me. Wore this riding in 0 degree weather with two long-sleeve base layers. I was perfectly warm even on the chair lift rides back to the top. When I heated up, the underarm vents quickly cooled me down. Hood fits over a helmet, but you have to unzip the coat a litte to get the hood on. The waterproof zippers on the handwarmer pockets are a little stiff, but I have had the same experience with other waterproof zippers. The black and twilight have a tonal pattern - it makes the jacket stand out a little, but it is not loud or anything.
Is the fit true to size? I puchased a...
Is the fit true to size? I puchased a cloudveil large jacket two years ago and found it ran small
Best Answer
Seems true to size to me.. I was worried that the Large might not be big enough but I think it fits great. If you were planning on wearing layers underneath than you may want to size up one size but the arms will probably be long then.
Is the Ember color accurate to the Dark...
Is the Ember color accurate to the Dark Red/Burnt Red color in the photo on Backcountry or is the color of the Ember jacket more of an orange color like the photo on the Cloudveil website?
I think it's closer to Orange. I returned it, went with Plain Black
I think it's closer to Orange. I returned it, went with Plain Black
Will the hood fit over a helmet?
Will the hood fit over a helmet?
I just bought this jacket and yes, the hood fits over a helmet (mine is a full coverage POC). It's poorly designed (way too deep and funky), especially compared to a Patagonia hood, but it fits. Only 6 days of skiing in it so far, but I like the jacket despite the hood.
, ☃bcs_badge_alumni_label☃
Black
, ☃bcs_badge_alumni_label☃
Plain Black