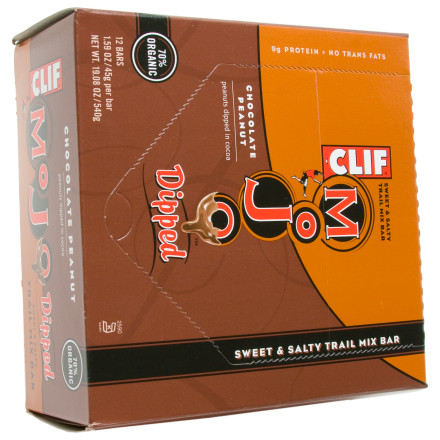 Detail Images
What could be better than a Clif Bar Mojo Bar? A Mojo Bar dipped in chocolate or peanut butter, of course. Even better still? A 12-pack of them. Clif Bar made the Mojo Dipped Bar with 70% organic ingredients and used fruits, nuts, and pretzels to give you both sweet and savory flavor, chewy and crunchy texture. Yum.
I'm a sucker for sweet and salty combos and these replaced my typical Natures Own granola bars. I don't get them all the time since the $/lb is higher than most bars, but they taste fantastic. You wont get the same energy boost as a Clif bar for calorie replacement, but they are fairly high in protein and are a nice treat.
I love mojo bars, and a mojo dipped in chocolate..best thing ever! 200 calories and 8 grams of protein is a great trail snack. These bars are not quite filling like normal Cliff bars, I personally love the lighter snack when on the trail. I love the taste, the pretzels are a perfect touch! These are a solid buy! These can get melty if in warmer conditions, no good for the dessert!
Clif Mojo Dipped Choco/Peanut Bar Rocks!
Gender:

Male

Familiarity:

I've put it through the wringer
This is my favorite trail bar. It has a really good blend of taste, texture, protein and calories. I do a lot of alpine backpack trips and am always trying to tweak my gear and supplies. To that end, I made a spreadsheet of trail bars to compare calories, protein and weight. My most important consideration, in addition to taste: maximum calories packed at minimum weight. The Mojo Dipped came in at 126 cals/oz (5th best out of 21 tested). Bar weighs 1.6 oz and has 8 grams of protein. Recommended.



Gratuitous 2010 pic shows a Clif Mojo in my pack's belt pocket (for quick access) in Colorado's Comanche Wilderness.
These are pretty tasty. Wether at work or on the trail, they are the right size for a quick pick me up snack anytime. They do get melty, however, so don't keep them in your pant's pocket. Otherwise, they're great for when you don't need a whole clif bar.
Seems to last longer than a typical snack. The first bite has a slightly rancid taste like peanuts beginning to turn... very very slight but then by bite two or three it is gone. Perhaps I got some old stock that needed to be rotated. It would not stop me from eating these or buying again.
These are delicious, but kinda fragile for backpacking or hiking (breakage and melting), so I use them in my desk drawer at work or keep them around the house, the car, wherever, for when I need a snack or light meal. The flavors are all pretty good, with the Peanut Butter Pretzel (not a "dipped" variety) being my favorite...
Really Delicious and good for you too!!!
O.K. I'm a sucker for these dipped bars. If your out and active all day, plastered to the side of some huge, heinous, horrorshow of a climb, it's really hard to eat enough food, but if you have something that sounds delicious even when your stomach is nervously churning, then it's all going to be o.k. I actually like that they are a bit smaller than the classic clif bar, which can be a bit filling on the side of a wall!!
While I love whole oats I am allergic. Mojo Bars thankfully have none! This is is tough find in the world of bars. Mojo Bars are tasty and go down easily with a swig of universal solvent.
The fruit and nut mojo bars are good, real good.

The best.
pretty good but not super tremendous

will buy a different flavor/variety next time
Pretty darn tasty any time of the day. Maybe not quite as filling as a regular cliff bar, but not at "horsefoodey" either
I use all the Clif Bar products for recovery after cycling, running and the gym. No so useful for energy during a long run, as they require a lot of chewing and can be kind of heavy in the stomach, but not chalky like the old recovery products of the past. Packed with lot's of carbs and protein and all organic so they are good for you! Best product out there!
Probably one of the best granola bar I've ever had. They used to have a peanut butter and jelly flavor that was surprisingly spectacular but the fruit & nut is pretty good too.
These are greatly satisfying after a good mtb ride. They're kinda salty though, so if you have it just as a snack you might keep that in mind.