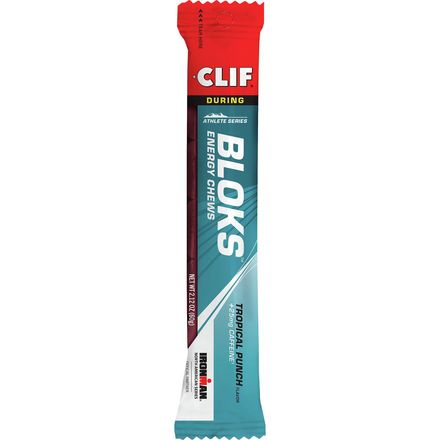 Detail Images

Community Images
Description
Energy never tasted so good.
Clif Bar's Clif Shot Bloks are basically advanced fruit snacks for grown-ups, and we're so down with that. While the taste and texture are reminiscent of childhood, the content of Shot Bloks is specially designed to replace the key carbs and electrolytes that you burn through when you're riding, running, hiking, or doing any other -ing. Each order comes with 18 packages of 6 Shot Bloks, and each package contains 200 calories, plus vital salts and sugars to keep you going. The variety of flavors means that you'll be able to find your favorite, and the convenient sleeve-style package is easy to open and slip into a pocket when you're on the move. Some flavors have extra sodium, if your sweat is particularly salty, and some are loaded up with caffeine, so you can get an extra boost to get you over the top of that tough climb.
18 sleeves of 6 Bloks
100 calories per three blocks
Contains carbohydrates and electrolytes
Some flavors contain extra sodium or caffeine
Best flavor ever
Familiarity:

I've put it through the wringer
These blocks (margarita) make we want to go and race... so i have an excuse to eat them.. this flavor is like candy. but not too sweet, and a nice salty taste..
Best quick energy for biking
Familiarity:

I've put it through the wringer
Blocks are much better than gels. I hate using a gel during biking and then having to deal with the mess of the remaining gel in the packet the rest of the ride. Blocks make life much easier. Citrus or Mountain Berry for taste.
Energy Boost
Familiarity:

I've put it through the wringer
I'm hooked on these things. The ones with caffeine really provide that extra kick when you start fading on the trail. I bring them on every ride and sometimes just munch 'em when i'm tired at work. The Orange flavor is tasty.
Delicious
Familiarity:

I've put it through the wringer
I've grown very used to having these with me on pretty much any ride, and they are awesome. Very delicious and a solid pick-me-up to keep you going. I'll mix it up with most of the brands that offer these sort of things, my favorites would be these Shot Bloks and the chews from Honey Stinger. Both are awesome, as Jason mentioned I would have to give Clif the nod on packaging though.

My current favorite is Tropical punch, but I have yet to try one I hated.
Reserve fuel miles out or extra kick?
Familiarity:

I've put it through the wringer
i favor the margarita for the extra sodium I need from over perspiring in the summer heat. All flavor are delicious and habituating. Be careful to limit use if you are trying to burn fat! They are critical limp home fuel if you burn out too soon on your ride still miles from home and an extra kick if you need that boost to knock out some quality strava segments.
Packaging FTW
Familiarity:

I've put it through the wringer
The package is what makes these great for cycling, easy to split open the top and grab one block at a time. I like honey stinger blocks too, but they are much harder to eat while riding. Have tried most of the flavors and like margarita or cran-razz the best.
Light and refreshing
Familiarity:

I've put it through the wringer
Another great grab and go option from Clif, though I never got on the clifbar band wagon as I dont believe in leaving a little Hansel and Gretel trail down the center of a route, I have embraced Clif's other energy supplement options. I particular like the orange blok snack, leaned on these heavily while backpacking in Arches on some pretty steamy days this past year.
Strawberry flavored awesomeness!
Familiarity:

I've put it through the wringer
Has anyone in their right mind ever said no to a delicious gummy treat?! Apparently these even have some nutritional value to them... bonus!
These are perfect for backpacking. Super easy to throw in a pocket or pouch and munch really quick on the trail. Provides that awesome little bit of energy you need when you're really dragging ass and need some motivation!
Tastes a lot better than the gel energy shots-- much more palatable, and way easier to save a few of them to snack on later. The strawberry ones are my jam right now!
Love the new Citrus Flavor
Familiarity:

I've put it through the wringer
Great new flavor, easy to pack, great way to keep fueled consistently. Works especially well for the younger adventurers who haven't developed a "taste" for energy gels.
We have to keep them hidden at home, they become easy snack food when adults aren't looking :)
So convenient. Wont ride without them.
Familiarity:

I've put it through the wringer
I've transitioned completely to chews when I'm on bike. Shot blocks are my favorite because of the flavor and the convenience of the packaging. It's so easy to squeeze a block out every 15 or 20 minutes and slide the package back in my jersey or pack. For this reason alone these outdo the gu and pro bar versions.
Berry-flavored cocaine
Familiarity:

I've put it through the wringer
Bought one box out of curiosity, and I can't help but come back for more, they're amazing! Perfectly sized for whatever boost you need, and they taste so good it can be hard to stop snacking. I always carry a couple packs when I go out hiking, they're small enough that the weight contribution is negligible. But I always end up glad I have them, no matter what.
great to stave the bonk
Familiarity:

I've put it through the wringer
they taste good. They work well. I prefer them to the gel, not sure why. Great for both hiking and cycling, though, not your best bet in a pace line, as the packaging is a two hander.
Reduce Fatiuge
Familiarity:

I've put it through the wringer
Most months of the year I have these stashed in my chest pocket or pack. The variety of flavors all taste great and give you that extra boost when you need it most (especially the high sodium of extra caffeine boost). I like to take a serving with some water and if you are really cramping take the other serving 15 minutes later. Its like you were never fatigued in the first place. Keep them close to your body if you want them to be chewable in the winter months.
Small pick-me-up.
Familiarity:

I've used it several times
I've used the flavors mountain berry, strawberry and tropical punch w/ caffeine. The flavors are not over powering. If you are really feeling bonked, I would eat solid food. These blocks help you if you've already been eating properly during your activity. I would err on the side of caution when opening the packaging and trying to bite a block of the stick. These blocks are small/big enough to be a chocking hazard.



But really, that could happen with any type of food.
Tasty Quick Energy
Familiarity:

I've put it through the wringer
Delicious, packable and easily digestible. Not much more you can ask for here. I love these for just about any activity I do.
Great snack while hiking!
Familiarity:

I've put it through the wringer
My first experience with Shot Blox was horrible - a Walt Disney World half marathon at night. They passed them out at mile 9 - how in the heck do you scramble to open a pack while running?!? Ended up tossing them into the trash...



Fast forward to hiking... these are great! Awesome to slide into a cargo pocket or pouch on your pack - eat a couple, move on. I wish that there was a multi flavor pack, instead of having to visit a local store for flavors - but that's just me.



These do the trick - and I prefer the caffeine laced ones. Like a gummi bear molded into a cube, they do the trick!
Provides a reasonable boost.
Familiarity:

I've used it several times
I eat these on days when I'm dragging a little more than usual and they seem to help. The texture is kinda strange so I can't eat a ton of them at a time.
Feeling tired? Eat these!!
Familiarity:

I've put it through the wringer
I love having these with me on a tour or hike. When I start feeling tired and can't get past that last leg I munch on a couple of these and voila! I'm good to go till the end! I am really impressed with these at first I thought they were a gimmick but after trying them I am a true believer! I love the cran-rasberry flavor the most but the strawberry is a close first as well! I highly recommend these for any outdoor sport! If you have any questions about these don't hesitate to hop on our live chat line and ask for me (Jane H.) I'm more than happy to answer your questions!
Excellent complement to Osmo
Familiarity:

I've put it through the wringer
Hydration in the bottle, nutrition in the pocket. I buy these in bulk, switching flavors with every purchase. I've come to appreciate the ones with a bit of caffeine <grin>. I cut the sleeve in half, and eat one Blok every 20 minutes. Very convenient, and since starting this, have yet to bonk.



They can get old on a longer ride, so I augment them with a more traditional protein bar on the hour during longer rides, so a Shot Blok at 20 and 40 minutes, a protein bar at the top of the hour, rinse, repeat.
Love these to keep in your pocket!