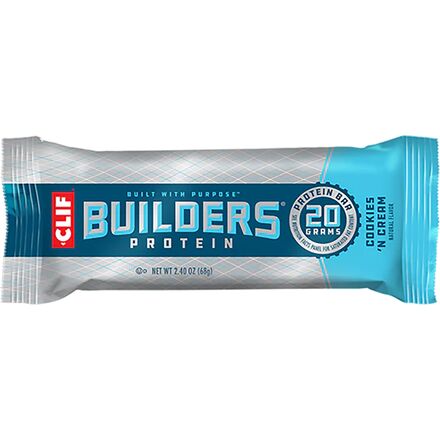 Colors

Detail Images

Community Images
Description
Get back in the zone.
Brain feeling sluggish? Grab a Clif Bar Builders Protein Bar out of your 12-pack, and pep up. Each of these bars contain a whopping 20 grams of protein, along with vitamins and minerals, to give you a boost when start to zone out rather than be in the zone. Clif Bar doesn't use trans fats, and this low glycemic bar won't cause a sugar high followed by the crash and burn.
Recovery at its Finest
Familiarity:

I've put it through the wringer
I am able to feel the magic that these bars work after a long day but I can really feel it. As somebody else mentioned in a review, they are rather dense and they hit your body quick. The high protein content and general mass is good for the after when taking things easy. I would highly recommend this bar for those looking for a tasty recovery option but certainly not something to eat during and activity.
These bars are dense. You will feel like you have a brick in your stomach more than any other Clifbar, but they do the job they are suppose to and help you prep for or recover from your workout. I replace most of my regular Clif Bars with the Builders version for the biggest days where maximum calorie replacement is necessary. Crunchy Peanut Butter is my go-to flavor.
Great post workout recovery
Familiarity:

I've put it through the wringer
I like to keep an assortment of bars available in my gear bag so I have some recovery options after races or long rides when I cant get a proper recovery shake, like after a Tuesday night club race after a long work day. No way a milk based shake is going to make it that long, but 1-2 bars does the trick and gets the nutrients needed into your body during those crucial minutes right after finishing a workout when it is so important to refuel.
Quick energy fix
Familiarity:

I've put it through the wringer
I eat a builders bar after I ride my bike, during hikes, as a snack in the office; pretty much anytime I need to raise my blood sugar I try to make sure I have one of these nearby. I have a stash of bars in my desk drawer and toss a few in my pack after the working day is done. My favorite thing about these is that they are not super chewy like other bars that have 20 grams of protein, so you spend less time jawing and more time having fun.
Lots of protein for not having whey
Familiarity:

I've put it through the wringer
20g of protein is about the most i've seen in a bar that didn't contain whey.



Texture is good; still edible when it's frozen. About half organic ingredients. A bunch of decent flavors; I like the mint choc best.



I eat at least one of these day as a healthy snack.
Emergency Protein Stash
Familiarity:

I've put it through the wringer
I've got these bad larry's stashed all over the place. Perfect amount of food for when I'm in a pinch or run out of my regular food. I've got these stashed in all my packs so I always have at least some sort of food on me whether I am hiking, snowboarding, climbing, snowshoeing... you name it.



20g's of protein in each bar and they taste great; I don't think I know of another protein bar that can make both those claims (even though I did it for them!)



S'mores

Crunchy Peanutbutter

Peanutbutter

Cookies-n-cream



...in that order.



Jared D.

Gearhead

800.409.4502 ext 4055
Have to stop yourself from eating more
Familiarity:

I've put it through the wringer
These bars taste really good for energy bars. You have to stop yourself from eating another one after you finish one.
Awesome!
Familiarity:

I've used it several times
These bars are amazing & they taste so good you almost feel bad... almost. Quite substantial for a bar also. Cookies & Cream is the best!
candy bars
Familiarity:

I've put it through the wringer
for a candy bar, they're pretty healthy and build nice muscles. For an energy bar, they're the best flavor around that has enough protein. Get a box of mint and one of cookies and cream and you wont be upset
delicious... for a protein bar
As far as protein bars go, these are pretty tasty! I was hoping they would be a little lower in carbohydrates, but that isn't what these guys are meant for. Eating one of these is like eating pure energy!
Perfect protein bars!
Familiarity:

I've put it through the wringer
The smores flavor is my absolute favorite, but all these flavors are pretty good. I don't dislike a flavor yet, these bars are a great protein bar for the outdoors. 1 bar is 20 grams of protein! These bars are thick and very filling, I usually eat mine in 2 parts or share with a friend. These bars would work as a meal replacement. These bars are very expensive if you purchase individually, I highly recommend grabbing a 12-pack!
Best tasting protein bar ever. that's about it. I'd highly recommend the Smores flavor
These are one of the better tasting protein bars out there. Filling, too. A little on the price side, but worth it.
These taste very good, but they are pretty pricey. I would rather stick with the original Cliff bars because they taste as good, and they are $1 a piece.
I usually am not a fan of protein bars- they always taste like they're trying too hard. But I've become a super fan of the Cliff Builder Bars- they taste great, they're easy to eat, and they never feel too hard on my stomach. My favorite is the Chocolate Mint, and the Chocolate Peanut Butter is pretty good too!
These are something the whole family loves. Mint chocolate and chocolate are our favorites. IMHO these taste better than most bars and are very filling.
I got the Mint flavor thinking it'd be great based on reviews. Not my favorite and I probably wouldn't buy the Mint flavor again. I'd stick with the Peanut butter.
Yum!
Gender:

Female

Familiarity:

I've used it several times
Love to carry a few of these bars with me so if I'm hungry while on the go I can just grab one. Taste great for a protein bar. I've tried the Chocolate, Chocolate Mint and Peanut Butter, all are fantastic!
Good Choice for Refueling
I like the Chocolate Mint the best, I usually have one as an after dinner snack on the trail, I have trouble eating them in the middle of a hike cause they make me feel pretty full.
The mint chocolate is especially tasty, and this is my go-to bar when I want to get a solid amount of protein after a workout or during a long day in the backcountry. Highly suggested.