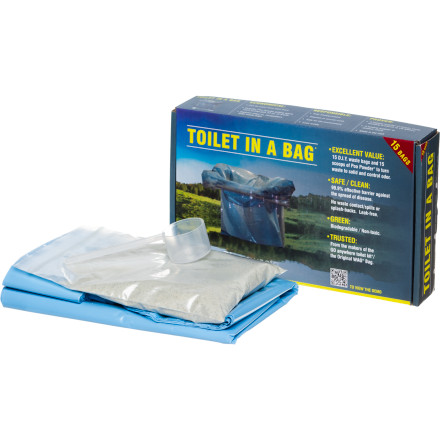 Colors
With the Cleanwaste Toilet In A Bag 15 Pack, you can responsibly take care of your waste and minimize your impact without having to haul a toilet into the backcountry. When nature calls, simply grab a leak-free toilet bag and take care of business. Sprinkle the waste with a scoop of included Poo Powder to control the odor and turn the waste to a solid, then use the tie closure to securely seal the bag. Plus, the bag is made from biodegradable plastic so you can dispose of it in a normal trashcan.
15 leak-free toilet bags with secure tie closures allow you to responsibly dispose of your own waste
15 scoops of Poo Powder turn waste to a solid and control odor
Biodegradable and non-toxic so you can dispose of the bag in a normal trashcan
Unlike other commercial wast systems, this has very little going on for it. It is just some bags and some powder. The bags don't even zip. Sure it'll get the job done, but there are better systems out there.



Better than digging catholes on a river course though. Don't do that!
Keeps the backcountry clean
Familiarity:

I've used it several times
The powder does a pretty good job of controlling the odor. Every now and then there will be a diaper-like smell, but it's not too bad.
Demo of bag and "poo powder"
Don't worry it's not graphic :)
The bags are about the size of a regular shopping bag you get from the supermarket. Here is a demo video to give you a better idea.



http://www.youtube.com/watch?feature=player_embedded&v=hfnNraSjglw