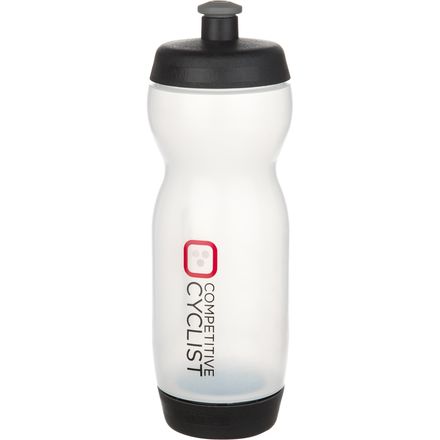 Colors

Detail Images

Community Images
Description
Squeaky clean.
The Clean Bottle Team Edition bottle is one of those products that leaves you wondering 'why didn't I think of that?' It may not seem like a huge deal, but the clean bottle opens at both ends. Plus, everything comes apart, including the nozzle. That means germs have absolutely no place to hide. The large openings also make the clean bottle easy to fill, even if you're using ice cubes.
Opens at both ends
Comes completely apart
Large openings
Decent bottle; cleans as advertised
Familiarity:

I've put it through the wringer
Obviously the shining feature of this bottle is the ability to clean it thoroughly to extend its life span. That it does flawlessly.

The material of the bottle is soft enough to use effectively in cold temperatures.

That said, it is a bit of an odd shape so it does not take to certain bottle cages well, and the hard bottom and top can in some cases impede the ability to squeeze.

I would definitely still recommend the bottle for daily use, but I definitely prefer custom bottles from Specialized, even though I might go through them faster.
Good but not great
Familiarity:

I've put it through the wringer
I typically just use cheap LBS water bottles as a i have a tendency to loose them often. I thought i would try one of these after seeing several ads during the TDF. They are very easy to clean since both end are removable. You need to make sure both ends are screwed on tighter than you think you need to make sure that it doesn't leak. After several months of use (and somehow not loosing it) i've found that these bottles actually smell worse and need cleaned way more often than most water bottles. It's just a water bottle, i probably wouldn't buy another one.
Leaky nozzle
Familiarity:

I've used it several times
I get my drink all over my jersey/shirt, thanks to the crappy seal on the top around the nozzle. It lets it all out around the base and outside of the nozzle, rather than only from the center, in a stream, as I'd expect. When I first noticed, I ended wrapping my lips around the top as if it were a teat, to get a drink. Very uncool... after that, I just unscrewed the cap to drink.



Interesting design, but I still have to clean it about the same as any other bottle. It's a little faster, since I can use my hand from the bottom too, but there's no avoiding some work to get the slimy film off the inside of the bottle after filling it with energy drinks.
Works well. Some Quality control issues
Familiarity:

I've put it through the wringer
I would give this 5 stars, but the incoming quality of this product disappointed me. I ordered 2, and one of the bottles had a crooked bottom cap. Upon closer inspection, the threads on the bottle were actually formed in a way that the mating bottom piece did not screw on completely. This causes a leak. I immediately returned the bottle, and Backcountry's great customer service sent another bottle to replace it (can't say enough about how GREAT the customer service is!) The design is great! the execution should be too! Still, it is a novel idea and is awesome so you don't have to use snakes/brush tools to clean the bottle thoroughly!



**Disclaimer: you need to ensure that the caps on both ends are screwed on all the way so that the silicone gasket seals the bottle.
leaks
Familiarity:

I've used it several times
mine leaked from both top and bottom
cleaning ease
Familiarity:

I've put it through the wringer
i picked up a couple of these and really like them. They hold plenty of beverage and both ends screw off for ease in cleaning. The wide mouth allows bigger brushes in for scrubbing.

Please make sure both ends are screwed on tightly as they will leak if not
So Fresh and So Clean
Familiarity:

I've used it several times
Outkast new what they were talking about when they wrote that song about these water bottles. Flavors do not stick around in these guys. It is pretty great because before I had this bottle I was always a little weary about putting hydration mixes in my bottles. Screw the bottoms on tight though!
Clean Bottles are great!
Familiarity:

I've put it through the wringer
Warning, make sure the bottoms are screwed on extra tight, they have been known to leak ever so slightly.



I love my clean bottles, Preventing bottle funk and making sure that your hydrating are important, and this solves both! Not to mention, I know a few guys who work for them, and they are all stand up cats. Support the little guy!
great
Familiarity:

I've used it once or twice and have initial impressions
used it on my century ride last weekend and they worked great, holds plenty of water, and super easy to use.
as soon as you put it to your mouth and want to drink from it the tip pushes in and you're not getting any water. Also, I have to agree that the bottle is too hard to squeeze. So between the top pushed in and the bottle too hard to squeeze you're not getting any water. And I bought two of these at some sporting store for hikers. I've yet to find a good water bottle that is easy to drink from, easy to hold and carry. I found the CamelBack bottle even harder to squeeze and drink from. Sheeeesh, just can't get a good drinking bottle any more!
drink from this all the time.
Gender:

Male

Familiarity:

I've put it through the wringer
double sided bottle! sometimes i forget that bottom comes off and try to wash it from the top. other reviews say hard to squeeze? they must have tiny weak hands... the plastic is super soft.

And yes, bottle has another logo on it..? it's a water bottle. who cares. drink water
Despite the 5 star reviews, this bottle is tough to squeeze, making it non-functional for a majority of people. Not only that, it isn't pictured, but it sports a "POWERBAR" logo on the side behind the Competitive Cyclist logo - not cool! If this was a sponsored bottle being resold - totally uncool.

The removable bottom and "easy to clean" idea is a gimmick. There are tonnes of other better bottles out there. This isn't one of them. Will never ever buy again.
I love that this bottle is double sided, makes it really easy to clean. Love the graphic. only complaint is the bottle is hard to squeeze.
I bought 4 of these bottles. The promise of being able to clean them easily was the big draw. After washing 3 in the dishwasher (as prescribed) the never sealed on the bottom again. No matter how I tried to screw them on... they leak like crazy! 3 out of 4 -and the 4th one doesn't leak because I have never unscrewed the bottom. Save your money...
Good bottle, not great. It's not the most pleasing taste, but it doesn't get the build up at the bottom like most bottles do. I still prefer a insulated bottle.
Perfect size coupled with their innovative cleaning idea makes for a great road bottle. Two of these keep me well stocked with liquid for most of my rides.

Haven't had any issues with leaking, just make sure you put that bottom lid back on nice and tight and you'll be good to go.
2nd Round is better than before
The newest version of the clean bottle (Competitive Cyclist Racing Team) is softer than the old bottles and are easier to squeeze which was one of the few complaints with the previous versions. Personally I like the colorway with the black top and bottom way better than the blue.
It's easy to clean. Good design.
nice to know your next drink is going to taste fresh. No more of that nasty stale water for me. Nice to be able to also wash out that bottle with your sport drink in it