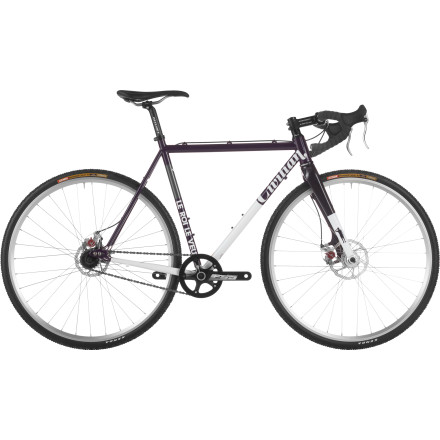 Detail Images
Description
Be civilized.
Tyson Hart's Civilian bike brand was borne out of a personal desire to create frames that he couldn't find in the mass-market. His first frames were hand-crafted, and his 'cross frame gained in popularity due in no small part to its handling and the attitude it conveys. The Civilian brand gained popularity so fast, that Hart took the attention to detail that he put into every custom frame into the Le Roi Le Veut, a steel frame that'll have to you wishing there were 'cross races year 'round.
Although not hand-made, the Le Roi Le Veut was constructed from 4130 double-butted steel tubing. This tubing is lightweight and responsive and also helps to minimize the impact on your wallet. It is also durable enough to take anything that a cyclocross course throws at it, and gives you a supple ride when you are on the road. It does this with seat stays and chain stays that are shaped to fight deflection when you mash the pedals but that also help to absorb vibration from rough roads. A traditionally styled frame meets with a 'chubby' head tube. This deviation ensures that the front end is extra stiff which helps it move through rutted courses with ease. It also helps deflect forces from the front disc brake and the full carbon CX fork which help it stay stable while braking.
The rear triangle sees singlespeed Tange Design 7075 aluminum horizontal dropouts. The braking relies upon disc brakes and for that reason you won't find canti-posts on the frame. Avid BB5 mechanical calipers and a 160mm front and 140mm rear rotor are stopped by Tektro RL340 brake levers. To power your bike after the re-mount, you'll spin FSA Gossamer cranks with Mega EXO bearings. The Le Roi de Veut comes standard with a 39tooth front chain ring and an 18tooth rear cog. To this end, you'd think that a singlespeed-specific wheelset would be used. Civilian, instead, uses double-walled alloy rims with 32 spokes. The singlespeed rides on the Shimano freehub body using a spacer kit. To convert the bike to a 1X, all you need is a cassette, rear derailleur, and derailleur hanger, and shifter. The wheels are built with Formula hubs and Kenda Kwicker 700c x 32mm tires.
To ensure that you're comfortable, an alloy cockpit rounds out the build, with Ritchey aluminum handlebars, seatpost, and stem. Velo perforated bar tape and saddle complete the package.
The Civilian Le Roi Le Veut comes in 50, 53, 55, 57, 59, and 61cm sizes, and it's available in the color Royal Purple.
Share your thoughts
What do you think of the
Civilian Bicycle Co.
Le Roi Le Veut
? Share a...
20 miles in (experienced Rider)
Familiarity:

I've put it through the wringer
So the shipping time with them having to "build and test" the bike took too long if you ask me. REPLACE THE SEAT (order a seat before the bike, it is horrible!) For a hilly area the gear ratio is great, if you live in a more flat area be prepared to switch it up which is super easy as the rear hub is shimano (took 8 minutes) The tires that it came with are great for dirt but I am switching over to road style as you loose so much power with them commuting distance. Here is the break down.. I will load video of the bike in action later when I get some good video and am not so damn sore.
Pro's
- Nice welds
- Low Flex
- It looks better than in the pictures
- Easy to switch rear hub depending on needs
- Works great in bad weather
- Strong wheels and front fork
- Many midgrade components
CONS:
- Shipping time (yea you said you built it tested it yada yada yada) for $75 bucks + and it being built the disc breaks should have gone on and flowed smooth, instead... spent thirty minutes re calibrating them at my friends shop
- Crap Seat... I feel like I got prison raped
- Cheap break levers (Im replacing with cane creek)
- Doesn't have pannier set up so you have to go with a seat post mounted (can hold up to 25 pds)
- Bar tape and ends are cheap
- Need to take the time to take the china grease out of the bike and put some good grease in the moving parts (even REI does this!!)
- Wheels though strong look cheap

Conclusion: I love this bike, it stands out its strong, it is good in multiple situations. It is not a track bike but it will get you there. Some of the parts that come with it are just crap (seat, break levers). Really should be drilled for pannier set up. Overall a beautiful bike, light weight (dont listen to the reviews you might see on other sites, compared to other steel frames this thing is a good weight) If you commute make sure to amazon some good tires, because the ones it comes with are evil for distance commuting on road
Kind of an oddball question, but would the...
Kind of an oddball question, but would the sliding rear dropouts allow you to use a flipflop hub and run it as a fixed gear, or would the disc brake prevent you from doing so?
You Cannot Flip flop without pulling the back break, but yes, you could with some redneck ingenuity make it a fixed.... Your best option would be build a separate rear wheel that is track if you wish to flip flop
I'm 5, 9 what size would you recommend the...
I'm 5, 9 what size would you recommend the 55cm is what I would normally go for but you and other sites only show the 53cm or 57cm ?
Hey Hector,

With such limited info its really hard to pinpoint what size you should ride. 57 cm seems really on the tall side for somebody who is 5'9" but for all I know you could be all legs. Maybe give us a call and talk with one of our bike experts and lets make sure you dont make an $800+ bad investment.
Does this frame set have routing for a...
Does this frame set have routing for a front or rear derailer?
Yes, the frame has routing for a front and rear derailleur.
Is this bike compatible with fenders/rac...
Is this bike compatible with fenders/rack/pannier set up for commuting?
Not set up for Pannier, I got a rear seat post mount pannier but you can run fenders. Please see above my review
What shifters and derailleurs does this...
What shifters and derailleurs does this bike have? Also, where are you located? Can I order from Canada?
this is a single speed, no shifters or derailleurs