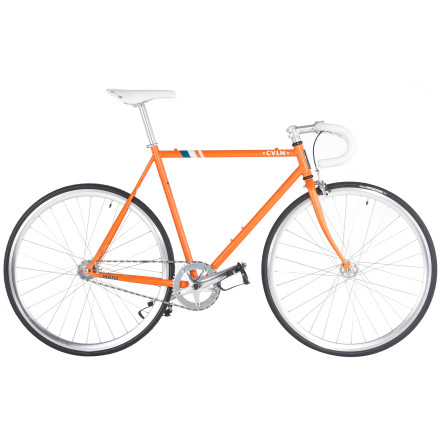 Detail Images
Urban fixed-gear bicycles saw a spike in popularity during the later part of the 2000s, with many people converting old ten-speeds or riding purpose-built track bikes on city streets. That was due to a number of things, and yes, one reason for the spike was trendites jumping on a fashion bandwagon. But, these simple single-speed road bicycles are great tools to get you around town or add variety to your training regimen. Because of this, the Hustle is a mainstay in the Civilian line-up.
Unlike track bikes, the Hustle has been designed for use on real streets streets and not smooth, high-banked tracks. It sports a 73 degree headangle to give it neutral handling both at speed and while working your way around pedestrians. Pure track bicycles typically have a head angle in the 75 degree range, and unless you're riding above 30mph, these bikes can be a handful. The slacker head angle also greatly reduces the chance of toe overlap on the Hustle. Toe overlap is what happens when the front wheel clips your foot when you're pedaling and turning at the same time. Again, this isn't a problem for race bikes on a velodrome, but if you're riding fixed around town on a track bike, you're bound to clip your foot on the wheel.
Because the Hustle is designed for actual city riding, its frame serves as a platform for other Civilian models. This is the most stripped down Civilian, but it's stripped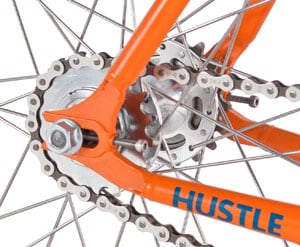 down to precisely what you'll want in a city bike. What gives the Hustle its utilitarian reliability and lively handling is a frame crafted from double-butted high tensile steel tubing. The frame tubes and unique wishbone seatstay, filter shock from road imperfections while efficiently transferring energy from the pedals (both stopping and accelerating).
The frame is just a part of the equation that makes the Hustler a competent city companion. It rides on lightweight polished aluminum rims. The rims are double walled for strength and are laced to bolt-on, large-flanged track hubs with 14g spokes and brass nipples. This combination offers the ubiquity to ensure that any necessary repairs or maintenance can be carried out by bicycle shops across the continent. Kenda K-152 tires offer secure traction, and their 700c x 25mm size provides a fast and supple ride.
The Hustle's hub is a flip-flop design, and is equipped with an 18T track cog and an 18T freewheel. This allows you the option to coast or ride fixed out of the box. A polished alloy crank carries a 46T chain ring and comes in a 170mm length for the 52 and 54 cm frames, and a 175mm for the rest. Stopping the Hustle is either up to your legs or a polished aluminum Tektro caliper front brake. It has cable stops for a rear brake, but, being true to its simplest form, does not come with a rear brake.
The Hustle is steered with an alloy bar and stem, and a durable, not-overly-padded Velo Saddle features brass eyelets for a touch of class. The Civilian Hustle is finished in two colors, Burner Orange and Surf City, and comes in six sizes: 49.9, 52, 54, 56, 58, 60 and 62cm
Lightweight and springy double-butted HiTen frame filters shock from road imperfection for a smooth ride

A slack, 73 degree headangle offers neutral handling at speed or weaving around slow moving traffic

Alloy double-wall rims, high flange bolt-on hubs, and 14g spokes with brass nipples ensure durable wheels

46 x 18 tooth gearing gets you swiftly around town, without beating you up

Flip flop rear hub comes with a fixed cog and a freewheel