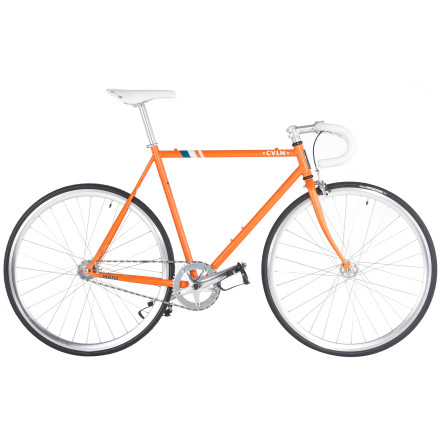 Detail Images
Urban fixed-gear bicycles saw a spike in popularity during the later part of the 2000s, with many people converting old ten-speeds or riding purpose-built track bikes on city streets. That was due to a number of things, and yes, one reason for the spike was trendites jumping on a fashion bandwagon. But, these simple single-speed road bicycles are great tools to get you around town or add variety to your training regimen. Because of this, the Hustle is a mainstay in the Civilian line-up.
Unlike track bikes, the Hustle has been designed for use on real streets streets and not smooth, high-banked tracks. It sports a 73 degree headangle to give it neutral handling both at speed and while working your way around pedestrians. Pure track bicycles typically have a head angle in the 75 degree range, and unless you're riding above 30mph, these bikes can be a handful. The slacker head angle also greatly reduces the chance of toe overlap on the Hustle. Toe overlap is what happens when the front wheel clips your foot when you're pedaling and turning at the same time. Again, this isn't a problem for race bikes on a velodrome, but if you're riding fixed around town on a track bike, you're bound to clip your foot on the wheel.
Because the Hustle is designed for actual city riding, its frame serves as a platform for other Civilian models. This is the most stripped down Civilian, but it's stripped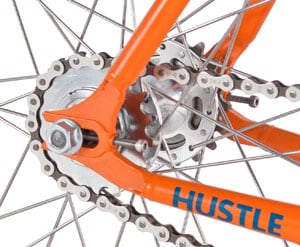 down to precisely what you'll want in a city bike. What gives the Hustle its utilitarian reliability and lively handling is a frame crafted from double-butted high tensile steel tubing. The frame tubes and unique wishbone seatstay, filter shock from road imperfections while efficiently transferring energy from the pedals (both stopping and accelerating).
The frame is just a part of the equation that makes the Hustler a competent city companion. It rides on lightweight polished aluminum rims. The rims are double walled for strength and are laced to bolt-on, large-flanged track hubs with 14g spokes and brass nipples. This combination offers the ubiquity to ensure that any necessary repairs or maintenance can be carried out by bicycle shops across the continent. Kenda K-152 tires offer secure traction, and their 700c x 25mm size provides a fast and supple ride.
The Hustle's hub is a flip-flop design, and is equipped with an 18T track cog and an 18T freewheel. This allows you the option to coast or ride fixed out of the box. A polished alloy crank carries a 46T chain ring and comes in a 170mm length for the 52 and 54 cm frames, and a 175mm for the rest. Stopping the Hustle is either up to your legs or a polished aluminum Tektro caliper front brake. It has cable stops for a rear brake, but, being true to its simplest form, does not come with a rear brake.
The Hustle is steered with an alloy bar and stem, and a durable, not-overly-padded Velo Saddle features brass eyelets for a touch of class. The Civilian Hustle is finished in two colors, Burner Orange and Surf City, and comes in six sizes: 49.9, 52, 54, 56, 58, 60 and 62cm
Lightweight and springy double-butted HiTen frame filters shock from road imperfection for a smooth ride

A slack, 73 degree headangle offers neutral handling at speed or weaving around slow moving traffic

Alloy double-wall rims, high flange bolt-on hubs, and 14g spokes with brass nipples ensure durable wheels

46 x 18 tooth gearing gets you swiftly around town, without beating you up

Flip flop rear hub comes with a fixed cog and a freewheel

Unanswered Question
Is this a good bike for a beginner, and...
Is this a good bike for a beginner, and does it come with an option that include brakes on the bike?
Unanswered Question
Do they make any other sizes other than...
Do they make any other sizes other than 60
Great bike for the money, rides quietly and is quite comfortable; just right for a beater bike. Don't have to worry about leaving it unattended as much as my carbon fiber bikes, although I do lock it. The one front brake did not do it for me so I added and old caliber to the rear that I had hanging around and cut the drop bars into bullhorns with aero brake levers, much easier. to do a bike stand at red lights than with the brake setup that came with the bike. The stem that came with it had a slightly stripped thread which failed in a short time during the initial setup, again no problem had an old one to use. A little dismayed to find that the price has dropped a little since I purchased mine, but I can't complain since the wonderful people at Real cyclist shipped mine overnight delivery no charge due to some short of warehouse problem. Overall I would rate it a four and half stars, not five only because of the stripped thread on the stem. There are other single speeds out there for less money but the ones I have seen border on being junk the Hustle is a far better bike.
Awesome bike.
Gender:

Male

Familiarity:

I've put it through the wringer
I just got this bike yesterday, and I love it. I am a single speed rider, as riding fixed on a college campus sounds like an invitation to the hospital.



It's a very, very pretty bike and people are very quick to point that out. It is fantastically designed.



It rides nice, and rather importantly for me, new to single speed commuter bikes, it climbs really nicely too. As long as you don't get stuck behind a car who slows down going uphill!



My main issue is the lack of rear brake. I understand why it didn't ship with one, but my first ride was pretty scary, having to rely on the front one alone. I'm planning on getting a rear brake and getting the drop brake levers too, because I tend to ride on those more than I anticipated.



Should you get it? Yes! Support Civilian! They're a nice little company. Just consider that you will, unless you plan on dedicating yourself to fixed, need to get a rear brake for your own safety.



** Edit: 200 miles later, I still really love this bike! I will note that the paint chips off this bike easier than other bikes I've owned, but it's really just me being nitpicky.
Is there free shipping to Hawaii, if so...
Is there free shipping to Hawaii, if so how long after ordered would it take for the bike to be d4elivered?
Sadly there is only free shipping for the lower 48 states. But you can add the item to the cart and calculate the costs for the deferent shipping options. How long it would take to get there depends on which shipping option you chose.
This is my first road bike/single gear. I've always been a mtn bike guy, or bought slicks for my mtn bike to commute. Always thought that these bikes wouldn't be fun to ride around. BUT, I was wrong.

This bike is a pretty rad ride. It is a little heavier than my buddies commuters, but I assume the steel frame is the cause. I like the sturdiness, I'm a big dude and I like feeling solid while I'm riding next to cars.

You can ride it fixed. But I like coasting.

If you want a good single speed I recommend this bike.
Hipster bike matches my Hipster Everything...
This bike is fast and simple. Pretty fun and fairly comfortable for my 13 mile round-trip commute to work.
Decided it was time to get a fun commuter without breaking the bank and so far this has been a great bike. For fun, I will flip the hub so I can ride fixed and have my bearded friends commend me. Flopping the hub is as easy a few quick wrench turns. Fairly light for a steel frame, which is good to know this will hold up to some commuting abuse.
Unanswered Question
how much does this bike weigh?
how much does this bike weigh?
I bought this bike as my default friend bike to keep at home. After a month of use, it's been holding up great. No complaints here.
Best Inexpensive Commuting Road Bike
This bike is for sure a keeper. Perfect for rides around town & even comes equipped with toe straps on the pedals. Riding up slight hills is a breeze and overall this is a great steel bike.

I was slightly concerned about the single brake in the front but it doesn't grab and stops smooth. Like the other reviewer said, there is a pre built-in place to add a rear brake so if you want to upgrade it's all there.
I got this bike for hauling my carcass to and from the bus stop and around campus, and it does the job great. I quickly swapped the hub to freewheel so I can coast easier.

There is only one break on this puppy, and they put it in the front, so the risk of an endo is imminent once you get above a certain speed. Luckily the frame is equipped for rear brakes, and by getting some you'd ensure yourself against a head-over-handlebars incident.

Since the frame is steel, it's a bit heavier than your high-end road bikes, but you get what you pay for. It's meant to be a inexpensive minimalist commuter bike that will stand up to the daily grind, and it does an awesome job at it!
I haven't had a bike since I was a kid and the Hustle took me back to those joyful days of carefree youth. Solidly built and steezy as hell. This is the bike for getting around.
Fun bike, classic style with modern accents. If you don't want to spend the time restoring a classic, this is an easy alternative.
I needed a bike for just getting around, and this is perfect. Good price and good quality. I don't like riding fixed, so I flipped the hub. The seat it comes with is kind of a killer on the ass, so I replaced the seat with something more comfortable. It also only comes with a front brake, so I'm also planning to add a rear brake as well. So all in all, with a couple of upgrades, this is a great ride.
It's a bike that has only one gear. A fixed gear (or fixie), is a bike that has only one gear, but the cranks are completely connected with the rear wheel. This means that with a fixie, you can't stop pedaling unless you're going to do a skid stop. You can also bike backwards by pedaling backwards.

This bike has both options (just flip the rear wheel to choose your option). If you want to be a cool hipster like we all do, then learn to ride fixie :D But, if you just want to chill out and coast (not have to pedal constantly), then you just have to flip over the rear wheel.
It means this bike only has one gear, so you can't have the gears go up or down.
I ride it to work everyday. Its a little bumpy and I bought a new seat for it but it is nice and light to lift up. I cant wait to use it more this summer as it is just so much fun to cruise around on.
Can you put fenders on this beauty?
Can you put fenders on this beauty?
You can put fenders on anything. Even your face.

Pretty sure.
Geometry chart, esp. seat angles and top...
Geometry chart, esp. seat angles and top tube lengths? Thanks.
http://www.ridecvln.com/bikes/hustle/