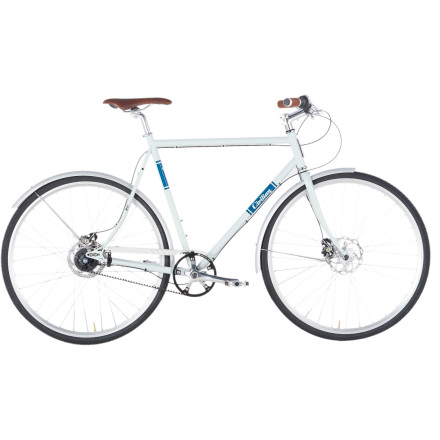 Detail Images
A bicycle that can get you around town quickly, safely, and reliably doesn't start with a road racing or mountain frame. It starts with a clean sheet and design parameters that suit commuters and urban cyclists. Tyson Hart, Civilian's founder, honed those parameters during his history of wrenching at local shops, delivering packages by bicycle in San Francisco and Portland, and finally, crafting custom, one-off frames. All this experience and expertise can be found here in the Civilian Corduroy Rebel, a complete, commute-ready package.
Unsatisfied with the offerings available from mainstream manufacturers, Hart set out building frames under the Civilian brand in 2005 after attending UBI, a respected frame building school in Ashland, Oregon. Relying on a combination of extensive personal experience and working closely with clients, Hart designed a city-specific geometry to endow lively handling, a comfortable seating position, and a commanding view of urban bustle. These distinctive bicycles quickly gained a cult following for their seamless balance of utilitarian qualities with fun-to-ride attitude.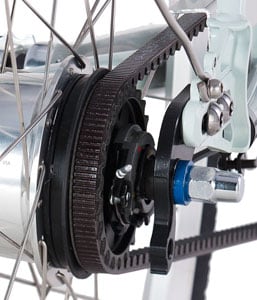 Possessing that once-reserved geometry, the Corduroy Rebel retains the same attention to detail and purposefulness of Hart's custom pieces in a package for the masses. While geometry is key to the Corduroy Rebel's urban prowess, just as essential is its high-tensile, double-butted tubing. The springy steel keeps your pocketbook flush, yet offers the durability and supple ride that ragged city streets demand.
At the back end of the Corduroy Rebel, kinked seatstays further dampen broken pavement and connect to robust Tange Design sliding dropouts. The sliders are machined from 7075 T6 aluminum and have integrated eyelets for a fender and rack that won't interfere with disc-brake calipers -- letting the Corduroy Rebel use more powerful, less maintenance-intensive disc brakes.
A standout feature of the Corduroy Rebel is the simple, internally-geared hub mated to a Gates Carbon Drive CDC system. Belt drives are enjoying progressive popularity in the urban market because of their advantages over grimy chains. The belt itself is constructed around carbon cords that give it an incredibly long life, and it requires almost no maintenance. Chains need routine cleaning and muck-attracting lube to run efficiently, and will eventually need to be replaced. The CDC belt runs smooth and quiet without lube, which helps keep clothing free of black smudges, and the Corduroy Rebel will be whisper-quiet after a damp, lonely night locked outside.
Frame builders have long preferred internally-geared hubs for their low maintenance and clean, derailleur-less lines. But options with disc brake compatibility were extremely expensive. When Shimano set out to build a hub for the commuter, they worked closely with dedicated, bicycle-dependent travelers and frame manufacturers to make sure the hub met their expectations. The resulting Alfine eight-speed internally-geared hub offers disc-brake compatibility with smooth shifts over a wide gear spread, and, most importantly, Shimano quality.
The combination of a Gates Carbon Drive with an internally-geared drivetrain maintains the Corduroy Rebel's no-nonsense, practical nature -- and so does the rest of this city bicycle's smartly spec'd components. Hammered alloy fenders and a belt guard prevent clothing from getting snagged, tangled, or road sprayed. The fenders' rich texture not only looks great, the creases help stiffen the overall structure to prevent tire rub caused by flexing. Both the fenders and guard are removable for a stripped, lightweight look during temperate months.
Laced to the Alfine rear, and a cup-and-cone alloy front hub, are durable, triple-wall rims. Using 32 straight-gauge spokes each, these combinations offer great strength for loaded riding, and the ubiquity to ensure that any necessary repairs or maintenance can be carried out by bicycle shops across the continent. 700cx32mm tires with water-moving channels provide positive handling on wet rides. The frame has room for tires up to 38mm, and the rim will safely work with tires as narrow as 28mm.
Modern Tektro Lyra cable-actuated disk brakes are matched to light, 160mm rotors. These rotors use a special wave-shaped cut to ditch heat and remove dust and grime for consistent braking. The pads use a metal-ceramic compound that offers excellent modulation, lever feel, and extended life. Disc brakes may be a contemporary component, but details like the classically-styled levers and North Road-esque alloy handlebars contribute to the Corduroy Rebel's timeless flavor.
The Cordurory Rebel connects with you via animal-friendly faux suede saddle and grips. The lightly padded saddle doesn't require a break-in period to be comfortable, and it'll stand up to harsh weather. If you enjoy the freedom of riding gloveless, the soft, napped finish to the grips feels great and breathes well.
The urban-minded Civilian Corduroy Rebel is finished into two colors: Lake, a powder blue with dark-blue decals, and Asphalt, a dark grey with dark-blue decals. It comes in six sizes: 49.9, 52, 55, 57, 59, and 62cm
Bear in mind that because of its Gates Carbon Drive, the Corduroy Rebel may only ship as 'Ready to Ride.' With this limitation of options, we'll be reducing the standard shipping price to $99, ensuring your new bike is immediately ready for its first urban flight, while leaving you some change left over for groceries.
Gates Carbon Belt Drive uses carbon cords instead of chains for an incredibly long life (up to 3x more than a comparable chain) that's free from routine maintenance like cleaning and lubing
Shimano Alfine eight-speed internally-geared hub offers minimal maintenance with smooth shifts over a wide gear spread
Tektro Lyra cable-actuated disk brakes with metal-ceramic pads and wave-cut rotors ditch heat and remove dust and grime for consistent braking
Each wheel is laced with durable triple-wall rims, 32 straight-gauge spokes and brass nipples for strength and easy repair or maintenance
Animal-friendly faux suede saddle and grips don't require a break-in period to be comfortable, and they stand up to harsh elements
Removable Hammered alloy fenders and belt guard prevent snagged clothing while blocking spray