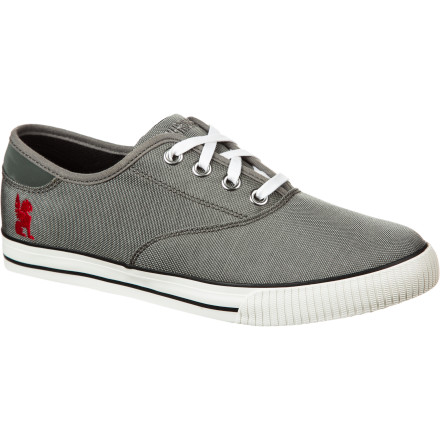 Detail Images
Description
Keep on trukin'.
Since it appeared on the scene, Chrome has had a reputation for durable, high-quality products. They have to be tough to stand up to the abuse that bike messengers dish out. Chrome Truk shoes are just as tough as its messenger bags. After all, they're made out of the same ultra-tough 1000-denier Cordura.
Hammering through city streets on a fixie is every bit as hard on your equipment as it is on your body. Chrome built its Truk shoes to stand up to unreasonable amounts of cruelty, then come back and ask for seconds. The sole is made from tried-and-true vulcanized rubber, and it's not just tough—it's skid-resistant, as well. A board-lasted outsole stiffens up the shoe for better pedaling efficiency and blister elimination. The heel is also protected with a rubber heel cup, and the midsole has a reinforcing nylon/fiberglass shank.
1000-denier Cordura uppers
Vulcanized rubber sole
Board-lasted outsole
Rubber heel cup
Nylon/fiberglass shank
Unanswered Question
How would these be for mountain biking?
I bought the shoes for my daughter but she has to return them because they are a little too big.
Excellent quality , fits true to size
These shoes do not disappoint. Very well made and comfortable.
I purchased the clipless pair and I could not be happier. Being a biology teacher, I'm blessed with the ability to dress funky and casual, so I was looking for a shoe I could ride to work in and wear all day. I have a twelve mile commute each way, with ~ 600' of elevation, so no slouch of a commute. These shoes hold up to me standing up on the hills and zooming on the flats. They have good weather protection for they are made of pretty thick cordura, and the soles are thick and stiff. I will probably have to change my cleats three times before these bad boys wear out.

As for wearing all day, basically they work. I am on my feet, moving around the classroom 75% of my day. I also run up and down four flights of double stairs at least four times a day. They have the support to make my arches and shins happy. The toe lifts up a tad to allow for the cleats not to hit while walking, but it still does slightly (currently wearing Crank Brothers). As for the look, there are fine. Basically they are a simple Chuck style, which is my previous shoe of choice.

Overall, I highly recommend these to anyone. They may look a little funny on my carbon speedster, but for the function, fit and practicality they cannot be beat.

Btw, I currently wear 44 Specialized, 44 Sidi, 44 bontrager and size 10 Chucks, but for these I am definitely a 9.5. Don't be fooled when you first try them on for they are tight when new, but loosen up after riding a few times.
Style and Safety
Familiarity:

I've used it several times

Fit:

True to size
Initially I purchased the Truk directly from Chrome website but have to return it because size 10 proved to be smaller than I have expected reading the other reviews. I am usually 10.5 with sneakers (Vans, Converse...) so I went for .5 smaller but anyway, Chrome does not have any 10.5 no more. Lucky me I ran into this site and ordered a 10.5. Love the shoes, the style is definitely a winner and to have that secured feeling while riding a bike gives it a plus. The overall materials used not only looked sturdy but also feels the same without sacrificing comfort. I will definitely pick another pair soon. Re the size issue I'd say for me, it is true to size.
This shoe is glorious. Enough said right? Not really, this shoe dominates because of the specific details that you search for in a shoe for ripping on a bike. This shoe is geared for biking, being that the sole is thick and sturdy, and the canvas its made of is SUPER waterproof and hefty against toe cage bashing. With that being said, its low profile, has two great color schemes, it's something you can wear around town, unlike their line of SPD compatibles. Chrome has stated that these run a half size larger than your normal sneakers, which is quite true. I got an 11.5 to have my toes comfortably in, the 12 allowed too much room. (wayyy too sketchy riding without brakes and not having complete response in your pedals) Ultimate decision - great looking, incredibly functional in areas that other sneakers can fail in, (terms of biking) and you'll notice your feet will feel LOCKED IN.
Are these men's sizes or women's? Chrome...
Are these men's sizes or women's? Chrome Truk.
Hello Linda, these are men's sizes.