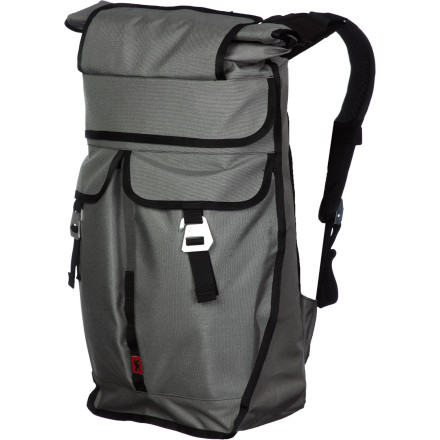 Community Images
Description
Built to outlast you.
The Chrome Pawn Backpack is a weatherproof bag made to stand up to the worst abuse you can throw at it. Smaller than Chrome's Ivan Messenger bag, it has all the same features with military rucksack construction and a weatherproof, expandable rolltop closure.
The Pawn is made with a weatherproof, 1000-denier Cordura outer layer that's backed by an 1800-denier military truck-grade tarpaulin liner with bar-welded seams. That means it'll probably live longer than you. The shoulder straps are industrial strength as well.
With the pack's two internal waterproof compartments, you can keep your laptop, papers, dry clothes, and everything else safe. The zippered laptop compartment accommodates models up to 17 inches. Back pockets allow easy access to essentials, and external daisy chain loops make hanging your lock or bike lights easy.
Chrome added a comfortable back panel and shoulder strap design that makes heavy loads a breeze to carry over long distances. The adjustable shoulder straps and sternum strap let you customize the pack for whatever you need to carry.
1000-denier Cordura outer layer
1800-denier military, truck-grade tarpaulin liner
EVA foam back panel
Adjustable sternum strap
Smaller than Expected
Familiarity:

I've used it once or twice and have initial impressions
I don't always write reviews, but wanted to share my experience regarding this product.

I originally purchased this pack to replace my GoRuck GR1 with a more commuter-bike friendly waterproof pack. I bike to work (about 15 miles round-trip) and use a backpack to carry work clothes, MacBook Air, small camera, and my lunch.

After using this pack a couple times, I decided to return it to SAC. For how bulky this pack is, it's way smaller than I expected. Not only did I have difficulty packing what few items I had, when I did managed to fit every thing in, it was super uncomfortable on my back. If you are using this pack to carry a laptop, and maybe a couple books, I think it would be perfect, especially in humid/wet climates! Anything more than that, consider a larger model or different style pack.

Pros:
Very solid construction
Waterproof
Straps are comfortable

Cons:
Smaller than expected
Uncomfortable on your back
Bulky
Do you ever get sick of companies making products that just aren't made to last? Velcro coming loose, straps breaking, material fraying, padding loosing it's form....we've seen it all before. Well Chrome is not your everyday backpack designer, Chrome builds their gear to last.



The motif of any Chrome bag is really quality and durability. No corners are cut in the construction and the bag is absolutely built to last. Velcro, straps, front buckle to the mega-tough 1000D Cordura 1800D truck tarpaulin material. You can take this bag to the traffic war on the streets any day.



Opting for the Pawn was a most excellent decision. Though the size is smaller than the Ivan, the pack is still plenty deep with 35 L of space, and more pockets than you'll know what to do with (not really though, you'll figure it out). Key features which I love are the waterproof pocket for storing my phone or laptop, loops on the back for attaching a rear light, two front buckle pockets (food on the right, extra tubes and pump on the left), and two main pockets (one for clean clothes, one for dirty) It's not a big enough bag to live out of for a few days, but plenty big for any regular day commuter.
Solid pack
Familiarity:

I've put it through the wringer
Great pack for commuting or just riding around town. The small pockets on the back are great for stashing your phone, wallet, and keys in while the bigger pockets allow you to carry larger loads.