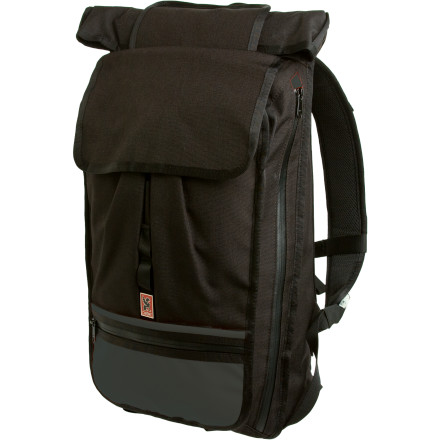 Detail Images
Description
Rugged and robust.
Built with military-grade materials and a welded-waterproof main compartment, the Chrome Soyuz Messenger Bag is a rugged commuter pack that's guaranteed for life. Its abrasion-resistant cordura fabric withstands daily wear and tear, while the tarpaulin lining keeps outside moisture from seeping through. The welded-waterproof main compartment is great for holding work documents, school textbooks, and other sensitive items. It also doubles as a handy beverage cooler, thanks to its tarpaulin lining.
Another cool feature with this versatile commuter pack is the water-resistant, side-access laptop compartment. This compartment protects your laptop from soaking showers and nasty weather when you're biking across town or walking through campus in inclement weather. Other key features include a front organizer compartment for storing your U-lock, wallet, writing utensils, and other daily items. Furthermore, the compression-molded back panel and air mesh shoulder straps alleviate pressure points when you're carrying heavy loads.
Cordura fabric with tarpaulin lining
Welded-waterproof main compartment with roll-top closure
Water-resistant, side-access compartment with laptop sleeve
Front organizer compartments
Compression-molded back panel
Air mesh shoulder straps
Accessory loops
Great bag [For me and my uses!]
Familiarity:

I've put it through the wringer
Use for as my daily driver, replaced my work issued laptop bag. I am a consultant to goes to my client site a whole bunch, multiple times a day. Without warning I might need to stay there all day too. This means I need to pack for worst case scenarios. This guy fits my large notepad, laptop, 2 nalgenes, snacks, power cables, writing utensils, and other stuff. It is a great size, I have the IVAN as well and it would be WAY too big for this use. I think the laptop and notepad sleeve is pretty cool on the side. I often forget to zip it up which is 100% user error. The rest is standard Chrome stuff: Waterproof, durable, quality materials. Its more on the heavy and expensive side but its quality Chrome bag and will take a beating. I pay extra for stuff that will take a beating and keep going.
The right bag for me!
Familiarity:

I've used it several times
I was very hesitant to buy this bag as most reviews I found online were negative. I think you need to evaluate what you're looking for out of a backpack and what price you're willing to pay for that. Personally, I wanted a fully waterproof (tarp lined, sealed zippers) rolltop bag with a laptop compartment and didn't want to spend over $150. Any other bag I found with those specifications was $250+. I paid $75 for this bag and it has far exceeded expectations. I love how the laptop compartment sits in front of the rest of the interior of the bag so when I set it down, I don't risk crushing my laptop. Personally, I have no issue with the size of the sleeve - I have a 13in laptop and the extra space doesn't bother me. I can also fit a 5 subject notebook in with it which is nice.

The two front pockets could be designed better, I agree, however they aren't a deal breaker and I've found use for them. The large pocket area behind them is great, I can put pens in there and items I want to quickly access.

Interior of the rolltop area is very large; I've mostly just used it for a sweater and water bottle so far.

Comfort - bag is very comfortable, love the chest strap, it really helps redistribute the weight. As a woman, I do not find the placement of the strap to be horrible, though I don't have a large chest.

It's not bulky, has a nice lean profile yet fits a ton of stuff.

Overall, excellent commuter waterproof laptop bag for the price (even at the sale price $99). My only big issue would be that the roll top creates somewhat of a blindspot when I'm biking and try to look behind me for cars - ... kind of significant e haha. However, this could probably be remedied if I wore the bag lower


The wrong bag.
Familiarity:

I've used it once or twice and have initial impressions
This is the wrong bag for a variety of reasons. As a cycling commuter bag, you'll be annoyed at how the roll top hits you right in the back of your helmet. You'll be uncomfortable with the way weight is distributed. You'll also be frustrated at how inaccessible everything you've put into the bag is should you need it in a hurry.



As a laptop bag, you'll be concerned at how your laptop, which is most likely not 17'', swims in the laptop sleeve. And you'll mutter angrily to yourself when you have to fish for the Velcro strap that holds your laptop in the sleeve, because its forever hiding inside one of the many ill-concieved and awkward pockets this bag has to offer.



And simply as a backpack, you'll wonder what it is about the front pockets that makes nothing fit well in them ever. At some point you'll realize it's that they're at once tapered and just too flat to hold anything worthwhile. This will confuse you for a little bit, before you see that the main pocket is also tapered and too flat, and wonder if that's just a thing now.



You'll also be a little dismayed to learn that the bag is made in China. Not because you have anything against China, per se, but because you like that Chrome bags are made in San Francisco.
Like it, almost love it
Familiarity:

I've put it through the wringer
The features and benefits of this backpack are all useful for my use in commuting to work on my bike. For my body frame (5'11", 180lbs), the pack fits great. The weight of the pack with contents is evenly distributed and very comfortable to wear. The build quality looks strong. I do not see any weak points initially. The velcro'd closures are all strong.



My only 2 complaints is:

1) It is difficult to put items into the main top pocket. The opening is small. In order to place anything in the main top pocket, you almost have to stuff it in. As you move into the pocket, it opens up nicely. I don't see why they had to design a small opening for a large pocket. If you don't mind stuffing stuff in, then NP.

2) The weight, is considerable even though for me it wear's well. Heavy duty pack means heavy.



I like the pack and use it when I commute. Just wish it was a bit easier to place things in it.
Great backpack but not perfect
Familiarity:

I've used it several times
I really like the bag with lots of feature, strong material and great width and length. The only issue I have with the bag is I could use some more deepness to allow me to pack more stuff for my daily commute.
Is this pack waterproof? If so, is the...
Is this pack waterproof? If so, is the whole thing or just the main compartment?



Also, is everything sealed by velcro?
It's not entirely waterproof ? you couldn't use it as a dry bag on a raft trip or anything ? but it's very water resistant and will repel any rain you come across. Everything's seam-sealed and the zippers are waterproof too. As for velcro, the main flap is most likely held down by velcro but it's certainly not all over the pack.
great cycle pack
Gender:

Male

Familiarity:

I've put it through the wringer
just the right width and length, narrow so you dont contact the pack with your elbows like some larger, wider chrome bags. the storage isnt huge, but the roll top ensures the main compartment is virtually waterproof. it doesnt come with a waist strap (it does include a Sternum strap), but in a pinch you can tie the shoulder straps around your waist.