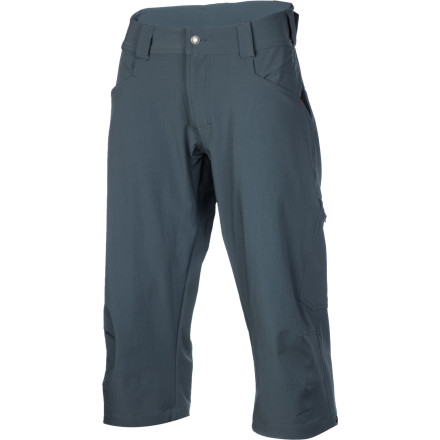 Detail Images
Your life revolves around the bike. In fact, your time in the saddle far outweighs your time spent in beer halls and on park benches. Like it or not, this is your life, and Lycra has a limited time and place within it. For the day to day grind, you need apparel that meets any challenge and keeps on riding past it. You need something like the Chrome Loop Pro Knickers.
Chrome made the Loop Pro Knickers for the all day, everyday rider. We understand that this is easy rhetoric, but if there were palmares for urban cycling, Chrome would be the Indurain of commuting. Basically, its goal is to make your life easier by packing the Loop Pros with every feature that you could ever hope to have. Starting with the construction, Chrome made the knickers from a water-resistant, four-way stretch fabric. This means that the knickers are going to give and stretch throughout the movements of pedaling, and to assist this, the knees of the knickers have been articulated for a better freedom of movement. Chrome didn't stop at a water-resistant fabric to keep you dry, either. The leg openings have been made adjustable with snaps, and the back waist panel has been cut higher to keep wheel-spray out of the knickers.
One of the most exciting aspects of the Loop Pro knickers is the amount of storage that you get. At the front, you get two hand pockets with integrated stretch inserts that add a little give during the upward kick of your pedal stroke. The rear has two deep, angled pockets next to the integrated U-lock holder at the waistband. For secure storage, the knickers have two zippered cargo pockets that will keep everything from your wallet to your manifests dry.
Chrome gave you a few options on how want to secure the fit. You can either run a belt through the loops, or simply rely on the knickers' integrated, adjustable waistband. Feeling like Chrome has thought of everything, yet? Well you're right. The Loop Pro knickers even have a lightweight, sewn-in chamois, as well as reflective accents for night-riding. What else could you need?
The Chrome Loop Pro Knickers are available in four sizes from Small to X-Large and in the colors Blue Steel and Charcoal.