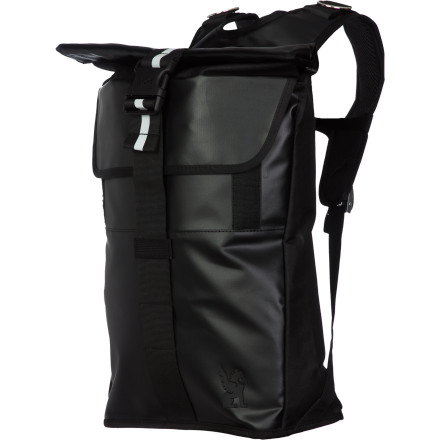 When it all comes down to getting from point A to point B in a hurry and the weather just isn't making anything easy, turn to the Chrome District Backpack to get your stuff there safely. The District relies on tough, weatherproof fabric and a tried-and-true rolltop design to beat back Mother Nature's most insidious attacks. You'll find it tough to resist the urge to try and climb inside.

The most striking thing about the District is its cool retro look. That's not just a style thing, however. The rolltop is both waterproof and expandable. Inside, the District has organizational pockets that allow you to keep track of your smart phone and other personal items, and a D-ring loop for your keys. The zippered laptop compartment accommodates models up to 15 inches. The District has a comfortable back panel and shoulder strap design that allows you to carry heavy loads for long distances without soreness. The adjustable shoulder straps let you carry the District exactly where you want, depending on the size and weight of your load. Chrome also included an adjustable sternum strap for added security and support.

The District is made with a durable 600 denier, TPU-coated shell. The shoulder straps are industrial strength as well and have metal locking cams under each arm, so you can expect this thing to be around for a long time.

The Crome District Messenger Bag comes in one size and is available in Berlin Blue, Woodland, and Black.
Will withstand anything
Familiarity:

I've put it through the wringer
First of all, this is the most rugged bag I own which is exactly what I was looking for. They were not kidding when they described it as 'theft-proof' either; anyone trying to sneak something out would first need to get by the very loud velcro strap. It's waterproof, sturdy, and will protect your valuables. My only complaints are the volume it can hold (smaller than your average North Face backpack) and the lack of multiple accessible points with only one opening at the top (takes a while to get to your stuff especially if what you're looking for has sunk to the bottom). Safe and extremely hardy for long trips in unknown urban territory. It looks super cool too.
Solid backpack.
Familiarity:

I've put it through the wringer
I really liked this backpack at first. It was sleek and stylish and pretty comfortable to wear. After using it for while, my tune changed a little bit. The velcro closure is really loud to undo and the front pocket, when in use, takes away space from the main pocket. The bag is made out of very high quality materials, but I found that this just wasn't for me.
It's Served Me Well
Familiarity:

I've put it through the wringer
I bought this bag right before Interbike 2013, and I've been using it ever since. The shape is low-profile and unassuming, which is good, and the strap design is pretty comfortable under load. Honestly, it has a few more bells and whistles than a really needed, but after using the same Citizen Metropolis bag since 2001, it was time to change it up.



The roll top feature is pretty good to have in a pinch when you need some added volume, which brings me to a couple of drawbacks. This bag doesn't expand very much considering it's maximum height, which can make packing for an international trip a little difficult. When fully-loaded, the inside can be a bit like a pit of despair. But for everyday trips, it's no big deal. My other complaint is that the internal Velcro closure strap for the laptop compartment is a little too long. A weird complaint, sure, but when it hangs, it's chewed up a few expensive jerseys in my bag.



Overall, this isn't the be-all-to-end-all bag, but it's perfect for the slightly-demanding commuter.
Love the bag, but needs getting used to
Familiarity:

I've used it several times
I believe your stuff will be safe in the bag, but I agree with other reviewers about ease of use. The bag is really comfortable on my back when riding, even with a heavy load like a laptop and books. The design is super cool, and people always comment positively. However, it is difficult to get things in and out. It is not ideal for bringing bulky but light stuff, especially those that will stick to Velcro. They put some sticky Velcro on there, and I appreciate it despite the inconvenience.



One thing I would like to see changed is the trimming on the bottom edge of the bag. I feel like that is where a lot of weight is borne and would feel better not to see sewing here, maybe move the trimming up higher. That same trimming also rubs against my back which I think adds unnecessary wear, and potentially tear ?
Loud velcro/hard to get to compartment
Gender:

Male

Familiarity:

I've used it once or twice and have initial impressions
This really is a nice backpack but the super strong velcro in addition to how deep the bag really is once the roll top is extended out make it very difficult to get items quickly and quietly. In a setting where you don't want to be loud, this is far from ideal and really is a deal breaker for me at least.



If you plan on using the outer compartments for anything, the shape can also become a bit deformed if you put anything too big so keep that in mind as well.



I'd like to think of this as a learning experience in that the rolltop design while very nice in appearance, after actually using it, it's just not or me.
Hmmm...
Familiarity:

I've used it several times
The quality of the build of this bag is great. It is a well constructed piece of gear.



Is it for me? I don't know. The bag is smaller than I expected. It holds daily supplies, but I'm wishing it had a bit more to give. It needs an easy to access external pocket to make it work. The main compartment is secured by really heavy duty velcro which gets old if you need to open and close the bag frequently. On the other hand, that velcro keeps your gear safe and secure.



The jury is still out for me.
Great commuter bag/ lightweight traveler
Familiarity:

I've put it through the wringer
As an avid cyclist and frequent traveler, I have tried a variety of bags. Through this experimentation, I've found that Chrome offers some of the most durable bags with an unbeatable pairing of style and functionality. My Chrome Ivan and Sotnik Duffle take care of the traveling, while the Chrome District has quickly become my favorite for overnights and commuting. Its small size makes it comfortable and easy to transport, but its large volume will accomodate a surprising amount of gear. The minimalist harness with D-rings and chest strap work well, but the padding is a bit more minimalist than the Ivan or Sultan (not a knock, but worth a mention. The District's main compartment is nice and large with a section for a laptop, and just enough pockets for your wallet, phone, earbuds, etc.