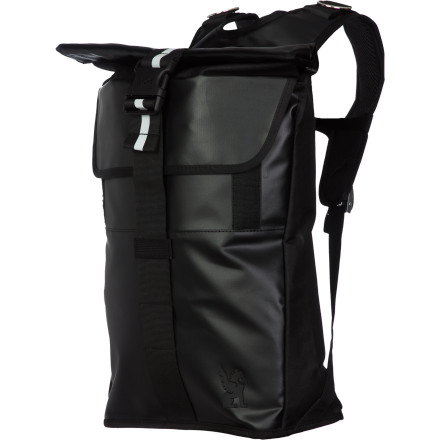 When it all comes down to getting from point A to point B in a hurry and the weather just isn't making anything easy, turn to the Chrome District Backpack to get your stuff there safely. The District relies on tough, weatherproof fabric and a tried-and-true rolltop design to beat back Mother Nature's most insidious attacks. You'll find it tough to resist the urge to try and climb inside.

The most striking thing about the District is its cool retro look. That's not just a style thing, however. The rolltop is both waterproof and expandable. Inside, the District has organizational pockets that allow you to keep track of your smart phone and other personal items, and a D-ring loop for your keys. The zippered laptop compartment accommodates models up to 15 inches. The District has a comfortable back panel and shoulder strap design that allows you to carry heavy loads for long distances without soreness. The adjustable shoulder straps let you carry the District exactly where you want, depending on the size and weight of your load. Chrome also included an adjustable sternum strap for added security and support.

The District is made with a durable 600 denier, TPU-coated shell. The shoulder straps are industrial strength as well and have metal locking cams under each arm, so you can expect this thing to be around for a long time.

The Crome District Messenger Bag comes in one size and is available in Berlin Blue, Woodland, and Black.