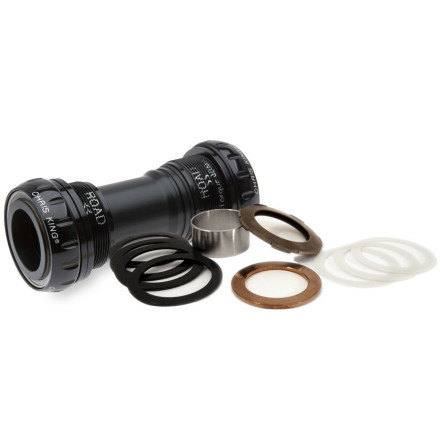 Detail Images
Ever since Chris King unveiled their bottom bracket, Shimano riders have reveled in having the King name adorn their drivetrains. This SRAM compatible version allows the Chris King Road Bottom Bracket to be used on all SRAM GXP, Truvativ GXP, and Bontrager GXP cranksets with a stepped 24mm axle. King's bottom bracket was a long time coming, and as expected it upholds the unparalleled quality standard that Chris King established a long time ago with his headsets.
The aluminum cups of the Chris King Road Bottom Bracket house 24 stainless steel balls in each of the made-in-house cartridge bearings. They are user serviceable with the Chris King Grease Injection Tool (available separately). Simply squirt fresh grease into the bearings to purge the gunky, used grease and keep things spinning smoothly. This system has a fringe benefit for racers -- it gives you the option of running a very thin grease or even oil on race day in order to minimize bearing drag. And when you're not racing, it's a snap to inject thicker grease to maximize durability
The Chris King SRAM Road Bottom Bracket is available in Black and Red. This SRAM version does NOT come with cup spacers and is designed to thread directly into a 68mm shell without them.
Two final technical notes: (1) The Chris King Bottom Bracket is available in English threading (aka 68mm) ONLY. It is not available for Italian threads. No, there is no way to rig it to work for Italian BB shells. Sorry. (2) It is NOT compatible with mountain cranksets due to one critical issue -- the thickness of the external portion of the cups is different between road and mountain. We offer a very-similar-yet-different Chris King SRAM compatible bottom bracket for mountain bikes. Please note that while the cups can be installed with a Shimano bottom bracket tool, Chris King strongly recommends using its cup tool, as the splines on the bottom bracket are proprietary.
What do you think about this product?
Have questions about this product?
It's "fine"
Familiarity:

I've put it through the wringer
I upgraded my crankset last year and thought, "why not" when it came to upgrading the bottom bracket. To be clear, the BB does exactly what you would expect : it is smooth, serviceable, fits well. I can't knock the product, after a year of racing it is solid. However, in terms of value, there are comparable products that offer better value for the money. I'm happy with it, wouldn't get rid of it, but given the opportunity to do it all over again would probably stick with the Hawk Racing BB that I swapped it out for and save the extra money I likely paid for the name.
Horrible fit
Familiarity:

I returned this product before using it
The drive side of this would not thread into my brand new chased and faced frame without an incredible amount of force. Thinking that my frame might be flawed, I tried a standard SRAM GXP bottom bracket. It threaded in by hand with absolutely no problem. When I contacted my frame manufacturer about the challenges with the Chris King bottom bracket, they told me that they see a lot of over-sized misfitting parts from Chris King. It's either poor design or horrible quality control. I'm just grateful that my attempt to install this didn't ruin my $2,000 titanium frame. I thought this would be a nice upgrade, but it turns out this will bet the Chris King product that I ever purchase.
Really dig how the BB bearings are serviceable with the injector tool; which works with the Speedplay grease gun's Zerk adaptor. Also like how you can change the type of bearing grease used. Have had this BB for 2 years now without a problem, and hope that the streak lasts at least another two.
SiteId: 1
SiteCode: bcs
Transient: true
Sec Status: 0
Catalog: catalog:bcs
PriceList: priceList:listPrices
SalePriceList: priceList:salePrices
isDev: No
is Mobile (touch): No
protocol: http
port: 80
storeServerUrl: http:///Store/catalog/productLanding.jsp
secureStoreServerUrl: http://www.backcountry.com
request locale:en_US_1
profile locale:
Template parameters
navigation: /navigation/categoriesNav.jsp
header: /includes/header.jsp
navigationFlyouts: /navigation/categoriesNavFlyout.jsp
siteName: Backcountry.com
defaultBody: /catalog/product.body.jsp
pageStart: /includes/pageStart.jsp
footer: /includes/bcs/footer.jsp
logoUrl: /images/bcs/bc-logo.png
displayName: /includes/displayName.jsp
pageEnd: /includes/pageEnd.jsp
productDisplayBox: /catalog/include/productDisplayBox.jsp
Template inheritance tree
/backcountry/layout/templates/bcs/ProductPage
/backcountry/layout/templates/bcs/StandardPage
/backcountry/layout/templates/StandardPage