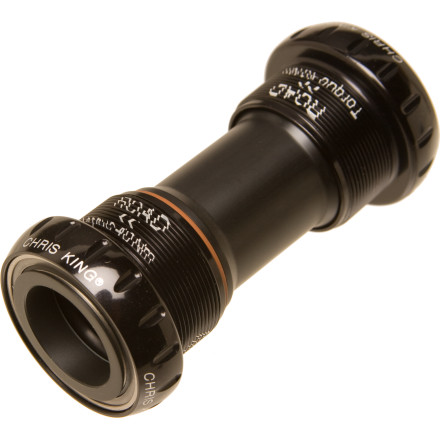 Detail Images
A fortunate few companies are market leaders. Rarer still are market obliterators. These companies are so dominant and worthy of their marketshare and mindshare we sometimes wonder why their competition bothers. And no company obliterates quite like Chris King. Is there a single more iconic product in the history of bikes than a Chris King Nothreadset? We think not. In its precision and its durability, the Nothreadset sets the standard for quality in the bike industry -- regardless of what component you're talking about.
In unveiling their bottom bracket, Chris King brings their unparalleled standards to the drivetrain for the very first time. It's designed for any Shimano crankset, most notably the Dura Ace FC-7900, Dura Ace FC-7800, and Ultegra SL FC-6600. It's compatible with double, triple, and compact Shimano cranksets, provided that it's a system with an external bottom bracket (read: any Shimano 10-speed crankset). It will also work with FSA and Race Face cranksets. The Chris King bottom bracket includes a trio of 2.5mm spacers, although you will most likely not need them (it's designed to thread directly into your 68mm shell without spacers). Consider the spacers a gift from Chris King, and use them on your mountain bike.
The aluminum cups of the Chris King Bottom Bracket house 24 stainless steel balls in each of the made-in-house cartridge bearings. They are user serviceable with the Chris King Grease Injection Tool (available separately). Simply squirt fresh grease into the bearings to purge gunky, used grease and keep things spinning smoothly. This system has a fringe benefit for racers: It gives you the option of running a very thin grease or even oil on race day in order to minimize bearing drag. And when you're not racing, it's a snap to inject thicker grease to maximize durability
The Chris King Bottom Bracket weighs just 98g (cups/90g, sleeve 8g, and optional spacers/8g) and is available in Black and Red. Since you're asking, yes, that's 2g lighter than a Shimano Dura Ace BB-7900 bottom bracket(!)
Three final technical notes: (1) The Chris King Bottom Bracket is available in English threading (aka 68mm) ONLY. It is not available for Italian threads. No, there is no way to rig it to work for Italian BB shells. Sorry. (2) This Chris King Shimano Compatible Bottom Bracket is NOT compatible with SRAM cranksets. We have a SRAM specific version that WILL work with all SRAM, Truvativ, and Bontrager GXP cranksets. (3) It is not compatible with mountain cranksets due to one critical issue: The thickness of the external portion of the cups is different between road and mountain. This difference isn't unique to Chris King. Rather, this is Shimano's design spec, which is why we offer a very-similar-yet-different Chris King bottom bracket for mountain bikes. The cups can be installed and removed with a Shimano style bottom bracket tool.
Compatible with Shimano's external-BB cranksets as well as FSA and RaceFace cranksets
Unanswered Question
Is this also compatible with Shimano 105 5700 crankset?
Will CK BB work with Rotor 3D cranks? The cranks have a 24mm axel so I suspect it will work.
Hi Jason,

If you have a 24mm axle it should work, but most Rotor cranks will have a 30mm axle.\

Any other questions please contact us.

Thanks
i'd like to run these with BMX cranks......
i'd like to run these with BMX cranks... do you know if i could use the Fit Indent 24mm or Eclat Onyx 24mm cranksets with these BBs?
Best Answer
Shimano road cranks have a 24mm spindle. So the spindle of the BMX cranks that you want to run is the correct size. However the bottom bracket shell width needs to be 68mm. The key is to make sure the spindle length is the same as a shimano crank. On the Chris King website they say this bottom bracket is compatible with most 24mm Cranks. ddalton@backcountry.com
Can this CK road BB be used for replacement...
Can this CK road BB be used for replacement of a FSA MegaExo BB in combination with a FSA SLK crank ?
This answer can vary in practice, but the official answer is that shimano hollowtech compatible bottom brackets are not compatible with FSA Mega Exo cranksets. Unfortunately as of right now Chris King does not produce a Mega Exo style bottom bracket
Does NOT work with Dura Ace 9000 cranks!
Familiarity:

I returned this product before using it
Beware. I am a professional mechanic and bike racer for 30+ years and generally LOVE Chris King components. This BB works for everything up to Dura Ace 7900. However, the Delron inserts in this BB are loose on the new DA 9000 crankset and you will notice lateral movement when the cranks are properly installed. Unfortunately I found this out after installing it. I'm sending mine back. I'm still giving this a 5-star rating as I have one for my Shimano XTR cranks that I love. However, this problem needs to be addressed and communicated by both Competitive Cyclist and Chris King.
will this work with the new shimano 9000...
will this work with the new shimano 9000 or 6800 crankset?


This bottom bracket will work with the newer generation 9000 and 6800 cranksets as well.