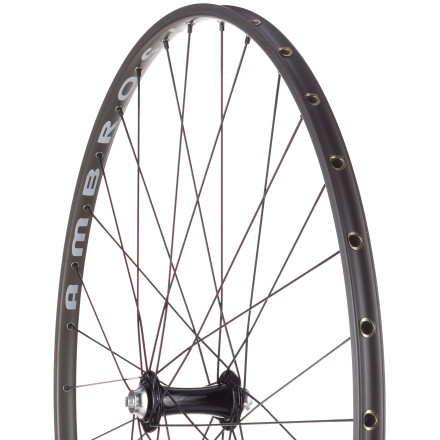 Detail Images
Presented here is a mixture of champions -- the new breed mated with the old crown, if you will. With the Chris King R45/Ambrosio Nemesis Tubular Wheelset, you get a hubset that's won over 100 professional races in under two years of existence. And for the rims, the Ambrosio Nemesis flaunts 'La reine du nord' on the rim for a reason -- it truly is the Queen of the North when it comes to its sheer number of appearances in the Spring Classics. Together, you can expect the Nemesis and the R45 to present a ride a quality that's nothing but thrilling, and an aesthetic that's no less than timeless.
Starting with the hubs, the wheelset comes equipped with the relatively new, yet venerable, Chris King R45s on both the front and rear. Featuring a 20% weight reduction over the Chris King Classics, the R45 has proven itself to be the future of the King hub dynasty -- and this is attributable to more than just weight savings. King redesigned the hub shell bodies of the R45 to not only accommodate the new 17mm axles, but in proper King fashion, to sleek the aesthetics, as well. And on the subject of the axles, the new, broad 17mm design ensures a heightened resistance to deflection through hard cornering and powerful driving efforts.
Even the interior of the R45 has been improved upon. In fact, the R45 uses a redesigned driveshell with a twin bearing system. This not only shaves grams, but it also contributes to a faster engagement at the rear hub. Working in conjunction with the patented, 45t stainless steel RingDrive engagement system, the rear hub is more responsive and silent than ever. Further amplifying the speed and precision of the R45s are King's legendary stainless steel bearings. Produced and tested in-house in Portland, Oregon, the R45's exclusive bearings exploit King's proprietary bearing design for massive gains in the departments of speed, precision, and durability. Even better, the bearings use a feathery, low-friction seal that enables service with nothing but a 2.5mm hex wrench and a penknife.
So, for the rims, the R45s have been laced with 32 stainless steel spokes to the sturdy, 13mm box-profile of the Ambrosio Nemesis. Each rim has double Inox eyelets to reinforce each spoke joint. However, it wouldn't be an Ambrosio without a stealthy hard anodized finish. This treatment resists both brake track and aesthetic wear. And at only 430 grams per hoop, you can expect a lifetime of fast-rolling reliability for cyclocross, year-round training, or for simply drilling it across gravel parcours that punctuate your bully ride. This rim measures 21mm across, making it perfect for fitment with your favorite 23 or even 28mm tubular tire.
The Chris King R45/Ambrosio Nemesis Tubular Wheelset is available in the color Black and in a 700c sizing. It is also being offered with either a Shimano/SRAM or Campagnolo compatible freehub body. Skewers are not included.
Share your thoughts
What do you think of the
Chris King
R45/Ambrosio Nemesis Tubular Wheelset
? Share a...
Best wheelset available
Familiarity:

I've put it through the wringer
Thanks competitive. This is the best wheelset of the past 20 years. I have ridden dozens of wheelsets over the years and the only ones that can compare are the mavic reflex rims/ dt 240 combo.

Smooth is the word for these wheels.

These days race bikes are so stiff and every year new models of wheelsets get stiffer.

A stiff carbon/alu race bike would be a perfect race pair with these more forgiving hoops.

I always race with these wheels no matter what the situation. I have the option to use enve/edge, zipps and other high end sets, and I always choose these.

Yes, these wheels have a great heritage and will impress every knowledgable rider in the field, but what really matters is how well they do in a race. That said, put me on the start line of my most important priority A race of the season, and I want these wheels on my bike.

This set is also good for cross races though ideally, the rim would be a couple mm wider.

Wheels are smooth, stable, serviceable, balanced, and with excellent hubs.

I will never purchase another Road Race wheel set other than a reflex rim set up. I have absolute confidence in these wheels for all rr situations and terrains.

Not to mention that taco-ing one of these is far less expensive than taco-ing the enves on my TT bike.

PS I have conti competition tubies glued on.
Unanswered Question
11 speed compatible?
Unanswered Question
Would these wheels fit on my cannondale...
Would these wheels fit on my cannondale synapse (w/ shimano 105s)?http://www.cannondale.com/2013/bikes/road/performance-road/synapse-carbon/synapse-carbon-sm-5-105-compact-crankset
From the Book of PRO
Familiarity:

I've put it through the wringer
It all starts with the rims - there are only a handful of products that a mere mortal can buy that are as legitimately PRO as these hoops. The fact that they're laced to some really awesome Murican-made King hubs is just icing on the cake. I have the same wheelset (only with DT hubs) and they're just awesome riding, timeless, and bombproof. Modern-day creature comforts these may lack, but that's not really the point.
ARGH! Can you not have it in Campy instead...
ARGH! Can you not have it in Campy instead of Shimano?

Best Answer
Unfortunately, all we have left in stock is Shimano. Though you could likely get a Campy freehub from Chris King no problem.
What kind of spokes please? Butted? Straight...
What kind of spokes please? Butted? Straight guage? Brand? And what kind of nipples? Brass? Alloy? Thanks!
Best Answer
These should have DT Competition spokes, so they are butted, and they have DT brass nipples. Enjoy!
King R45/Ambrosio Nemesis
Gender:

Male

Familiarity:

I've used it several times
These wheelsets are so classic and bombproof. The King hubs are laced tight and true. Minimal adjustments are needed to R45 hubs with usual breaking in of seals. Challenge tubulars (27 mm) on this wheelset.... Riding like on a cloud with my first (and second) set of tubular wheelsets these are..... Timeless!!