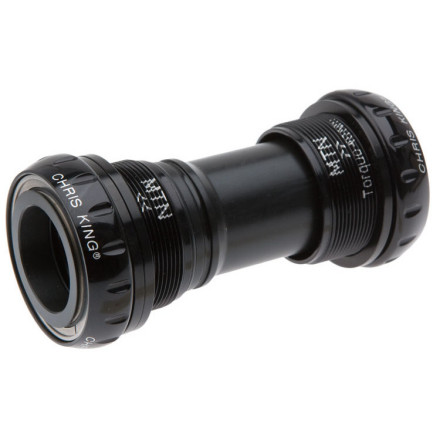 Detail Images
A fortunate few companies are market leaders. Rarer still are market obliterators. These companies are so dominant and worthy of their marketshare and mindshare we sometimes wonder why their competition even bothers. And no company obliterates quite like Chris King. In unveiling their Shimano compatible bottom bracket, Chris King brings their unparalleled standards to the drivetrain for the very first time. It's designed for any Shimano external-type crankset. This includes Shimano XTR, XT, and SLX and it's also compatible with FSA and Race Face cranksets. It will work with both 68mm and 73mm bottom bracket shells thanks to the trio of 2.5mm aluminum spacers that comes with the bottom bracket, allowing you to perfectly dial in your chainline or use an E-type front derailleur or bottom bracket mounted chain guide.
The aluminum cups of the Chris King Bottom Bracket house 24 stainless steel balls in each of their made-in-house cartridge bearings. These bearings are user serviceable with the Chris King Grease Injection Tool (available separately). Simply squirt fresh grease into the bearings, purging them of gunky, used grease to keep things spinning smoothly. This system has a fringe benefit for racers: It gives you the option of running a very thin grease or even oil on race day in order to minimize bearing drag. And when you're not racing, it's a snap to inject thicker grease to maximize durability
The Chris King Bottom Bracket weighs just 97g (cups/90g, sleeve/7g, and optional spacers/8g) and is available in Black and Red.
One final technical note: This version of the Chris King Bottom Bracket is specific to mountain bike cranksets. It is not compatible with road cranksets due to one critical issue: The thickness of the external portion of the cups are different between road cranksets and mountain cranksets. (You can click here to buy the road version). This difference isn't unique to Chris King. Rather, this is Shimano's design spec, which is why we offer a very-similar-yet-different Chris King bottom bracket for road bikes. The cups can be installed and removed with a Shimano style bottom bracket tool.
Compatible with Shimano mountain cranksets
What do you think about this product?
Have questions about this product?
can i use this to replace my un45 sealed cartridge using the same frame?
Best Answer
The UN45 is an older square taper BB. This won't replace that bottom bracket, but it will fit the same frame if you are also updating your crankset.
thanks ADAM this will save me from buying a new frame,i will also updating my crankset.