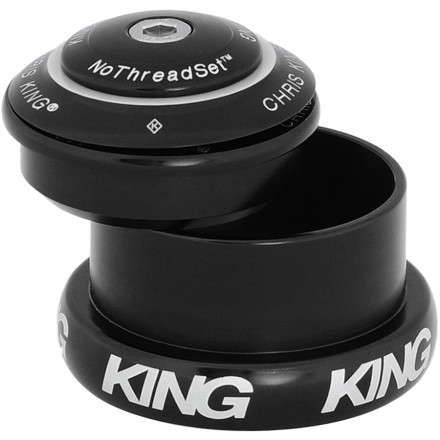 Detail Images

Community Images
Chris King is a smart guy. Firstly, he invented the sealed bearing headset that would become the industry standard for excellence. Secondly, he listened to the industry when it shouted out loud that bearings could be inside the head tube if one wanted them there. This Chris King InSet 3 Tapered Headset w/ GripLock is evidence that even when you don't want to do something, you can still do it with style and grace when you need to.
This isn't a full InSet headset -- it's what Chris King calls a "Mixed Tapered" headset. It has a 1-1/8" InSet (semi-integrated) upper cup and an external (traditional) 1.5" lower cup. The 1.5" lower bearing assembly is plenty strong and extremely durable -- it's not going to get notchy or disintegrate any time soon. The external lower is also good because if you have a favorite fork that happens to have a 1-1/8" steerer you can still install it, albeit with a reducer base plate.
Chris King's GripLock upper bearing cap uses a new compression design. This assembly replaces the older style, one-piece bearing cap that contained the O-ring. Instead, GripLock uses a split compression ring to center the steerer tube in the upper bearing, and when you preload the assembly, the split ring provides additional surface area against the steerer for a more secure and safer interface, especially on carbon fiber steerer tubes. The upper bearing assembly is super clean-looking because of its low profile. It also allows the frame designers the ability to increase the headtube length without raising the handlebar height. A longer headtube allows for greater steerer support and more surface area for the top and down tubes, both things that make the bike stronger as a whole.
The Chris King InSet 3 Tapered HeadSet comes with King's regular 10-year warranty. It's available in Black, Navy, Red, and Silver. It fits frames with tapered 1-1/8 to 1.5" (44 to 49mm ID) head tubes and forks that have a tapered 1-1/8 to 1.5" steerer. It can be used with straight 1-1/8" forks with a reducer base plate (sold separately).
It comes in red!
Familiarity:

I've put it through the wringer
Both of my mountain bikes have King headsets. They make all the differet variants you could ever need, they always work, they never need any maintenance, and most importantly it comes in red.
Unanswered Question
Do you ever offer the King headsets in other colors, or can they be special ordered?
Chris king w/ K-Edge Stem Mount
works great!
SMOOOOOTH and STRONG!
Familiarity:

I've put it through the wringer
I have had several Chris King products and have never had an issue with them. I feel it is totally worth worth upgrading from a Cane Creek. They are bomb proof.
King.
Familiarity:

I've put it through the wringer
I picked this up for my Nomad build because I'm no stranger to the precision, smooth feel and easy serviceability of Chris King Headsets (and BB's for that matter). I couldn't be happier with it.
Durable and Colorful
Familiarity:

I've put it through the wringer
King headsets are awesome. I use them on all my bikes and am still using the first King headset I installed almost twenty years ago. The durability and color options set them above any other manufacturer. Buy it, ride it, admire it for life.
Chris King tapered Headset
Gender:

Male

Familiarity:

I've put it through the wringer
Hard to beat the king. Works great, light weight. What else is there ? CaneCreek is the only other possibility.
Chris King...what else needs to be said?
Familiarity:

I've put it through the wringer
Got this for my Ibis Mojo HDR 650b. The quality and precision of the headset are legendary in the bike industry, and it certainly shows in the headset here. I loved how tight the tolerances are on the headset, and the peace of mind in knowing it won't creak or loosen is a huge relief.



Bearing quality is some of the best in the industry, and plus I like the polished silver look of the headset, gives my bike a bit of bling.
The workmanship on the Chris King Inset 3 exceeded my expectations. It had precise machining, high quality surface finish with a "deep penetrating" red anodize and sharply defined white nomenclature. Good instructions followed by a flawless installation on my carbon frame.

No doubt, my next headset will be a Chris King set.
Chris King IS the Headset King
Familiarity:

I've used it several times
Its a no brainer, Chris King has set the standard in the industry. My attitude is to get the best value for my money. Believe me, I looked for the best price and found it here. I buy quality so I don't have to look to replace something that will fail, paying again and again for the same part. Buy the best, and forget it. "The bitterness of poor quality remains long after the sweetness of the low price is forgotten". Ben Franklin
So you know the quality and craftsmanship is phenomenal. The best part of this headset is the low profile top bearing. This helps keep the height of the front end down which allows for a greater adjustability of the saddle to handlebar drop. That is important with those longer travel forks and 29ers.