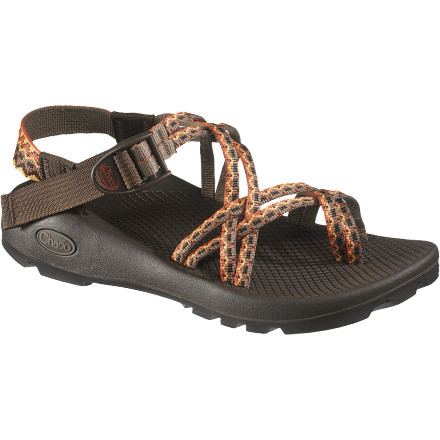 Detail Images

Videos

Community Images
Description
Chaco's Z/X2 makes long hikes easy on your feet.
Chaco's ZX/2 Unaweep Sandals offer a high level of comfort for people with bunions or funky shaped knuckles since the double-strap design is more accommodating than a single, ¾-inch strap. Chaco's Vibram Unaweep outsole grips on sandy desert trails or river bottoms. The Chaco BioCentric contoured footbed still lends solid support for long days on your feet even though it's 20% lighter this year. The ZX/2 toe strap holds your feet securely for long downhill walks and off-camber scrambling.
Stoked on Chacos
Familiarity:

I've put it through the wringer

Fit:

True to size
I wear them literally all the time. They are easy, versatile and just stylish enough! My only complaint would be my big toe is a little smushed but thats probably just because I have a big big toe, so watch out those who have larger than average big toes. Other than that I will continue to wear these sandals constantly because they are fit for just about any adventure or just a causal day.
Chaco Love
Familiarity:

I've put it through the wringer

Fit:

Runs small
I love my Chacos. Not only are they versatile and can be paired with anything from jeans to a dress, but they are supremely comfortable. I walk about 4 miles each day in my beloved Chacos, as they get me to and from school and work.

I usually wear a size 7 shoe, but Chaco's size 6 fits my foot like a glove. So, if you're on the edge, I'd err on the smaller side.
My absolute favorite shoes ever!!!
Familiarity:

I've put it through the wringer

Fit:

True to size
I LOOOOVE my Chacos!! I waited a while to get a pair, just because they are a little pricey... but I am so glad I did!!! They are my favorite shoes ever!! They give me great arch support and I love how easily adjustable they are! Once I figured out how to adjust them I could fit them to my feet perfectly! I love the fact that you can throw them in the washing machine too! Love the copperhead print too! Totally worth the money. I wore them everywhere this summer and they were fantastic. Buy a size up though if you plan to use them on terrain so you don't stub your toe. In short, 10 stars!!!!! Buy them! You will not be sorry!!
Love my Chaco's
Gender:

Female

Familiarity:

I've used it several times

Fit:

True to size
I got these for a hiking / road trip we were taking. I was not disappointed. They are great for day hiking. I love the arch support, and the beefy sole.
It did take a little getting used to the straps. Especially around the toe, it would work itself loose. And I did pick up a pebble or two! However, I wore these also on a shopping / sightseeing day and they were heavy. So I will probably get the ZX1 for that.
Comfortable, stylish, and durable.
Initially these appear to run large, lots of footbed. I soon realized that was a good thing. Protective of the toes.
This photo is a trail over Taos! Hiking before the SolarFest!
Love These!
Familiarity:

I've put it through the wringer

Fit:

True to size
I love the ZX/2's, mainly because the double straps are way more comfortable to me than the Z/2's, and a lot easier to adjust, don't get me wrong, I still love my Z/2's but they are a notch below the ZX/2'S.
Perfect
Familiarity:

I've used it once or twice and have initial impressions

Fit:

True to size
These shoes are comfy and have some arch support which is perfect, and I need this! These shoes are recommended!
Hoping they work since I love the style
Familiarity:

I've used it several times
Love the look, feel etc but am having trouble getting the straps around my toe to stop tightening as I walk. I've got a thin foot and can't seem to get the straps to "stay put". I'm going to give it a couple more days hoping I don't have to return them for the single strap version. Also the end strap is sooo long that it's flopping on the ground. I wear a 7.5 normally but got an 8. The arch support fits me perfectly and I've got just a little room at the front of my toes so I think the size is correct. Suggestions?

After several more days of trying to get this sandel dialed in I ordered a pair of the Z/1 Unaweep. I'll be returning this Z/2 cuz I just couldn't get the straps to stop tightening around my toe. The Z/1's just fit better. I'm sad but my feet are happy.
Best Shoes Ever
Familiarity:

I've put it through the wringer

Fit:

True to size
These are the only shoes I can hike in that don't hurt my ankles (my ankles are jacked up from many soccer injuries). In any other shoes, my ankles hurt incredibly bad when walking up or down a slope - not in these babies! They are GREAT for hiking in all conditions. Have to cross a creek? Perfect, just walk on across! Others will have to remove their socks and shoes, then tip toe across and hope they don't cut the bottom of their foot open, then put their socks and shoes back on a wet (and probably muddy) foot. Not you and your Chacos!

I tried the normal size 7 first, and they were rubbing too much on the side/middle of my foot, so I switched to the 7 wide. (I do not wear "wide" in any other type of shoe.) The wides were perfect on fit, but they are a bit clunky-looking. I feel like I look weird if I wear them with shorts for non-adventuring activities, but with pants I think they're fine.

One thing to warn you about if you get these AMAZING shoes and hike in them (which I 100% recommend!) - morons who don't know what they're talking about will say annoying stuff like "Oh, you're wearing SANDALS to HIKE?!?" and then if you trip or stumble at all (at no fault of the Chacos!!) they will say "You shouldn't wear SANDALS to HIKE." These people are idiots who should be ignored. Other Chacos wearers will give you a knowing nod, and maybe a high five, so that kind of makes up for the mouth-runners.

I've had mine for almost two years now, and they're still in great shape. When they do wear out, you can send them in and get them resoled and get the straps switched out (it's not free, but it's reasonably priced).
Do these need another positive review?
My wife loves them.... They fit nice and remember to follow the instructions on the inside of the box on how to tighten and loosen the straps!
Backpacking in Costa Rica
Wore these pretty much everywhere in Costa Rica several summers back. Got the job done but have a few complaints. I didn't like how rocks would get stuck under my foot and in between the sandal. Also the webbing doesn't have much give, pretty restrictive. I prefer my Teva Olowahu Sandals for comfort.
All Day Every Day If I Could
Familiarity:

I've put it through the wringer

Fit:

True to size
I don't know what I would do without my Chacos. My puppy chewed through a critical strap of my last pair that were already wearing out from over use, so I decided to grab another "fancy" pair in black. I wear these everywhere: to work, walking the dog, hiking, and around town. They're suitable for shorter hikes in almost every summer condition, Bozeman, Seattle, Moab, the Adirondacks. Anything longer than a few miles and they might start to rub if you aren't used to them, so start small.
Awesome! Awesome! Awesome!
Familiarity:

I've put it through the wringer

Fit:

True to size
I love, love, love these shoes! They are comfortable & stylish. My only regret is that I can't wear them year around. If you are on the fence about buying a pair get off the fence and buy them. Chaco makes the best sandals around! My favorite thing about these shoes are that the straps are infinitely adjustable, so they fit my short fat foot. Chaco will restring them for a small fee if the straps brake and they will also resole them as well. These are worth every penny!
Best camping/hiking/daily sandal ever!
Don't mind our T.P. for kindling :)
OBSESSED
Familiarity:

I've put it through the wringer

Fit:

True to size
I could wear these chacos ever day. i knew i needed a pair, but was hesitant because i had heard that they somtimes take time to break in (especially around the toe). Not the case with this pair. I really like the smaller double strap, it was so comfortable from day one. They can get wet and dry super fast. They are great for water and for hiking, pretty much I wear them everywhere. I would highly recommend.
Great sandals
Familiarity:

I gave it as a gift but have feedback to share

Fit:

True to size
From the recipient:



I?ve wanted a pair of Chaco sandals since I was a little girl and last week I finally ordered my first pair. I?ve noticed that when I desire things for long periods of time I start to idolize them, only to be let down by the mediocre reality of the item. This was not one of those times. I absolutely love my new Chacos! They are so stylish while also being incredibly practical for anybody who loves to be outdoors. I can?t wait to take them on all the adventures I have planned this summer.

Foot: 25 cm/9.8?

I purchased a size 8 and they are on the cusp of being too big.


Holds up great!
Familiarity:

I've put it through the wringer

Fit:

True to size
My wife has had these for 5 years now and is just barely thinking about getting them resoled. She has loved their fit and style. We recommend chaco sandals to everyone we know. Great for hiking, around town, or anywhere. Great arch support. Order a size smaller if you're normally in between sizes. We now both have chaco pedshed shoes for colder weather because we love the comfort and style. If you're going to own an all-around great sandals, especially if you love the outdoors, make it chacos!
Absolutely love these sandals!
Familiarity:

I've put it through the wringer

Fit:

True to size
These were an early birthday gift that I've wanted for months. I took them on a 10-day European tour and wore them everyday - from 7AM to 11PM - walking miles and miles in them. They are the most comfortable shoes I've ever worn! There's no way I could have done all the touring I did without them. I will never be without my Chacos!

Note: the first pair I ordered had a minor defect on the strap and BackCountry was awesome, sending out a new, perfect pair in 24 hours!
LOVE CHACOS
Gender:

Female

Familiarity:

I've put it through the wringer

Fit:

True to size
Second pair of Chacos (in two different styles)! These are my first try with the double straps with separate toe strap. To be honest, these straps take a little getting used to (I got a couple small blisters) but after a few days of walking around in them, I'm accustomed and they feel great. Perfect for beaching, hiking, or just a general casual shoe. Wore these hiking, camping, and island hopping in Hawaii for 10 days. Great sandal!