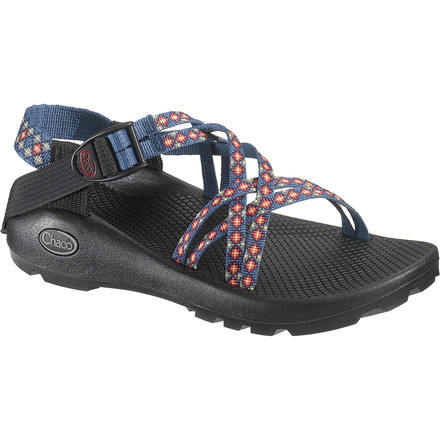 Detail Images

Videos

Community Images
Description
Chaco's Z/X1's double-strap design creates a more accommodating design for individuals with shapely feet.
Chaco designed the ZX/1 Unaweep Sandals with a basket-weave style strap to provide an extra level of comfort by shaping more exactly to the contours of your feet. Chaco's self-cleaning lug pattern keeps rocks and dirt out while offering steady footing on dry trails or river beds. Chaco's BioCentric contoured footbed offers satisfying fit while the polyurethane fill creates a more manageable sole that is soft and light. The ZX/1 basket-weave strap configuration features an open toe so you can wear the sandals over neoprene booties in the river or socks at camp.
Oh Chaco's I love you
Familiarity:

I've used it several times

Fit:

True to size
I really like this shoe: lightweight, straps fit well all around. I would love these to be in a "wide width", so maybe that's coming in the future. I've only had the single strap and so these are my first double straps and they seem easy enough to adjust for my foot. I am so glad I took a chance on these and maybe you will too! I found that this fits true to my whole size of a 6. When I went up to a 7 it was way to big. I use these for walking around the city and taking the bus in the hot desert sun. Of course, I'm a color lover and I was sold on Burst Blue. I also like the Light Beam. Happy walking!
I LOVE MY CHACOS! These are the most comfortable and versatile sandals I own. They strap down to your feet which makes them ideal for camping/fishing/hiking and they take barely anytime at all to break in. In the event that you slip into that mucky river, they are easy to rinse off and they don't hold any stink! If you are on the fence about buying these, DO IT! You wont be disappointed.
The best!
Familiarity:

I've put it through the wringer

Fit:

True to size
Love my Chacos! Durable, comfortable, and I can wear them with socks in the winter!
I like these....
Familiarity:

I've put it through the wringer

Fit:

True to size
...because I can wear them with socks. Yes, I am from Seattle. I love these for white water...they protect the feet well and if I need to, I can loosen them and throw a pair of wool or neoprene socks on with them, tighten them back up and I am good to go.
99% of my adventure friends have some version of a chaco sandal. They are undeniably the most versatile Sandal on the market. I didn't fully understand the hype until I absolutely fell in LOVE with mine. These things are a must have. Not only are the super supportive and comfortable, they are bombproof. You can get these guys wet and they will not slip. You can wear them anywhere, hiking, even biking! Great for river trips of floats. Highly recommended! Unsure of your size? Size down.
Chaco ZX/1 Unaweep Sandal - Women's
very comfortable
Gender:

Female

Familiarity:

I've used it several times
They did not need much breaking in. I just wish that Chacos products were not made in China. That will definitely affect my future purchases.
I usually wear a size nine shoe and just...
I usually wear a size nine shoe and just received my size 9 chacos. There seems to be a lot of room at the back of my foot. my heel doesn't sit all the way back in the heel cup. Should I exchange for size 8 or do I just need to work on the strap adjustment?

Thanks
I would mess with the straps until you can get it as close as you can, and then return it if you still aren't satisfied. You don't want your feet up against the edges of the shoe; having them a little large helps protect you from kicking rocks and such. But if you can't get your heel comfortably into the heel cup, I would downsize a half/whole size.
Loosen all the straps on the sandal. Slide your heel against the heel strap until it is comfortable, then tighten the straps around your foot. If there is too much room on the front of the foot bed, or the toe strap is further past your first knuckle on your big toe, they are too big.
Remember for tightening. "Knuckle then Buckle" Pull on the left side of the shoe to tighten.
I usually wear a size nine shoa and just...
I usually wear a size nine shoa and just received my size 9 chacos. There seems to be a lot of room at the back of my foot. my heel doesn't sit all the way back in the heel cup. Should I exchange for size 8 or do I just need to work on the strap adjustment?

Thanks
You should have some room around the edges of your Chacos. With your heels and toes right on the edges, your feet are more susceptible to trail damage. If you have more than 1/2" or so, however, you may want to size down. I'm a size smaller in Chacos than I am in street shoes.
I bought the sandals for my 16 yr old for Christmas. She was ecstatic. She loves them and wears them all the time. I especially liked the price. Shipping was a dream as well.
i *hated* my 1st pair of chacos-- and it was b/c of the damn big toe loop. could never get it so that it wouldn't tighten up. i was hesitant to get this pair, but i'm so glad i did now!!! it made a big difference for me that my toes are free. the sandal holds up well-- i've gone on multiple hikes now w/ them & they've held up thru dust, rock & water. i am normally a size 6.5 in a dress shoe, but heard that i'd need to size down. a 6 fit perfect.
Chaco ZX/1 Unaweep Sandal
These sandals have been through hiking, work, and the white water of the Ocoee river. I have had more compliments on these sandals than I can count. They are rugged, comfy, and all around AWESOME!!! Best shoes on the planet for active feet.
Write your question here...I do a 50-mile...
Write your question here...I do a 50-mile walk each fall for charity and train all year round with 5, 10 and 15 miles walks, at least 3 miles on a daily basis. I have triple E width foot. Will these be wide enough and supportive enough for this type of walking??
I had to order wide width directly from Chaco as backcountry could not exchange mine for Wide. I found the footbed more comfortable in wide so I would recommend going for a wide width.
Tough to fit at first, but awesome after that!
I have never owned Chacos before but they came highly recommended, so I decided to buy a pair when they were on sale 20% off.

They arrived quickly, but I needed a little help from an experienced Chaco user to get them to fit onto my feet initially. Miraculously he was able to manipulate & pull the straps so that somehow the shoes that would barely fit onto my feet now fit like a glove.

They take some time to "wear in" and for your feet to get used to them... don't go on a 3 mile hike in the rain until your feet have been conditioned to wear Chacos (I learned that the hard way).

Overall, they look great, fit great, and I know will last me a very long time and get a lot of use!
When I ordered my Chaco's I received them within good time. At first when I put them on I was not crazy about them but waited until another day when I might have a better opinion. I really have enjoyed them. The only thing I would like for these Chaco's to have is the toe wrap. I love the color and comfort. Overall good buy. They take some breaking in time. Had sores for about a week but they're broken in and comfy now.
Just what I was looking for
my last sandals..lizards I had for ten years and they did everything from gardening to approach shoes. I was concerned I wouldn't find something as compatible when they finally went. Not so! These are comfy, have been through a few streams and up to one crag already, I run them under the hose and head downtown.
It can be a bit awkward getting your foot in not being able to disconnect the one strap, especially with a full climbing pack on but even that is growing on me...two thumbs up
I bought these as a replacement to my black Zongs. I bought the thin double strap. I love them. I work in a business-casual dress code, and none of my supervisors have said anything about them, meaning they are extremely versatile and good for just about anything! These are my 4th pair of Chacos and I'll never go back. <3
I've wanted a pair of Chacos for years and finally broke down. No break-in time! Great color! (Field Green) Love the double straps! Can be thrown into the washer! They are definitely the sandals of the summer, and will be for years. I will choose them over all the others for the good arch support and versatility. They can be worn in almost all situations. I have a pair of Tevas very similar to this and they are great, too, just getting very worn. The Tevas don't have quite the arch support of these Chacos.
This is my first pair of Chaco sandals, and I am so happy with them. It took a while to get the hang of the strap adjustments, but now I can do them like a pro. The sandals are comfortable and can be worn anywhere. I cannot wait to rough them up a little!
I bought these to travel around Vietnam for two weeks. It was very, very hot and humid. Some downpours and they left you wet and with some serious puddles to deal with. Knowing that was likely what I was in for before I left, I researched sport sandals and decided on these rather than my usual Tevas. Part of that decision is because I had to buy online as there are no stores near me that sell Chaco or a decent selection of Teva. Meaning, I couldn't try shoes on for comfort and fit before purchasing them. I didn't want to deal with return either. Because these sandals are so adjustable to your foot, I thought I would try them (and maybe not have to do a return). I was right!

I wore these at home for a bit to break them in. They really don't need breaking in.

I really like that all the straps are adjustable. But, if you get it wrong, it could lead to blistering. I got a blister early on during my trip on one spot on top of my left foot. I think the strap was too tight (even though I was comfortable) and certainly my foot swelled in that heat. It was quite a bit of trial and error after that to get the straps to a more proper fit on that foot. But, once I did, there were no further issues.

Anyway, these were great. They gave me confidence walking around. Dried more than fast enough after getting soaked. I recommend them to anyone. I also like the purple for a color choice. Quite subtle and went with all clothing colors. These shoes are also versatile as to what you can wear them with...which is pretty much anything except a cocktail dress.