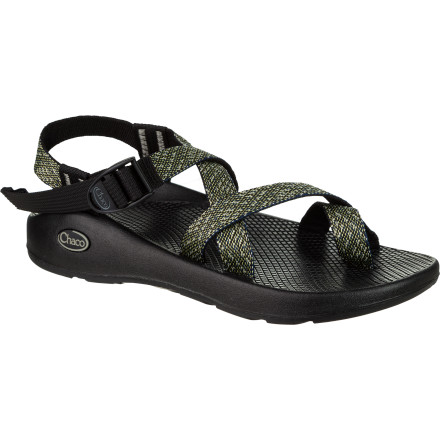 Detail Images

Community Images
Description
With the Yampa on your foot, the cooler is always half-full.
You thought your long floats on the gentle river through town couldn't get any better, but they do once you slip on the Chaco Men's Z/2 Yampa Sandal. The Vibram Yampa outsole provides the slip-resistant tread you need to portage your tubes and half-empty cooler over the shallows, while still giving you Chaco's trusted traction on any trail you wander this summer.
The Addstride footbed provides textured cushioning and arch support
Custom Adjust'em upper made from soft polyester utilizes a continuous strap and buckle design for a set-and-forget fit
Toe strap keeps your forefoot in contact with the footbed for a great feel of the trail and consistent stride
ChaPU midsole dampens rough trails and river rocks so you can get on with your adventure without a sore foot
Totally vegan construction fits in with your eco-friendly lifestyle
The sandal is machine washable for easy freshening up half-way through summer
Favorite Sandals
Familiarity:

I've put it through the wringer

Fit:

True to size
I bought these things to wear after climbing and they have turned in to my everyday footwear. They are so so comfortable. The straps are a little confusing but the instructions are on the shoe box and easy to learn. They are super stylish and always get compliments on them. I am a street shoe 10 and got a size 10 and it fits perfectly.
Finally!
Familiarity:

I've used it once or twice and have initial impressions

Fit:

True to size
After wearing out my Gear Expert Emily, I decided on these Chaco's. I ordered Keens, and Teva's before these and silently thought in my head that you would never catch me in a pair of "Those".... Well I'm now in a pair of "those" and after 2 days of wearing them around the house and out doing some town stuff. I have to say they fit great! look great and will fit the need I had for them, Canoeing, Kayaking and river walking. Thanks Backcountry for helping me out with this!
FYI, I wear a size 11 in hiking boots, and an 11.5 in running shoes, but with these I wear a size 10!
I have used my new Chacos several times since getting them. After adjusting them to my feet which took a little while to get right they are secure. I have used them for tubing and hiking and so far I am very please for my first pair of sandals.

They do run a little large. I tried them on in a store before I purchased them from backcountry.com(love this site).
Unanswered Question
Do the new sandals hold up to the old american ones? Is there anyone here that use to have a pair that was made in America, and if so do you have the new Chinese pair? Is there a difference? Some of my friends think the new ones aren't as good and I wanted to hear some other opinions.
Some Issues but Overall Very Satisfied
Gender:

Male

Familiarity:

I've put it through the wringer

Fit:

Runs large
NOTE: An update to my review is posted below.<br />I've had these for a few weeks now and so far they're great, very versatile sandals. I do have some qualms with Chacos though. Across various shoe brands, I wear anything from a 12 to a 13, usually around a 12.5. I originally ordered a size 12 thinking there was no way they could be too big. They were too big, WAY too big in fact. I also initially received a pair that for whatever reason hat cuts on the black strap that you pull on to tighten the shoes after putting them on. The cuts made it so that if I loosened the strap TOO much while taking them off/putting them on, the strap would pull out and I would have to feed it through the friction locks again. Not a big deal, just annoying. This was just a pair that probably got returned because they were too big and it wasn't big deal to me (I returned anyways). <br />I returned and received Size 11 shoes, which were a good fit for my feet, but the strap that you pull to tighten was WAY too long so I had to cut it and fold/stick the end of the strap so it wouldn't pull out.<br /><br />Fitment issues aside, these shoes are GREAT. I can comfortably wear them around town or while out hiking/etc. I plan on taking them backpacking but their primary uses will be as a river shoe for kayaking, hiking, and for casual wear. Also, The "Dither" color is really cool and is possibly slightly greener than the picture shows. <br /><br />I got the Yampa soles because apparently they are rated well for water and are versatile. I have yet to take them kayaking, but I might bring them down on a South Fork American lap this weekend if my feet are warm enough to not use booties.<br /><br />UPDATE: 6/30/15<br />I have been paddling with these sandals all summer so far and have more to say about them. <br />

Chacos definitely have a bit of a break in period, the straps (especially when wet) will abrade your feet at first and cause some discomfort. Over time, the straps soften a bit and your feet also get used the the shoes. After this break in period, you will never want to wear another sandal again. I feel very comfortable hiking around in these shoes but they also don't bother the heck out of me when I wear them while kayaking. They fit securely on your feet but can be quickly loosened for casual wear. <br />

One problem that I have had is that sand gets stuck in the soles where the straps pull through. This makes adjusting the shoes take quite a bit more effort than new, but because I already have them pretty well adjusted, it hasn't been a major concern for me.<br />

So far, the Chaco tan is coming in strong and all is well on the South Fork American!<br />
Perfection
Familiarity:

I've put it through the wringer

Fit:

True to size
These shoes are great! Wear them on paddle trips, hiking, to the beach and to work. Fit great, last long and have great soles. Take a little while to dial in the fit, but are really comfortable once you get it!
Everyone in my family is getting a pair!
Familiarity:

I gave it as a gift but have feedback to share
Great gift, said he loved the arch support.
Great snadals
Familiarity:

I've put it through the wringer

Fit:

Runs large
I was in need of a new pair of sandals and my friends who are river rats suggested Chacos. I have had them for a while now and I have to say they are great. If you are a half size like me (11.5), size down to then next whole number. In my case the 11 fit great while the 12's were a little big.



Pros

They are very comfortable once you have them adjusted right.

They are extremely durable

The strap over your big toe keeps them in place while in the water or running.



Cons

They are a bit heavy

They do take some time to adjust correctly



Overall

I am very happy with my purchase and will buy another pair when the time comes.
I love them. A little blister on the outside of my foot appeared after the first day I wore them and has come back on long days. I would suggest those with slimmer feet wear these ones and those who have a bit wider, go with the Unaweep.
Perfect Sandal
Familiarity:

I've put it through the wringer

Fit:

True to size
Ive had other sandals and lost them because they came off my feet while taking a drink in the river. This sandal is sure to stay on your foot, fits perfect too. Even though its the lighter version of the Chaco sandal line it still holds up great. I take it hiking, its my approach and river footwear as well. So happy I finally got a pair of Chaco's working on the classic tan now. If you want to wear it with socks you just put your foot over the big toe loop and it fits fine, nice for sitting around camp in that way.
Mashed Potatoes and Gravy, Marie!
Gender:

Male

Familiarity:

I've put it through the wringer

Fit:

True to size
If you're here, you probably already know of the legendary function and form of the Chaco Z/2. If you want a no-doubter sandal that will follow you into the dark like an indie riff or one that never questions your ambitions much akin to that ski-town Aussie whose babelicious owner you approach with some number-one-choice-of-choosy-moms extra creamy peanut butter strategically placed between your toes, the Chaco Z/2 is for you. These things adhere to the bottoms of my feetisses like East Coast gapers to the underside of a roller. I have already tallied around a hundred miles of ruggeder hiking on these new Chacos this summer (previously had the Z/1; enjoy the Z/2 better), but have unfortunately not had the pleasure of putting them to river use yet (I'll be back in the Madison in the fall, don't worry!). These things are the bomb dot com. Do not worry about durability: Chaco is a good company and will work with you on any problem. Don't forget to ask for stickers and rep 'em! Future photos will be posted as rad adventures warrant.
Great Sandal, but has its limits.
Gender:

Male

Familiarity:

I've put it through the wringer

Fit:

True to size
This was my first pair of Chacos, and I have had a good experience. I have also found what they are not good for. First off the sandal is comfortable and great for amphibious activities. However not ALL amphibious activities. Due to a wrong turn, I ended up doing roughly 7 miles of river slogging and heavy bush whacking in these. To say the least, my feet were in a lot of pain by the end of the day. Despite this, the sandal is great for more moderate activities such as hiking on a very shallow river, beach wear, casual wear, or slot canyon travel. I also wore these for technical canyoneering in Neon canyon. There are definitely better options for canyoneering enthusiasts, but these gave me the grip I needed to escape a keeper pothole in Neon. They were also nice for swimming in the canyon. The downside is less protection on your feet, and cold feet. That being said, these can cover a lot of needs outdoors and are easy shoe to bring along on backpacking trips.
Chacos... great for cliff jumping where you have to hike out of the water and back to the top. Also nice to have something to break the water when you hit.
Sweet!
Familiarity:

I've put it through the wringer

Fit:

Runs large
These are sweet! Super comfy, and my chaco tan gets compliments wherever I go. If you wear a half-size, size down for lower-profile look/fit. I like these better than the Unaweeps because they're lighter and don't look quite as chunky.
Very versatile pair of sandals! I take them everywhere (strolling around town, hiking, the beach, the river, etc). Very comfortable.
Took some time to break in/get used to.
Familiarity:

I've put it through the wringer
I bought my first pair of Tevas in the early 90's. For years, the only thing that touched my feet were sandals or ski boots. I regularly approach climbs in flip flops. I have spent summers walking Europe in Flip flops... Yet for whatever reason, these sandals took some serious getting used to. I've used them dry, wet, hiking etc. At the end of a long day my feet were sore. The sides where the straps connect at the heal is where my feet would get sore and my toes would feel friction. I finally figured that looser in the straps works better for me.



Also, the first time I used them in the South Eastern Utah desert, one of the straps stopped working. I got home, washed them, used softner as directed. It is almost impossible to get one of the toe straps to move on one sandal. I can't imagine floating the river and constantly walking in sand and not having this be a problem.



According to everyone else loving these, I assume that I have something strange in one of my sandals preventing the strap from sliding.



I definitely like these better now than I did at first. I especially like them for approach and belaying when at the crag. It just took a while for them and my feet to come together.



Long break in period (for me) and the strap issue make them a 3 star for me. They say use the arch as a feel for size; but, I definitely would say go down if you are a half size since these only come in whole sizes.



Wow... long review.
No benefit to the specialized water sole
I got a pair of these to review on a kayak trip this sumer. My thoughts are that I just do not see the benefit of the yampa sole as to the regular z/2. I have found that the grip does not stick to wet rock any better than in my regular soled Z/2's and found the products to be a mirror of one another. If you do a lot of water sports this may be a sole sandal for you, but if you are buying these because you believe they are a water specific chaco, I suggest sticking with your old chaco's, because to me the difference was not notable. I usually wear my chaco's to all functions wet or dry and find them to work just fine. I wear a size 10.5 in a normal shoe and with chaco's the size 9 measures 11.2 inches which fits my foot that measures 10.75 from heal to captain (big toe) perfectly. If you wear an 11 I would go 10 and so on and so forth. I find that if wear an 10 in these I have too much extra space on the foot bed and end up toe kicking roots, rocks and other obstacles that should be easily passed.
These sandals have been sweeping through the outdoor world recently and after getting a pair it's easy to feel why. They're just super comfortable. The strap takes a bit of yanking to get the fit right, but once their set they fit as easily as a turban did on Osama. The thick sole provides a lot of cushioning and I've hiked with loads up to 50 lbs while wearing them. The sole does make them considerably more heavy than Crocs or Sanuks so unfortunately a camp shoe, they are not. But as an approach shoe or just a steezy place to rest your fee they excel.
Just picked up my pair of Chacos yesterday. Wore them around the house and walked a few miles in the park with them on. Super comfy, the strap system does take some time to learn and adjust correctly to your liking. Once you get them tuned in it feels like your walking bare foot. Absolutely marvelous pair of technical sandals good from walking/hiking to rock climbing.