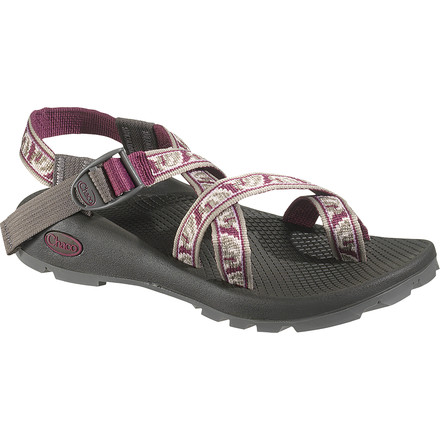 Detail Images

Videos

Community Images
Description
The Chaco Z/2 Unaweep Sandals sturdy your foot like a hiking boot for summer hiking and hanging out.
The Chaco Z/2 Unaweep Women's Sandal is perhaps the most secure sandal on the planet. Its Unaweep outsole is 20% lighter than Chaco's previous sandals, and it's ideal for activities that demand solid footing in or out of water. The Z/2 sandal's strap configuration offers an adjustable toe loop that adds a measure of security to your foot, making them incredibly stable. Whether you're a river rat who needs a super grippy sandal or you just want a sturdy, great-looking pair of sandals that will last ages, the Chaco Z/2 Unaweeps will last for years.
only good things to say
Familiarity:

I've put it through the wringer

Fit:

Runs small
After hearing so much about how wonderful Chacos are, I decided to get a pair to see it for myself. Size: they run a bit small. I usually wear 7-7.5 and I got my Chacos in 8W. After a week of strep adjustments, they became very comfortable. The strep system is really great! it took me awhile to figure it out, but once i did, they are comfortable all the time: rain or shine or hot sweaty weather. Another thing that took me a bit to get use to is weight. This model is on the heavier side and I'm not used to my summer sandals weighing so much. It's true, they are built super well. I have done long hikes (~20 miles), approaches on variable terrain, traveling and touring new cities... they look and feel like they can handle it all. I have never had a blister (and if you do, I would assume you might need to go up a size or loosen your streps). My heels became a bit rough and thick from wearing them all the time, but it hasnt been bothering me. I would give them 5 stars if it wasnt for the weight. I've read that yampa soles are lighter, might be better. But I am happy with my purchase and I'm looking forward to spending many more summers in them.
These shoes do it all.
Familiarity:

I've put it through the wringer

Fit:

Runs large
I love my Chacos! I take them hiking, traveling, canyoneering, and on every other adventure I go on. They've got great grip, don't mind getting wet, and come in the best patterns. (I got mine in Chili, and I love them.) My feet are size 8 normally, but I wear a 7 in these, so I recommend ordering a full size down. I've never quite gotten the fit right with my toe straps and might consider going without it on my next pair, but I know diehard fans of both types. I do need a little time after each winter to get my feet accustomed to them again, but the blisters give way to comfort and reliability as the weather warms up!
I keep coming back!
Familiarity:

I've used it several times

Fit:

True to size
I love Chacos so much. They are like a hiking boot in sandal form. I also love how they can traverse mountains, protect my feet in water, and just be an all around comfort shoe.
I have had a previous pair, the ZX/2 Yampa Sandal, with the double straps. I had the hardest time fitting those to my feet and still feel like I have never gotten them right. However, these took me about 30 seconds per feet and they feel awesome. I tested them out immediately in Zion and can't wait for my Chaco tan this summer.
My go to for ANY adventure
Familiarity:

I've put it through the wringer

Fit:

True to size
Chacos are all that my feet cruise in.

The end.

They rock.

Buy some if you're cool :)
Toe Too Tight
Familiarity:

I've put it through the wringer

Fit:

Runs small
Chacos are probably the best shoes ever invented. My first pair lasted me 10 year. What else lasts ten years?? When I finally had to retire my veterans, I decided to get the same style. However, the new pair was not the same. My issue is mostly with the big toe loop. No matter how much I loosen it, as I walk around it tightens until it is too painful. Now, I just push the loop down and don't worry about it. Excellent shoes, but in 10 years, I may go with the Z/1.
Great durability
Familiarity:

I've put it through the wringer

Fit:

True to size
I love me some chacos. What's great about them is that you can wear them to school, around town, hiking, on the river, and (if you're a geologist) with socks! I always bring them with me when I know I'll be hiking in and out of the water, or with some heavy mud in-between. A lot of the time I get lazy and just put my big ol' toe on top of the toe strap instead of through it.... much easier to do on the single strap then the double strap. You can wear these shoes for years and the sole will hardly show the wear.
chaco Z/2 great!
Familiarity:

I've put it through the wringer

Fit:

True to size
just bought these last summer and i am in love with them wore them non stop all summer. The fit is very true to size. At the end of the day my feet are not tired like with some of the other sandals i have owned. From now on these will be the only ones i wear!!!
Champion Chacos!
Gender:

Female

Familiarity:

I've put it through the wringer
These shoes are, without a doubt, my favorite thing I've ever purchased. My loyal pair and I have been together for three years now, and we've hiked terrains ranging from mighty mountains to barren deserts (and everything in between). I usually sport a size 7.0-7.5, but I got an 8.0 in these and they fit impeccably.



Personally, I dig the toe loop. I grew up with an older pair that was sans-toe loop, and I much prefer the extra strap - it really holds my foot onto the footbed.



Note: Don't take these bad boys out on a long expedition until you've broken them in, they take some time to get familiar with.



CONCLUSION: Seriously, buy these shoes! They even look chic with socks.
SO GREAT!
Familiarity:

I've put it through the wringer

Fit:

True to size
When I first got mine, they hurt my feet because I have no arch in my feet and these have arch. Once my feet got used to them and they got worn down, they are the best. I wear them all the time, in and out of the water. They are easy to get on and off and they worked great for me while I was working at a summer camp. They withstood lots of hiking, swimming, and rough terrain, and the soles are still in almost perfect condition. These are worth the money!
Chacos Rock!
Familiarity:

I've put it through the wringer

Fit:

True to size
I got my first pair of Chacos 2 years ago and they still look brand new, I have worn them hiking, kayaking, traveling, and I even wore them at my wedding! The first time I wore them, it was on an 8 mile hike over rough,rolling terrain and they were awesome! The sizing is pretty exact too, some people might find them a little on the heavy side.
Sturdy
Familiarity:

I've put it through the wringer
I've had a pair of Unaweeps for about 5 years now, and they still are holding up GREAT! I've used them on countless numbers of river trips, hikes, and fishing excursions. They protect your feet well from the ground, but they definitely do take some breaking in each season. I finally had to replace these because I got a size too big- I thought my feet were still growing, so I purchased an 8 but they never did grow larger than a 7.5. Some folks do prefer to hop up if you're in between sizes so your toes are a little more protected. I personally prefer to size down, because I hate having the extra weight on my forefoot. Overall- great shoe.
My wife wore these for the first time on an 8 mile hike in Hawaii and got blisters on both feet. They probably need to be broken in a bit before going on long treks. The adjustable straps are nice but a bit difficult to pull to fit. Nice sturdy sole but not as awesome as everyone was saying, at least not yet.
I have to admit that I thought these sandals were severely over-hyped. However, I let my boyfriend talk me into getting a pair of these when I needed to replace my old ECCO sandals. I don't say this very often, but he was absolutely right. These sandals are great. I have hiked, jogged, and I have even worn them to work where I stand up most of the day. The photo is taken at City of Rocks where I wore them basically constantly (except when sleeping) for three days. We hiked in rocky and sandy conditions and they were awesome.
Chaco Z/2 Unaweep Sandal - Women's
What is the name of the Orange Chacos with...
What is the name of the Orange Chacos with little flowers one them?
That is a variant called Marigold limited. It is unfortunately not in stock.
If You Love Chacos, THESE ARE THE BEST
Gender:

Female

Familiarity:

I've put it through the wringer
I have a lot of different pairs of Chacos, and I believe that the Z/2 Unaweep are the best kind that I own. They are great for just hanging out as well as running, hiking, and trekking down a river. They're the greatest and most versatile pair of Chacos that I own, and all Chacos are versatile!