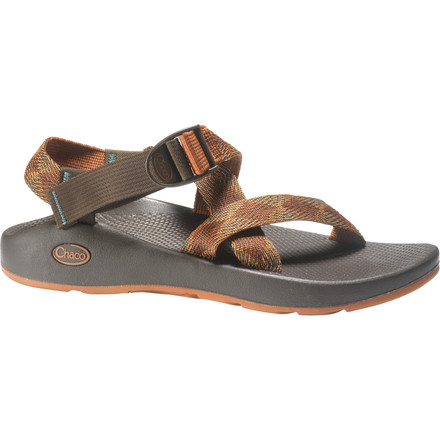 Detail Images
Description
Like its namesake, untamed and always on the move.
The mighty Yampa is the last undammed river in the Colorado drainage system, and Chaco funneled this ferocious outdoor spirit into the Z/1 Yampa Sandal. Made with a low-profile design and heavy duty Vibram outsoles, the Z/1 is ready for adventure.
Adjustable, pull-through polyester strap system allows for an anatomical fit
Polyester webbing dries faster than nylon, which is perfect for use in and around water
Shaped polyurethane footbed offer heel and arch support
Sole features 2-3mm lugging and water channels
Great shoe for all around adventure
Fit:

True to size
They are great for the beach as well the trial I love them because you can be hiking and find a great swim spot and just wear them in and not have to worry about taking off your shoes and cutting your foot on a rock and they fit well and have more support than other shoes like them and they were on sale so win win
Matt,

If you are having difficulty purchasing, have questions about the gear, or just want to shoot the breeze, you can chat or call 1.800.409.4502 and our customer service Gearheads will be happy to answer any questions you have or help you with an order.
Love at first touch
Familiarity:

I've put it through the wringer

Fit:

True to size
In case every other person on the planet telling you how much they love these isn't enough to convince you to buy them, I'll throw my two cents in as well.



These are great for any time you might be getting your feet wet and it's warm out. If it's raining in the summer, this is what i grab. if I'm going to be on the water for the day this is what I grab. If I'm going to the beach... you get the idea.



The nice thing that I didn't realize before buying these is that you can wear them 96% of the time with the straps not tightened down, which makes them super duper even more comfy, and also really easy to slip on and off. This is probably my favorite under rated feature of these bad boys.



All that and they have awesome traction and work great for hiking too. I was going to buy the regular Unaweep ones at first but decided to try the slimmer Yampa's, upon comparing the tread to that of my girlfriends Unaweep's I was a bit worried, but I have yet to have any situations in which I felt like I had to worry about these things slipping on something.
Less than a year together...
I got a pair of these on SAC for $40 because my roommate wouldn't stop raving about his pair of Chacos. Well, he wasn't a raving lunatic, he was dead on. These are without a doubt the most comfortable footwear on the planet. It took about a week for my feet to get used to the straps, but after that, I don't think I wore anything else unless I had to. Unfortunately I lost one of my sandals today when it got sucked off my foot in knee deep muck in a lagoon. I spent about a half hour searching for it but alas I couldn't find it. So after drying my tears, I ordered another pair as soon as I got home. The only complaint I have is that they can get pretty stinky if you don't clean them every week or so. But they are SO comfy. They have excellent grip, they provide good arch support and they're SO DAMN COMFORTABLE!
The real deal for 3 season hiking
I am a recent convert to hiking in sandals. These are the real deal. The soles grip any and all terrain and nothing is lighter or more comfortable. Ankles are somehow solidly supported. No idea how, but, I promise you if my ankles suffered I would be screaming it from the roof tops. These things keep you rock solid. Oh, and your tootsies DO NOT get banged up in rocky terrain or when you get lead footed and started banging into roots, etc.. The only time I had any issue at all was when walking through boot sucking mud. If there are stones or debris in the mud it can get trapped under the arch requiring you to clean it out with your hand or by hitting the sandal with some water. Everything else that might get trapped clears itself with a little shake of the foot. The only advice I would give is to carry a small tube of hand lotion with you for awhile because your feet will start to crack after a few days due to exposure. A little hand lotion in the morning, at lunch and at night cures this. If you are only out for the day lotion is not necessary. Also, if you are between sizes order down. Be aware that some others on the trail will feel compelled to comment on your choice of footwear. Be gentle with them. After all, ignorance is bliss.
Why wouldn't you buy these?
Being a birkenstock man most of my life I decided I needed something I could actually hike in, not just go to concerts in. Paired with some smartwool socks I even hike during January with these. If you got a wide foot like me these are perfect... I'll wear em to my grave
How much wider is the wide in this Chaco...
How much wider is the wide in this Chaco sandal? I dont know if there's a numerical way to compare them so maybe just a "much much wider" etc. answer. Thanks!
It's a little wider, but the adjustability of the shoe will allow it to accomodate almost any foot.
I used my Z/1 Yampas for a 30 mi backpacking weekend on the AT. My med high arches flatten out quickly (about 7K mi hiking) so I needed the Yampas high arch. They worked great keeping my weight evenly distributed over my foot. My shoe size is a 12 to 13...the Z/1 size 12 was about 1/4 inch longer on my foot than my old pair of size 12 Chacos, but stacked side by side, are the same length....go figure?? They fit and wear so good that I also ordered another pair with the big toe loop!! They also look good for dress wear (wore them to watch Clemson beat Alburn today...life is good!!)