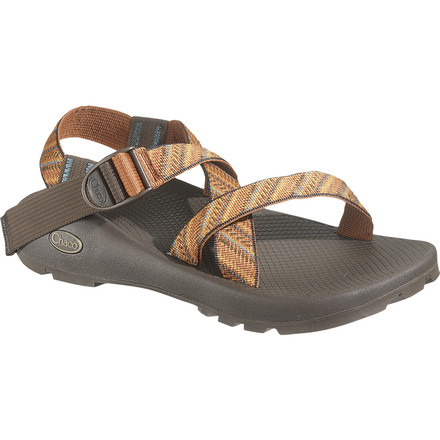 Detail Images

Community Images
Description
Chaco Men's Z/1 Unaweep Sandal blends comfort with performance creating an essential addition to your summer footwear collection.
The Chaco Men's Z/1 Unaweep Sandals keep your feet happy on hikes with their light weight and grippy lug pattern. The sandal's Vibram Unaweep outsole's self-cleaning technology offers steady footing on dry trails or river beds. Chaco's BioCentric contoured footbed molds to your foot's shape for optimal support while the polyurethane development with air bubbles cuts weight making the shoe lighter. The Z/1 strap configuration features an open toe design for those who like unfettered toes or wearing socks under their sandals.
Perfect river shoe
Familiarity:

I've put it through the wringer

Fit:

True to size
I needed a better solution for a shoe on my drift boat. After losing my last pair of flip-flops I caved in and bought the chacos. Straps are very comfortable and sandals stay on my feet even without the straps being tightened. Soles are very thick and comfortable when walking around on rocky river banks. They have become a staple for my river bag!
a little heavy
Familiarity:

I've put it through the wringer

Fit:

True to size
They last for a super long time. They do take some breaking in. The first week of wearing them were pretty rough on the feet. The straps kind of wore into my skin. Ever since then as long as I wear them every so often I have no issues. They are a bit heavy for my liking. Great support and longevity!.
Outstanding Sandal
Familiarity:

I've put it through the wringer

Fit:

True to size
I purchased my pair alittle over 5 years ago and they are still very
wearable. Perhaps, dirty, and don't look new or sexy, but they still
have a few years left of pretty much daily wear.

I spend the summers in Vermont and winters in Belize, so these sandals do certainly get a workout. Very shortly I will be ordering
another pair, different color, by same Z/1, Perfect for my feet and I have every expectation this new pair will give me the same service. The new pair, for the time being, will be used when going out at night and my old pair for daily work.

Can't go wrong.
Great stomping sandal
Familiarity:

I've used it several times

Fit:

Runs large
Big fan of these guys, fit great, super adjustable, and accommodating to my fat feet. I am normally a 10 1/2 shoe, so was worried about which to get since they are only full sizes. If you are having the same dilemma, go down. I got 10 and they fit like a glove.

First time wearing them, and being familiar with Chaco, I stomped around on a horrifically muddy, sloppy hike. These guys kept solid grip when I needed them to, and didn't slide around on my feet at all. I'm also glad I didn't go with the toe option, as I feel that these have plenty of hold on your feet without it. Ford a stream, climb a muddy hill, or even go around town shopping after a day at the beach, these guys are perfect.

One complaint I have, is getting small debris caught in the middle / arch area of the footbed. Some little rocks are miracle workers at getting where they shouldn't. It is really, really annoying to have to dig around to knock those out, or take them off all together. But then again, that is something you are signing up for when you get fully open sandals.
Money Shot.
Familiarity:

I gave it as a gift but have feedback to share

Fit:

True to size
My husband is the baddest mfer that I ever did know ( in real life) he rocks out with his gallo out all the time. He owned the same pair previous and WOULD NOT settle for anything less. He takes these bad boys white H2o rafting wears them under his liners on warmer days, he hikes to obscure locations to throw our raft in the river in them, he gardens tough in them, he brings them on vacations, takes them to huge fires he has to fight instead of slippers, he even wears them church! I recently bought him another pair because his first finally gave out. It was a strap that busted. I ordered the brown and orange color and they look sharp. I own chacos myself and I will never go back to teva never. I might switch out to a keen for more rocky exploration though. Chaco's rocko's like gallos.
Pretty OK
Familiarity:

I've put it through the wringer

Fit:

True to size
These things are comfortable but I made the mistake of doing a 12 mile hike the first time I put them on. I started to get blisters about 8 miles in. Now I'm used to them and they're broken in a bit I really like them.
Awesome Sandal
Familiarity:

I've put it through the wringer
Loved these sandals! I wore a pair while Thru-hiking the AT this year. I made it 1800 miles before the heel riser went out on them.
Comfortable, secure, one minor nit
Familiarity:

I've used it several times

Fit:

Runs large
These are all-day comfortable, durable, with strapping that makes them very secure and snug.



The only nit I have is the end of the pull-strap, when tightened, ends up dragging on the ground unless I tuck it between my foot an another strap. Which can irritate my skin after awhile
classic chaco
Familiarity:

I've put it through the wringer

Fit:

Runs large
I'm on my 2nd pair of these in the past 10years or so. chaco's are chaco's- the fit and shape of the footbed has always worked well for me. I wear them a lot during the summer from walks in the foothills to a lot of days in raft and in the river they have always done me well. Plus you get extra style points for the tan line that comes with these. Personally I am not a fan of how these look on the feet(clunky,tall) and never wear them out casually, but in terms of a tech/work sandal they can't be beat.



size down a little for a proper fit. If you have a wide foot you might have to size up to get the width you need but you will have a lot of extra room at the toe. These are made to have extra material at the toe to give you a little bumper against rocks/other terrain features.
Awesome Sandals!
Familiarity:

I've used it several times
Right as soon as you take them out of the box you can tell these sandals mean business! Super durable feeling and the sole is super comfy. The adjusting can take some time to dial in the right fit. I think I'm still trying to get that as I keep getting blisters on the front inner heel of my foot. I'm thinking in the next couple days if things don't improve probably will just sell these to a friend and order the wide. These are sandals that are too comfy to live without so will definitely reorder the wide if things don't improve.
Geology stylin'
Familiarity:

I gave it as a gift but have feedback to share
I got these sandals for my geology boyfriend so he'd fit in with the other nerds out at the fault trench and he's really stoked on them. His supervisor loves them so much that he's getting married in his pair in October . My boyfriend typically wears a 10.5 but went for a 10 in these and they fit great.
Eternal sandals!
Familiarity:

I've put it through the wringer

Fit:

True to size
I bought my last pair of Chaco sandals 6 years ago and all this time they were undestructible. I travelled with them in Thai, Afrca, Europe, and they were perfect!
Go-to summer footwear
Familiarity:

I've put it through the wringer
I wear these all summer long: at home, in the field, on hikes, fishing, on the town



Initially I thought they were clunky, but they are surprisingly light, easy to adjust to specific foot anatomy, are extremely comfortable even on long hikes (I sometimes take only these on overnight trips in the backcountry), have great traction for slopes and wading, and look great, dry very quickly compared to other amphibious sandals



I normally wear 10.5 shoes; I tried the 11 in these and they were much too large, the 10 seems to fit perfectly
Six stars
Familiarity:

I've put it through the wringer

Fit:

True to size
I have worn Chacos for 11 or 12 years now. I still remember first coming across them many years ago. The salesman couldn't say enough good things about them. I had fith in the guy, but I really wondered if they'd live up to the hype.



I still have my first pair. They've been resoled twice and restrapped once. The footbed is a little worn, but are now as comfortable as my favorite flannel sheets.



However, what really won me over is what they did for my back. I've broken my tailbone once (rebroken it twice). Skateboarding for over 20 years did some number on me... and my back paid the highest price.



After wearing them straight for the first couple weeks I noticed my back feeling more relaxed. My posture felt more natural. Its a difficult phenomenon to explain. I never expected shoes or sandals to have such a dramatic effect upon the rest of my body... but still, to this day, if I go a while without wearing my Chacos I can feel my back begin to somehow overcompensate... and tension and lower back pain inevitably comes back. I can't say enough about the comfort of Chacos. Not just for your feet (which feels amazing)... but for the rest of your body.



If I were going to find something to criticize I would say that after wading in the ocean for a week, and then going home and doing nothing in particular to dry them out, the soles began to delaminate after a few weeks. Water will stay inside them if you do nothing about it, and it will ruin the adhesive holding the sole to the footbed. Take some time o let them dry properly... move the straps around, pull the slack out of the sandals and help wick the water out.



Chacos are the single most comfortable shoes or sandals I have ever owned. There is no close second. They've done wonders for my posture and my back. Also, while its anecdotal, I think they are still the only sandals certified by the American Podiatric Medical Association.



Also, you get the cool tan lines. Anyone who wears them knows this...
like a shoe but better
Familiarity:

I've put it through the wringer

Fit:

True to size
I fell in love with the idea of this sandal before loving the actual sandal...they are big, heavy, and take a while to break in. After buying a pair off the recommendation of several friends I was disappointed in them...I couldn't wear them for more than an hour or so without them killing my feet...but after about 2 months of wearing them about 5-6 hours a week one day they just clicked...I can now wear them for days on end without problem...the one exception is when driving...I get a lot of fatiuge in my big toe if I wear these while driving due to the angle of the foot...I have a feeling the z/2 with the toe strap would help out but then I would have to deal with a toe strap all the time...I would highly recommend.
The Classic
Gender:

Male

Familiarity:

I've put it through the wringer

Fit:

True to size
This it! What's not to love? Customize your straps for a perfect fit. Nice big stable sole with high arch. Much better than soft keens which give you blisters. True to size.
Superb
Familiarity:

I've put it through the wringer

Fit:

True to size
If you've never owned a pair of Chaco's before, you might be a little taken aback when you first try these on. They're heavy, stiff, and can do a number on your feet while you're breaking them in. But after a week or two you'll never go back to anything else.



The fit is great, however a lot of people find the arch a little cumbersome. You can only get them in full sizes so if you're between sizes then definitely size up to fit the arch better.



I've used these for a little over two months after having owned a pair of Chaco flips for over two years and they're still going strong. I've put close to 30 miles in them hiking through the mountains so far and plan to use them in the future for canyoneering.
They do take a little breaking in, or rather your feet do. But I have been very satisfied. I do canyons in them all summer and have absolutely no issues. There must be some kind of built in invisible force field to protect your nubs. Don't hesitate...just get them.
I have owned these sandals now for a year and can say I wear them all the time. I have taken them to the rain forests of Costa Rica, the deserts of the south west, and worn them in the city. They are great everywhere I have worn them and easily are the best all around sandal I have ever owned. No signs of wear yet even with all the varying conditions I have worn them in. They do take some use to wear in the straps to where they are comfy.