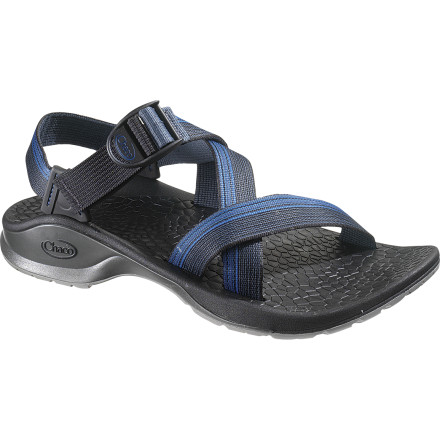 Videos
Description
Bottomless comfort for your endless travels.
Summer days spent navigating European alleyways, tracing distant shorelines, and searching for unoccupied hammocks require support, ventilation, and breezy comfort. Along the way, treat your toes right with the Chaco Men's Updraft Bulloo Sandal.
Durable polyester webbing dries quickly, won't dig into your skin, and allows you to adjust the fit
LuvSeat X03 platform provides lasting arch support, lateral stability, and a light, comfortable feel
TPU frame features ergonomic support posts for weight-savings
Non-marking Vibram Bulloo outsole provides exceptional grip over wet, slippery surfaces
Share your thoughts
What do you think of the
Chaco
Updraft Bulloo Sandal - Men's
? Share a...
Not so great. Wouldn't get again
Familiarity:

I've put it through the wringer

Fit:

True to size
I had a pair of Z/2 Unaweep's that I bought back in 2008 and lasted about five years. Great sandals. They did everything I needed them to do and had good grip in the water (I work as a whitewater raft guide so this is a big deal). After about 5 years of service they were pretty beat up and ready to be retired. There was no sole left, the footbed was pretty worn down, and the webbing was just a few threads away from breaking. I wore them until they were unwearable and I have the tan to prove it. So I was expecting four or five years of good service and heavy use from a pair of chacos...

I bought this pair of Updraft Bulloo Chaco's on steepandcheap and turns out these things aren't so great. These sandals have not stood up well over the last FOUR MONTHS, much less than the five years I got from my last pair.

When I got this pair many of my fellow raft guides told me that they couldn't stand the plastic pieces on them. To be honest, the plastic pieces that hold the webbing don't bother me too much. This seams to really bother other reviewers but isn't too big of a deal for me.

The sole has some serious issues and is just falling apart. It isn't just coming unglued which happens on other Chaco models and is easily fixed. It is just crumbling from the sides which isn't so fixable. Furthermore, one of the selling points of this sole is that it is supposed to be grippy in water. Not so much. I recently was doing a swiftwater rescue clinic in these and would have had just as much grip barefoot as I did with these sandals.

I don't know what is going on with the webbing either. It has already faded from black to a light brown color from sun exposure. This didn't happen with my old pair. I don't know if all of these things came around because Chaco moved there manufacturing overseas or because they were bought out by Wolverine. It gets two stars because of the contoured footbed... I like the footbed but everything else on this sandal is pretty pathetic.
light weight z/1 replacement
Familiarity:

I've put it through the wringer

Fit:

True to size
I bought these at an rei garage sale to have a lighter weight version of the z/1...like others the plastic bracket for the strap bothered my ankle but a quick trip to the local tailor and they are fixed. I had him sew a heavy duty piece of foam onto the inside of the plastic for $15 and now they are perfect...I wouldn't pay full price for them but if you can find them on sale and are willing to go the extra step they are great. Easier to pack for traveling than the z/1 because they take up less space and weight in my bag...good times.
Great sandal
Familiarity:

I've used it several times

Fit:

Runs large
WHERE THEM ALL THE TIME! Casual, hiking, kayaking, always comfortable!
Haven't noticed any discomfort from the strap. Usually where size 9.5 to 10.5, purchased these in 9 and seems to be perfect fit.
Not impressed
Familiarity:

I've used it several times

Fit:

True to size
Like the other reviews the plastic heel mounts are irritating anytime you walk on an off camber surface. They dig into my lateral and medial malleoli. Additionally, these sandals often get little rocks under your foot which you then have to stop and swipe a finger under your foot to remove. I've tried adjusting the straps tighter (which becomes uncomfortable) and looser (which doesn't provide enough support) and it hasn't helped. I'll look for something else next time.
Plastic heel mounts bug my ankle
Familiarity:

I've used it several times

Fit:

True to size
I have these and a pair of Chaco Z/2's that i use for going down to the river out back of my house. I bought these as they have the Z/1 strap configuration and now and again I prefer the simplicity of not having the toe loop. Great midsole, great support, great Vibram outsole, most of what you would expect from Chaco.

that said, at the heels these mount with a plastic piece, instead of the traditional fabric. Every now and again, notably on more uneven terrain, these plastic strap mounts hit my ankle.

Not a huge deal for going down to the river for a half hour, but I probably would choose a different pair if I was going to spend all day in them.
The Bulloo Sandal
Familiarity:

I've used it several times

Fit:

True to size
I have worn the Bulloo sandal for a couple of months now. Canoeing, hiking, daily wear around town. As advertised it is comfortable with a molded foot bed, adjustable straps and a Vibram sole that gives you a lot of grip in the water and on slick surfaces. That said, the support posts that hold the straps at the sides of the foot are an unyielding injection molded plastic that after 2 months still chafes the inside and outside of my feet.
Chaco Updraft Bulloo Sandal - Men's
I generally wear a 10.5 in most shoes.

Should...
I generally wear a 10.5 in most shoes.

Should I go with a 10 or an 11?
For me, Chacos run pretty large. I wear a 10 or 10.5 in most shoes and my Chacos are size 9. I think a size 10 for you would definitely be fine
Go to a (good) shoe store and ask if they'll measure your arch length for you. Chaco sizes depend on arch length and not toe length.
I too find chacos fit a little large. I measure a size 10.5 US and wear 10.5 to 11 depending on the shoe. I found the size 9 a bit too small in the chacos (my toes go over the ends when flexing), and the 10 a tad big but workable.