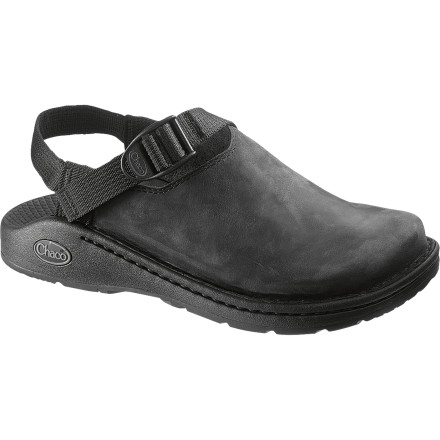 The Chaco Women's ToeCoop Clog keeps your toes happy as the days get shorter, and you can't pull off sandals day in and day out. This waterproof leather clog gives your stride a comfortable foundation with its BioCentric footbed and adjustable instep strap. The durable Vibram rubber outsole can be resoled when needed, so your toes never have to part with their ToeCoop.
I bought these shoes to wear at work. I love Chaco sandals so I figured I'd give these a shot. They run extremely narrow and I can't wear socks in them (not a big deal to me). After a few days, they seemed to stretch out a bit more and my little toe no longer rubs! They also were a bit snug to get on the first few days, but that also loosened up a bit as well. I was hesitant of the back strap rubbing but haven't had any issues.
Unanswered Question
I ordered a size 9 in this shoe and it was...
I ordered a size 9 in this shoe and it was sooooo narrow I couldn't even try it on. Would a 10 be wider or are these shoes made for narrow feet? Would the men's size be wider?
Not for those with high arched feet
This is obviously a quality shoe, however, I have high arches and they simply won't work. I wore them for a day and the tops of my feet hurt (due to high arches). But I could tell that the support (soles) otherwise is awesome. Good shoe...for someone else. :( Anyone want to buy these from me?

Chaco ToeCoop Clog - Women's
Brindle/Winter Brown, 8.0
I love the look of this shoe and the arch support is amazing! However, it was too small in the toe box for me - I have a narrow foot but have had bunion surgery and need more room in the toe box. Really wish these had worked for me cause I love the look.
I bought these so I could have a super comfortable and supportive clog to wear at work, I usually wear Birkenstocks (narrows with mid to heavy weight Smartwool socks), but I love my Chaco Z2s and flips so much I had to try these out. The footbed is amazing, just like on the sandals. I have narrow feet with high arches and so the top of the shoe is tight with even a thinner sock, just fine with out socks but if I am not wearing socks I am going to be wearing sandals! I thought of ordering both and 8 and and 8 1/2 to see which would fit more comfortably. I am glad I didn't the 8 1/2 would have been much too long. I think they will just take a little breaking in.
What stores can I find Chaco's in so I can...
What stores can I find Chaco's in so I can try them on? Also, do they have great arch support. That is critical for me.
Where do You live? Chaco arch support? http://www.chacousa.com/US/en-US/Static/WhatIsBioCentric.mvc.aspx

Best arch support on the market.
i bought ped sheds to wear with jeans and these to wear with skirts and shorts. they have toe protection but feel just like my chaco sandals. i love the shitake color, it goes with everything. perfect shoulder season shoe.
, ☃bcs_badge_alumni_label☃
Love these shoes
Bought these for my sister, she said they have tons of support and great looking - she really likes these.