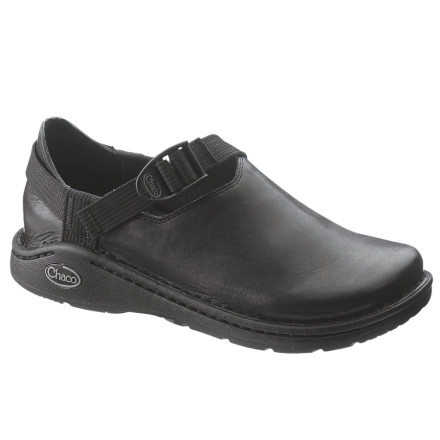 On the first day of snow last year, you got caught outside in a pair of canvas shoes that wet through in about 45 seconds. This year, start sheltering your feet in the Chaco PedShed Shoes as soon as the leaves start turning, and you'll be prepared regardless of when winter decides to show up.
Leather uppers with waterproof liners repel snow and insulate feet from cold
Vibram soles provide traction in wet, snowy, and muddy conditions
Adjustable instep straps keep your feet in place and help achieve a snug fit
PU Biometric footbeds are accepted by the American Podiatric Medical Association for pronation control, shock absorption, and lateral stability
would chaco's help relieve plantar...
would chaco's help relieve plantar fascititis?
Best Answer
Hey Megan, YES! Chaco uses "Luv Seat" technology in all their soles. This is a very aggressive arch that helps relieve fallen arches.
Highly recommended!
Do you wear socks with these?
Do you wear socks with these?
These are designed for colder temps and most people wear socks with them.
I live in my Chaco Z2 sandals, and of course in the winter that is not so fun.... I had to find some shoes I could tolerate till it gets warm again. These shoes looked fun and had good reviews. So I tried them out. I got a half size smaller than my sandals and that didn't work. So I gave those to my mom (they are working great for her. Feet don't hurt at the end of the day like they do with her other shoes) And I got some the same size as my sandals. They feel much better, however, this nice shiny leather got a big scuff in the toe after just one day of wearing them! Not just a scuff that you can rub off, but a small chunk of the leather got scuffed off! I am not hard on my shoes at all. So this was a huge disappointment to me :(
The footbed is awesome of course. And the leather is nice and soft. I do recommend these shoes. Just be sure to have some polish on hand if you are going to get the black ones.
Great shoe........added to my collection. I have narrow feet so have to wear heavy socks, but wonderful support and all the typical good quality of the brand.
These shoes are pretty fantastic. They're incredibly comfortable, supportive, and great for wet weather conditions. The style looks good with everything, even a skirt with some tights. My feet are generally a 9-9.5 and quite wide, and I ordered a size 9. They started off a little tight, but don't despair - the leather stretches and they're absolutely perfect now. I'll highly recommend these to others, and I look forward to trying other Chaco shoes and sandals.

My single criticism is that the soles have awful grip in even slightly slippery conditions. You might as well be wearing skates - the tread pattern does NOT lend itself to gripping the ground. Want to walk down a hill? Good luck!
Comfy footbed however I ordered an 8.5 and ( my feet are slightly different sizes) the right shoe was way too big and the left was a little big too. In some shoes I wear a 9 so I thought I was ordering a size smaller already! I think I might order an 8 but I'm worried the left will then be too small.They should selling mismatched sizes for us strange footed ones!..sorry I had to return as they are really comfortable to stand in and my feet need the great arch support.
Love, love, love this shoe
This shoe is more comfortable than my Chaco sandal. You'll have to size down however.
My sandal is a size 9 and I had to go a full size smaller---an 8. I tried an 8.5 but still too large.
I have wide feet, normally wear Keens, but these are fine.
I have never been disappointed by Chaco. I wanted to give the Pedshed's a try for a cooler weather shoe. They are obviously a very high quality shoe with a neat design & comfy. My problem is the pedsheds are harder to find in the wide sizes. I am bummed backcountry didn't have any wides available. I had to return my regular width ones & buy a wide size from another website...I guess I should have known that I needed a wide size since my Z2 sandals are wides, but I figured I'd give the regular width a shot. Lesson learned-anyone who wears Chaco wides are probably going to have to get a wide Pedshed unless you're planning on wearing them barefoot all the time-I just want to be able to wear smartwools with them.
I work where toe protection is a must. Translation: summertime and chaco sandals can't be worn to work. I was super bummed because I love the arch support that my chacos offer and the quick on and off that I get from them when transferring from cycling shoes to work shoes. But now, I can have both! I have the OSHA approved casual shoe for work as a bike mechanic and my feet don't hate me at the end of the day! Thanks Chaco!! And I love the fact that they come in a wide width! One thing I'd improve on...more color options in the wide width. That's it.
Love my new chaco clogs! They are great for fall, winter, and spring when it is not quite warm enough to wear all my chaco sandals. The same support and quality you love from chaco can now last all year long! I usually wear a size 6 in all my other chacos, but had to size down to a 5.5 on these. Just FYI, Chaco makes these clogs in wide sizes now. If you have wide feet, I would definitely go that route. I never wear wide shoes, but these are a bit tight on the sides of my feet. Got them in the shitake/multi brown color, it goes well with almost anything. Great shoes! Totally worth the money!
I have only worn them once, but they are great! They have the comfort of a Chaco foot bed and the leather is of high quality. Sizes seem big, so order exactly your size or a half size smaller. Love them!
I have narrow feet. Wondering if this shoe...
I have narrow feet. Wondering if this shoe will be too wide. I own two pairs of Chaco Z2 sandles which fit beautifully. Can anyone enlighten me about the Pedshed shoe?
Hey Rose, I would give them a shot, I have fairly narrow feet and they work good for me, there is a little room in the leather upper, but I can tighten down the strap and they feel great. As with all chaco's, the arch support and feel of the foot bed is the real reason to wear Chaco's, and with these you can wear them as a casual/ Work/ winter chaco's.

Good luck.
Is this shoe waterproof Thankyou
Is this shoe waterproof
Thankyou
Best Answer
Yes, it has a waterproof lined leather upper.
Hey Sue,

It is a waterproof treated leather, but it is not fully "waterproof". Does not have any sort of waterproof membrane.
i absolutely love the new closed toe chacos! they are perfect for every occasion...even hiking! they feel just like my chaco sandals but i can wear them all through the winter. they look great under jeans and even cute with a skirt. the vibram outsole is nice and sticky and the arch support allows me to wear them all day and still feel great. i would definitely recommend getting them in a couple colors!
For those who've purchased or tried on the...
For those who've purchased or tried on the pedshed... did you wear the same size as you would in the sandals? Just wondering if I need an extra 1/2 size to accommodate wearing socks.
Best Answer
I ear the same size as I wear in the Sandals. Seems to fit well with or with-out socks.

Ryan
If you love your Chaco's You need to Try these...
No more wool socks with your favorite chaco's in the winter. Try these ASAP.....