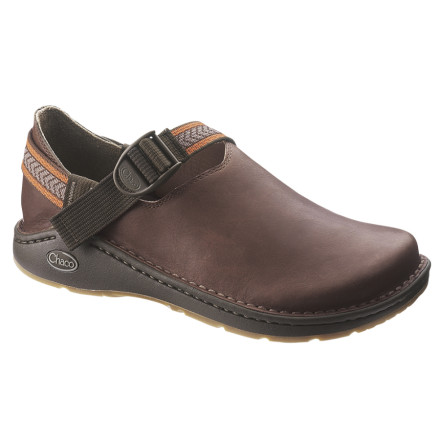 Feel the crunch of the snow under your Chaco PedShed Shoes as you walk out to the backyard wood shack. Now brush the snow off your shoulder, raise the axe over your head, and split that log like the lumberjack you are. There's a glass of whiskey and a warm fire waiting for you inside.
Leather uppers with waterproof liners repel snow and insulate feet from cold
Vibram soles provide traction in wet, snowy, and muddy conditions
Adjustable instep straps keep your feet in place and help achieve a snug fit
PU Biometric footbeds are accepted by the American Podiatric Medical Association for pronation control, shock absorption, and lateral stability.
Second Pair
Familiarity:

I've used it several times
I bought the canvas version of these a year or two ago and loved them so much I had to get the leather version. I wear these to work, school, and occasionally hiking. I prefer to take the canvas pair hiking more because they are lighter and there is no worries about them getting wet. If you're looking for a versatile shoe that can keep you connected to your hippie roots then this is it.
Hard to get in
Gender:

Male

Familiarity:

I've used it several times
While I like these shoes a lot, it is very hard to get my foot in. I have the right size and once in, I see lot of space in front of my toe. So dont why what is causing this tight fit to get in. Will see how it goes after about a month or s0. Very comfy otherwise.
awesome shoe for fall weather
Gender:

Male

Familiarity:

I've put it through the wringer
i love my pedsheds and get complements on them all the time but there are a few downfalls to this shoe...

- they are awful for warmer weather because they do not breath at all, but if you dont mind a sweaty foot they are fine

-during the winter if it is really cold your feet may be cold too because they are not the warmest shoe

but on the plus side..

-they are very durable

-they dry extremely fast

-and most importantly the ladies love them
Comfortable, great shoe, NOT WARM!
Love these shoes, very comfortable for all day wear, traveling, walking etc... Funny the advertisements state a warm place for your feet because these are perhaps the only shoes I have ever worn that cause my feet to be extremely cold even in mild cold weather. Brought these on a trip to New Mexico in the winter and thought I'd be fine - well my feet have been freezing the whole trip. This does not happen with even Asics running shoes. Otherwise great shoes, but for warm weather ONLY.
Teach in mine, solid shoe. Comfy and have held up very well. Don't breath very well though.
I had never even heard of Chaco brand before backcountry. Now I own two pair and may have to purchase more because I wear them all the time. These shoes are TRULY designed with feet in mind. Any fashionable influences (and they DO exist with this shoe) are just icing on the cake. Easy to wear all day long.
Good for about 3 weeks, then shot.
This review is written after 3 months of wearing those shoes. It takes about a week to break them in, then they are very comfortable, till leather starts stretching. After about 3 months of daily wearing these shoes your feet start to "float" inside, there is literally no lateral support. Very disappointed for $120 a pair. They loose their shape very quickly and don't look presentable at all, so unless you work in "hippie" office.... Will not buy again.
I just received my pair of these, and so...
I just received my pair of these, and so far I like them, but I'm worried they are a teeny bit large. How should they fit?
Whatever is comfortable for you. BC has a good exchange policy if you want to send them back for a smaller size.
http://momentumplanet.com/articles/chaco-pedshed-shoe
I wear these shoes almost every day and have had no problems. They are extremely comfortable, lightweight and stylish.
Check out this review below.
http://paddlinglife.net/article.php?id=630

"Want stylish slip-on sandal comfort off the water as well as on? Slide into a pair of Chaco ToeCoops or PedSheds, slip-ons that will see you to your post-paddle PBR and nacho plate in style."
Can anyone comment on stiffness of the...
Can anyone comment on stiffness of the sole? I have a short enough commute that I often don't bother with my cycling shoes, but some shoes definitely are not comfortable for a couple of miles on clipless pedals.
Best Answer
Have you ever worn Chaco Sandals before? Same stiffness. The midsole is a firm polyurethane, so it will be perfect for a short commute. I have worn mine for a number of coffee shop missions, on my road bike with tiny Speedplay pedals, and it works great.

Thanks.
Does the Chaco PedShed Shoe - Men's - have...
Does the Chaco PedShed Shoe - Men's - have a removable insole to accommodate orthotics?
The Chaco PedSheds do not have a removable footbed. They have the traditional Biocentric footbed, that you will find on the Z series sandals. Offers tons of Arch support...
Finally a Chaco I can wear to Work
River feet are not allowed in my work place, but now chaco has given me something I can wear at the office.

These have the same footbed at my Z2's and have a cool casual look. My wife even approved!!