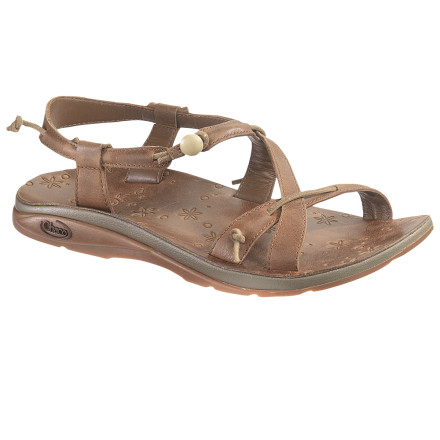 Sashay down the street while wearing the Chaco Women's Local Sandal. Supple full-grain leather and a calfskin lining make this breezy beauty feel smooth-as-silk. An AddStride midsole allows you to adjust this sandal to match the shape of your foot, and you can feel environmentally-friendly thanks to the recycled materials in the EcoTread outsole.
What do you think about this product?
Have questions about this product?
I was really disappointed in these sandals.. I was looking for a comfy, cute sandal I could be on my feet all day in. They didn't provide any support and I felt they were too big (width wise)! The adjustment straps didn't help. These are not your typical Chaco!
I just got these and they're my first pair...
I just got these and they're my first pair of Chacos... They're super cute but really don't seem to fit right, even with all the adjustable straps. The strap that goes over my toes is too tight and gave me a blister on my big toes after only about an hour of wear... But the ankle strap is WAY too loose, even when it's pulled all the way tight. My question is, will these eventually break in and be comfortable or should I send them back? If I do send them back should I try a different style of chacos, or will they all fit me the same? I was so disappointed cuz my husband loves his chacos and I wanted to too!
Oh, also, I got little rocks between my feet and the sole of the shoe just walking around the block. Is this normal for Chacos?
This sandal has a relaxed/ Casual fit around the ankle, I would expect it to be fairly loose. The blister on your big toe... That stinks.. But it is a leather strap so it will stretch, get softer, and mold to your foot.

The Local is a Casual/ town style Chaco. If you are looking for something more secure on the foot I would look at the ZX/1

http://www.backcountry.com/chaco-zx-1-unaweep-sandal-womens
As with any sandal getting rocks in under your foot will happen. If the ankle strap is looser than the z1 or z2 then im sure your foot separates more from the foot bed when you walk leaving ample room for rocks. The z1 have a tighter technical strap system because you can go hiking with them which I do I still get rocks in them but shake them a little and they clear out. Unfortunately as for the blisters. If you have been a shoe wearer mainly for your life then all chacos will usually give you blisters until your feet toughen up to them. I didnt get blisters until mile 5 of an 8 mile hike my first time wearing them though. But the comfort is nothing to overlook. I own four different pair now. ps your husband probably has the z1 unless there is a toe strap then the z2.