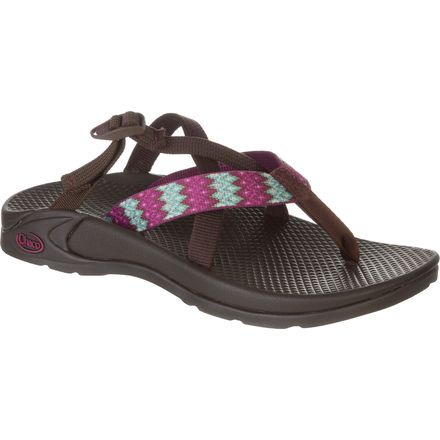 Detail Images

Videos

Community Images
Description
Free the heel and adventure will follow.
A staple of adventurous travelers who like to feel the grass between their toes, the Chaco Women's Hipthong Two Sandal has simple, rugged, and supremely supportive open-toe design. Rather than stuffing your feet inside stifling shoes, slide your feet into the stretch webbing of the Hipthong and breathe a sigh of relief. The free-heel design feels like your casual flip-flops do, but the tough Ecotread outsoles and secure Adjust'em uppers hold your foot like technical sandals would. Finally, a touch of heaven-on-earth built just for your feet.
Adjust'em uppers use single straps, threaded through the footbeds, to offer a durable and customizable fit
AddStride footbeds are gender-specific, use sculpted heel cups to keep your feet from sliding, and boast aggressive arch support to control pronation
Ecotread outsoles use low-weight materials and are comprised of 25% recycled content so you can feel earth-conscious while you tread lightly through the forest
Best sandals ever
Gender:

Female

Familiarity:

I've used it several times

Fit:

True to size
Chaco's have a great arch support, are a wonderful thickness for walking and look stylish. I used to have a tightness up the back of my heel to the point that I had trouble walking and it hurt. At that time I would buy just any old shoes as long as they were cute. My sister-in-law suggested I try Chaco's. She worked at a small shoe/boot repair shop that also sold a few brands of walking shoes. I forced myself to wear them almost every day at work and after awhile I found that the back of my heel/achilles no longer hurt. Friends now wears them due to other foot issues and even some hip and back problems.
Nice Quality and Cool Design
Familiarity:

I've used it once or twice and have initial impressions

Fit:

True to size
These are a step up from an ordinary flip flop; they'll stay on your feet and look cool too! I found them to be a little tighter than usual through the instep, but as with most chacos, if you get them wet, they can stretch a little and break in.
Could these work for a guy or girl?
Could these work for a guy or girl?
Best Answer
Unfortunately, no. These are women's sandals and the sole is gender specific. I'm sure there is a similar style for men.
Great for walking
Familiarity:

I've used it several times

Fit:

True to size
These sandals are great! They really fit my narrow feet well and are comfortable for walking around town in. I do not like them for hiking,or for water sports, purely because there is no heel strap, and therefore lack the support of a true technical sandal.
These Chaco hipthongs have not come off my feet since they arrived (well, OK, maybe to sleep at night)

The stretchy crossover strap ensures this great looking sandal stays on securely while I hike and rock hop along the river. They look great and the arch support is fantastic. Best Sandal Ever!
Chaco Hipthong Two Sandal - Women's
Relatively comfortable sandal
I purchased these sandals because I had heard such great things from my friends who wear Chacos. I was looking for a sandal with more support to replace my Reef flip flops. I read a few reviews decided this would be a good starter sandal since I was unfamiliar with Chacos. I feel like they were true to size (I wear a size 9 tennis shoe and the size 9 sandal fit good). I am really happy with the arch support I get, however, on my right foot the strap cuts into the top of my foot. I have no problem on the left and have tried adjusting the strap in several different ways without any luck. I have an average foot shape and do not over pronate/ supinate. I still like the sandal and will continue to wear it but it may not be an "all day" sandal like I was hoping for.
Run Small
Gender:

Female

Familiarity:

I returned this product before using it
Beware these run a size small.
I just got these, my first Chacos, and I...
I just got these, my first Chacos, and I wanted to know if the black "X" strap is supposed to pull through for adjustment. The description says they do, but I tried to and they don't budge. I don't want to ruin them when they feel so good, just a bit loose.
They used to do that, but I bought a pair in store yesterday and they said they had to change it due to patent infringement. If your x strap has a little stretch to it, you have the new version. They obviously haven't updated information online.
Great sandal, but they are different than before. . .
Wore my old hipthongs into the ground. Loved them. Did take a few days to learn them, if that makes sense. They are not your typical flip flops. They are sturdier, have more support, and you need to get used to walking in them. That being said, once you do get used to them you won't want to wear anything else. Bear with learning them. It is worth it. The current ones that Chaco is making are different than before. The old ones were all the same webbing, they didn't stretch and were more adjustable. The new ones have the original webbing on the wider part and now a stretchy webbing on the narrower part with the buckle. And this narrower webbing was done much tighter than before. I have a skinny foot, and they were downright tight. Not okay as I wear my chacos rather loose. I loved the new color though and was determined to keep them. SO, I took two cans, soup, veggie, whatever, and put them under the straps for a week to loosen the stretchy straps out. Voila, they are now wonderful. Do I wish Chaco had not messed with was a perfect product? Yes. Cuz it was the best sandal I have ever owned. But I have made these work, and will wear these into the ground as well.
Hipthong has changed. Don't buy them!! They don't adjust!!!
I had a pair of hipthongs that I love. I wore them for 3 years before the webbing finally gave out. So I ordered a new pair.
To my dismay, the strap that runs underneath the footbed no longer slides. It seems to be glued down. So you have a tiny bit of adjustment with the plastic slide on the outer side of the foot, but absolutely none for the other side of the foot. I can't even get them on! I'm leaving the country for 3 months and NEED these shoes for my trip. I leave in 2 weeks- not enough time to return these and get a pair that works.
I'm EXTREMELY disappointed in Chaco. I've been wearing Chaco sandals for over 8 years. Its unfortunate that their quality seems to be going downhill fast.
I will be returning these, but am more upset that now I have no shoes for my trip.
I bought these and love the way they LOOK- I wish I had had an opportunity to try them before purchasing but all the stores in my area don't carry this style. I need to return them because they will not stay on my foot no matter what I do. I have tightened them, loosened them... all to no effect other than my foot inching it's way to the back of the sandal and off as I walk. Very annoying. I have an average foot, not wide, not a super high arch either- the sandal will not stay on at all as I walk around.
*I will be getting a sandal from Chacos, after testing it out, with a back strap.
These are my 2nd pair of Chaco's (Wrapsody - no longer in stock was my first pair). The black straps (I have the blue ones) are elastic-y so there is some give/stretch and not nearly as much breaking in needed. The arch support, which is my main reason for purchasing as I have chronic Plantar Fasciitis, is unequaled in a shoe. These are awesome, can get wet, go anywhere and I always get compliments on them. A must have for me!
Thes shoes are great! They took about two weeks of wearing them every once in a while to really get them broken in. I got some awesome blisters, but after that I didn't have any problems. You can really feel these shoes re-alligning your whole body because of its arch (in a good way). They are SO comfortable once they are broken in! They are a little chunky, but that's easy to overlook considering everything else about them are great.
I wouldn't suggest using these as water shoes though. Little rocks easily get lodged between your feet and the shoes, and these are not exactly the easiest shoes to slip on and off. But on land, they are absolutely fantastic. By far, the most comfortable shoe I've ever worn.