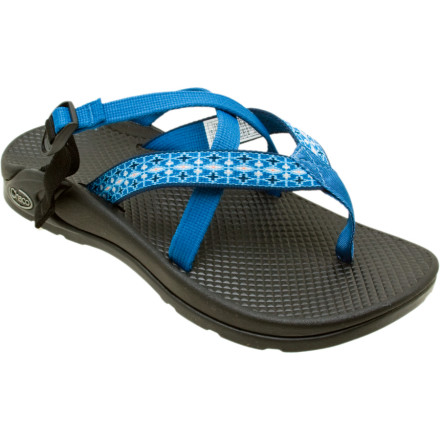 Detail Images
I don't know what I can say about these that I haven't said in my other Chaco reviews. I. Love. These. Shoes! Chaco has done it again and made a shoe that I can't wait to put on and don't want to take off. The construction of the sole provides excellent arch support without making you feel like you're being propped up. The single strap adjustment on the cross strap makes it very easy to customize the fit to your foot. The V strap is not adjustable, and fits a little bit loose. If you tighten the cross strap, you are guaranteed to keep your Hipthong on with no problem. If you have bunyons or other bone spurs or anything like that, you will really like the adjust-ability of these.
These are great for casual days around town or lounging around the pool. They take a little while to break in, but fit like a glove afterwards.
I'm on my feet most of the day and haven't...
I'm on my feet most of the day and haven't found a shoe/sandal that doesn't 'bruise' my feet in spots. Will this work?
This is THE sandal to be wearing for your situation, built-in orthotics, very cushioned, stylish and supportive. See why people foam at the mouth for these things...
i really love my pair, i got the black so it will go with everything and i really like them. They fit really well, support on the upper arch from the straps and fits like a thong at the same time, it just has more support. When i first got them i had sprained my ankle and when i wore them my ankle didn't hurt as bad, they gave me the support i needed and helped my ankle heal quicker. I love my pair and you should get one too!
Is there any reason why a man cannot wear...
Is there any reason why a man cannot wear a woman's chaco sandal? Is there any difference between the mens and womens sandals?
They are lasted for a woman's foot, but, I won't say nothing.
My boyfriend has narrower feet than average for men and he wears a pair of woman's chacos all the time. He finds them to fit real well and very comfortably.
Like them enough to buy them again and again
I have hard feet to fit -- an arch that's further forward than most, a high instep and high arch. This pair of hipthongs is my third pair of Chacos and my second pair of hips. I love the adjustability, and the arch support prevents my feet from getting tired. I also love the bolstered strappage on the hipthongs -- they allow me to hike in flip-flops, when necessary. Chacos run true-to-size, and they are durable (I'm particularly hard on shoes, and I live in hips all summer). The quality did drop a bit when Chaco moved their manufacturing from Paonia to China, but they still are awesome sandals. They can be resoled and re-webbed (which still is done in Paonia), but sale prices often nearly negates the savings.
I bought these for my girlfriend and she absolutely loves them. She owns 5 other pairs of Chaco's ranging from the flip flops to the Z1 and Z2. She wanted something that was in between the two and these are exactly what she needed. Very easy to adjust, she says they're comfortable as well. A flip flop with enough support and stability to take a small hike in, these are perfect for that.
I love my sandals. I love all Chaco sandals and have worn many varieties for many years and have been happy with them all. This is the first pair I've owned that was made in China, but so far, so good.
I own another pair of Chacos that have the back strap, these are about 100% more comfortable. I like that you can slide in and out but while they are one they fit tight to the foot so you can do just about anything in these sandals. Go up if you are a half size, I normally wear a very true 9 1/2, I ordered a 10 and they are perfect. My only issue is that I have skinny feet so once I tightened them down there is a long tail sticking off the side but that can be fixed by cutting it off and sewing the end or burning it.
I absolutely love these shoes! I live in San Francisco and walking all the hills in my $10.99 bargain basement flip flops were taking a toll on my feet, ankles, calves and knees. I had to make a change. These fit true to size, but are adjustable to your foots very own intricacies. I now realize that walking 2 miles to work in sandals does not = pain but absolute pleasure. I highly recommend to anyone.
comfort, comfort, comfort!
These are possibly the most comfortable footwear of any kind I've ever had on my feet. I usually wear size 7.5 or 8 but bought a 7 and they're just right; the eight was too long and I felt I would have been tripping alot. The hipthongs are great when you want a slip-on, flip-flop type shoe but with more 'stay-on-ability.' I've even worn them on a 'short walk' to a scenic overlook that turned out to be a steep 1.75-mile-round-trip hike and was very, very impressed with the stability and grip - both on the ground and on my foot - I would've slipped out of regular flips multiple times for sure. And, of course, the superb, contoured footbed means that my arches weren't killing me by the time I got back to the car. I now have several pairs and wear them lots! Highly recommended!
I bought these sandals because I am a huge chaco fan, and needed a pair of flipflops with some arch support. Since I got the shoes a month ago I have worn them about everyday! They are super comfy and totally stay on your feet. I live in a walking city and they give my feet the support they need! Highly recommend these sandals!!
I absolutely love my new sandals. I have worn them all around town running errands and they couldn't be more comfortable. I am not able to just slip them on and go, I do have to work with the straps to get them on so if you're looking for a quick slip on shoe you'd need to losen the straps when you take them off for a quick pull to tighten them the next time you put them on. Mine do tend to losen up after awhile and sometimes I need to readjust them, but that's fine to me, well worth it for the comfort!
Absolutely love these sandals- comfy, don't hurt my feet (I have wide, picky feet) and they are so supportive and secure. And CUTE! Many a woman have commented on how much the like the look (especially in the black). Definitely get 'em. Worth every penny. If only chaco will find a way to re-web and re-sole these too!
i wish i could wear chacos for dressing up too...
these are the most comfortable pair of shoes i own. not only do they have excellent arch support, but the straps can be loosened depending on if i want to just walk around town or take a moderate hike. they're a little stiff when you first put them on, but fiddle with the straps and they'll be the most comfortable shoes you own!!
I am a fan of Chaco's due to the arch support. I have 5 pairs including flip flops, Z-1's and some leather stylish ones. The Hipthong is my favorite. They are more stylish than Z1s and more comfortable than flip flops. They are a like a flip flop with two side straps that adjust. Instead of putting all that pressure between your toes like a flip flop, the side straps keep it secure and help pull up the back. You don't have the flip-flop sound when you walk so much. When wearing with pants, I find the sides of my pants cover the side straps and it looks like a flip flop.
I have owned several pairs of Chacos, but these are by far my favorite. I don't use them for hiking or anything, because I prefer the original Chacos with the heel strap and aggressive sole for that. I use these for casual wear that is rough enough to go for a nice walk or down to the creek. The sole is much softer and cushier (and likely won't last as long) than the hiking Chacos that have the heel strap, but this makes them much more enjoyable to wear daily. I work 9-hour days on my feet and these are the only shoes I've ever found that don't hurt my feet after a long day. The arch support is good, but not as high as the hiking sandals. This is fine for me, and I have a pretty high arch.

The straps seem to last well, but the only problem I've had is delamination of the sole. The delamination is in the middle of the sole bottom, not around the edges as you would expect. A Chaco representative told me that this usually occurs from heat exposure (leaving them in your car, etc), but I typically only wear these at work. I just sent them to Chaco and they should be resoled under warranty for free. I have worn them almost DAILY for a year before this happened. I work at a restaurant running around, so I'm sure these shoes have over 500 miles on them before this happened.

For those of you who have trouble with toe strangulation (I do to!), these shoes are your answer! They don't go around your toe, but they have aggressive enough straps to hold the shoe on your foot without a problem.
I have a really wide flat foot. TRIED THE...
I have a really wide flat foot. TRIED THE UNAWEEP AND THEY DID NOT WORK. WONDERED IF THE HIPTHONG MAY WORK BECAUSE OF THE THONG BETWEEN THE TOES. ANYONE KNOW
Write your answer here...I have wide feet and love, love, love my Hipthongs. I wear them everyday nearly all day and am on the site to order a replacement pair. I own other pairs of Chacos and none are nearly as comfortable for me.
Love my new chaco sandals. I have flat feet and really appreciate the support. Also, I wear a 7.5 usually and saw that they only come in whole sizes. I went ahead with a 7 and they fit perfect. The 8 would have been too big - width and length.
This might be a weird request, but would...
This might be a weird request, but would someone out there be willing to post a photograph of the hipthong actually on your foot? I'd love to see how it looks on a foot and not just in a picture by itself...
If you go to Chaco's website there is a video on how to tighten the straps. It shows the shoe on someones foot. Not the full 360 degree shot but it should give you an idea.

http://chacousa.com/Portal.aspx?CN=A560153D6C08&MN=B4E2526E4C0B