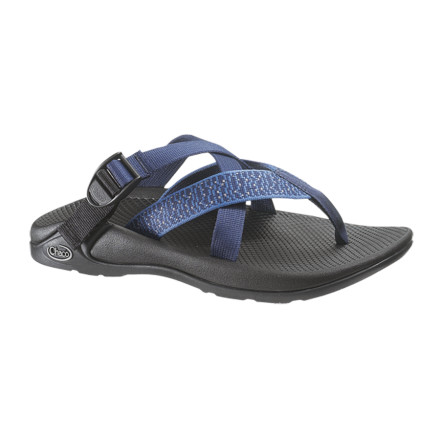 The Chaco Men's Hipthong sandal unites fixed straps in the forefoot with pull-through adjustability over the instep, making it nimble and very secure. Slip your sandals on when you leave your tent, and then tighten the strap when you wade into the lake. Chaco gave this hybrid flip-flop/performance sandal their smooth Colorado sole and a lightweight footbed with foot-cradling support. The Hipthong sandal makes a great traveling shoe or amphibious summer camping sandal.
Hipthong, freak yeah!
Gender:

Male

Familiarity:

I've put it through the wringer
Best, most comfortable Chaco sandal I have owned yet. I wear it almost everyday in the summer and I recently broke a strap on one and sent it in to Chaco and they fixed it no prob.



BTW: send chocolate with your repairs, you get them back faster.
Original Hipthongs are my go to everyday shoe. FANTASTIC!!Have not tried new style, but very leery. The reviews are not great. Heard someone filed suit against Chaco over the strap. If I had known I would have bought a lifetime supply for my wife and I.
Best all around casual shoe I have ever owned. It is a flip flop that stays on your foot. Wish they were still made in the USA, but I can't fix that.
May be the best most all around casual shoe I have ever owned. It is a flip flop that stays on your feet. Fantastic!!!
I love my hipthongs! They are perfect because you can wear them basically as flipflops but if you need them to perform like a hiking sandal, you just cinch down the straps and you're good to roll!
I love Chaco's but I was expecting a bit more with these sandals. The biggest downfall with these sandals is the fact that the thong strap between your toes is not adjustable. This is very frustrating for people with flatter or a skinnier height foot. There is just too much play causing my feet so slip inside the sandal, besides that these are an awesome sandal to just slip on and be out the door. It has the comfortable thick and durable foot bed but that also makes the sandal heavier and causes the heel to drag when worn loose.
I would have given these sandals 5 stars if the webbing was complete throughout the entire foot bed.
great for casual wear when you loosen up the top of the foot straps. ! you will get nothing but compliments when you wear these sandals ! the only down side is they are a little heave your flip flops and when you tighten the top of the foot straps you lose secureness of the flip flop strap but a great sandal
!
Chaco makes solid, comfortable footwear. But I had to return this because the lack of an ankle strap made it impossible for the sandal to stay on my foot.
The ultimate sport flip flop
I love my thongs. They are great if you don't want to use your Z1 or z2s on a daily basis. I use my z's for hiking and these for everyday. But if I ever need to go on a small hike nearby I can just strap them tight and I'm all set to go!
I owned the basic flips until my dog destroyed them and thought these would be a sweet upgrade. As flips they are fine but when I crank down the strap thing it forces the flip flop forward off the front of my foot. It feels very unstable and pretty much useless. If I did it again I'd stick with the basic flips.
i give em a 4 cus they're just..yeah..too much like flip flops..they're great, but i would say strictly for casual and minimal trails... they're my least favorite of the chaco sandals.
Beware, straps are not adjustable
My boyfriend got these sandals, and was very excited to try Chaco after only using Teva previously. The ones he got that were the correct length were too loose in the straps, and the ones with the proper strap tightness were too short for his feet. The straps are not adjustable, and they can also not be sent to Chaco for repair. I guess the take-away here is that if you have slightly narrow feet, stick with Chacos that can be adjusted either by you, or by sending them to Colorado.
The adjustable strap is a must for those of us with narrow feet. Unfortunately, even with the strap cinched to the limit it isn't quite tight enough to make wearing these a carefree experience. I have no choice but to modify (shorten) the adjustable strap. Making the other cross strap adjustable is a no brainer ... so why didn't they do that too? Surely it wouldn't have pushed the production costs that high. I'd return them because they really don't fit as they should out of the box, but no one else makes anything like them. So I will keep them and hope some slight modifications will make them work for me. Better luck to others with narrow feet!
I have a pair of Tevas in size 8 as well as couple of dozen other pairs of shoes, all in size 8. So what size should I order for these Chacos- size 8, right? Wrong! After having waited for them all week, I just got mine. A big too small and snug. Heel hangs off the back a bit. They're going back to backcountry.com. They don't have size 9 so guess I'll have to go to a local REI store.
Super comfortable. Gives great support. You can strap it down and hike anywhere in these guys. I hiked about 8 or 9 miles in Arches Ntnl Park. With no problem!
More a sport sandal than a flip-flop
This is a very versatile sandal. With the strap loose, they are pretty much like a flip-flop (but, of course, with much better support and stability). But crank the strap down, and these will stay on your feet (in or out of the water). If you are used to flip-flops (and the feeling of the 'thong' between your big and second toes) these will feel very natural. On the other hand, if you know that you are going to be doing a lot of scrambling in these (or frequently going in and out of the water) I'd go with the Chaco Zong, because they stay on better and have better lateral stability.
solid performance down under
i broke these bad boys in for about a week before i took them on a week long trip to tasmania - and lets just say the took just about everything i threw at them: rock hopping in gorges, steep mountain trails, deep sandy beaches, dodging wombat and wallaby poo and 80k bike rides through wine country. in all conditions they felt like a dream. the only spot of trouble was in the thorny depths of a wild blackberry patch, but hey, that was probably my fault for wearing open toed shoes into a patch of prickers. overall a solid well supported sandal. don't worry about the lack of a heel strap, they stick without it and it makes em a bbbbreeze to get on and off.
Wear them anywhere! In, the river, hiking. ETC....
These Chacos stay on your feet very well for the style! These are basically the ultra sick version of the Flip Chaco. Keep in mind they offer more support than the flip, but not half as much as the Z 2. I normally wear a size 10-10 and 1/2 street shoe, with Chacos I wear a size 9 and they fit great. I also have a wider foot and have had no need for wider width chacos.
These flops are one of the best I have had. Once you break them in you will prob not want to wear anything else. I have hiked in these flops in CO, SC and oh yes Alaska. I love the added straps over the top of the foot. They don't fly off mid step like so many others do and that annoying flip flop noise is completely eliminated! If you are looking for new flops you should def try these out for yourself!!! I love em!!!! couldn't ask for much more in a flop!!!
It looks like all sizes currently available are medium.