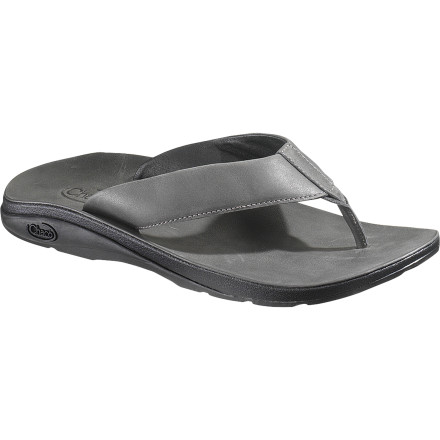 Videos
Take your toes on a luxury ride to pleasure town with a little help from the Chaco Flippin' Men's Brewhaha Eco Tread Sandal.
Durable leather strap and full-grain leather footbed stand up to abuse and feel smooth against your skin
LuvSeat X02 platform provides lasting arch support, lateral stability, and a light, comfortable feel
EcoTread recycled rubber outsole provides non-marking traction and is made from 25-percent recycled content
What do you think about this product?
Have questions about this product?
Chaco Flippin' Brewhaha Eco Tread Sandal
Nice looking flops, but..
I have many Chaco flops, most having a ribbon like fabric material between the toes. These flops have a leather piece between the toes. The ribbon toed flops (see the Chaco Flip sandle) have unmatched comfort, a high arch, and no flip flop slap when I walk. While these share the no flip flop smack noise when walking, they actually hurt between my toes. Even after a couple of weeks of occasional wear I feel some discomfort. Perhaps it's just the comfort perfection I have come to expect from my Chaco flops and others will not experience the same discomfort with these. I hope that is the case. I purchased on SAC so I will continue to wear and see if things get better. If they do, I will surely append an update to this review if possible.
Awesome Comfort - Get in touch wiht your Native American roots
I love these flips. AWESOME COMFORT. Good fit and arch support. Very comfortable - smooth material. Secure on your food.

The only "issue" is that. with any moisture, the dye will turn you into a "Blackfoot." Yeah, it freaked out my wife and kids that I had black feet. I just explained that it was my Native American roots.

Seriously, these are great flips (my second pair actually - first pairs stolen from the gym!) and I would buy them again. The dye leaching only lasts for a few wears and then fades. Deal with it.