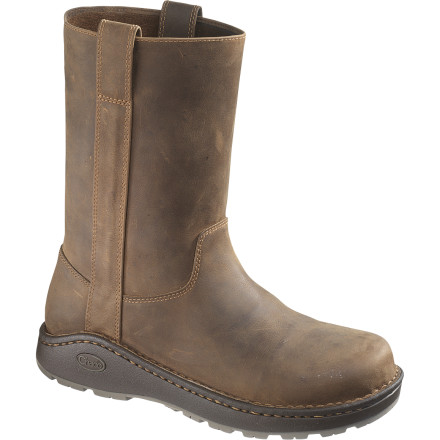 So what if your date night falls on the same night a snowstorm hits town? With the all-leather Chaco Credence Tall Boot you can still make your reservation without sacrificing an ounce of class for the five-star restaurant. The seam-taped leather provides both water-resistance and sleek sophistication for wintry nights out with VIPs or a special lady.
A Vibram Icetrek Nurl rubber outsole grips snowy steps and sidewalks after a bottle of wine
Slipping on this eleven-inch boot is easy thanks to side tabs and a smooth, unlined pigskin sockliner
The Luvseat platform adds arch support to match your foot's shape while the renowned ChaPU midsole cushions your steps if you're out all night
SIMPLE SOLID CLASSIC WELLY
I've worn Chaco sandals for years and like their solid foot/arch support. I am pleased to enjoy the same comfort in this classic wellington style boot. They remind me of my Fry boots from years ago except with all day comfort, and I suffer from plantar faciitis yet don't need special insoles in these. I like them so much I bought a second pair in Tan and look forward to wearing in cold seasons ahead.
Solid tihs kickers
Familiarity:

I've put it through the wringer
These boots are pretty truckin rad. Never worn Chacos before these and they are way comfy! It takes a touch of effort To get yo stomper in 'em but the fit is really good and true to size. And they stay on well as a result of it taking a little effort to get your foot in them. I'm also not a boot (these kind of boots anyhow) wearer so I'm not used to having to force my foot into footwear. The leather is killer, so soft yet tough. I've worn them outside at -10F and my feet definitely got cold but I was plesently surprised at how long it took. With that said they aint winter boots but they keep snow out and my feet warm enough walking up to class. All in all great boots that are like walking on clouds, pretty sure I could run in them if I didn't think I'd get blisters
NICE Boots, comfy, not waterproof
I was on the fence about which chaco boot to buy. These boots are gorgeous. Love the color and the leather. It's so soft. High quality. The boots are extremely comfortable. They are even warm for not being truly insulated and I live in NH/VT. However, they don't do well keeping even a little water out. I think they are fine for light rain, but NOT puddles if they are deeper than the sole thickness. I'm not sure what to use these for since they are boots but can't keep some basic elements out. In my opinion, if they made this boot in a waterproof but uninsulated version, it would be perfect and great for year round use. Since they are boots, for me they do need to be able to keep out some rain and small puddles from seeping into my boots so I'm returning them to get the Chaco Credence Wool waterproof version instead. I was hoping the credence tall boots would be fairly waterproof so I could use year round but decided I need waterproof instead.
Nice Boots, comfy, true to size
Not sure what the only other reviewer on this site is talking about but I ordered my boots in the same size I always wear (12) and they fit perfectly. High quality like all other chaco boots. I love the look.
These are definitely not true to size. Ordered my size and could not get either foot in the boot.