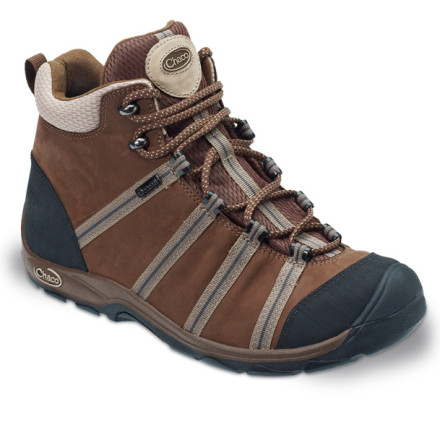 Detail Images
Great Shoes!!! I had previously had a pair of Chaco Beckwith heavy duty hiking boots. I was so pleased with those that I purchased the Canyonlands and they fit like a glove. The most comfortable shoes out of the box I have ever had. I do have narrow feet(B-med width) but my Chaco boots are the best!
GREAT, but VERY tight toe box - SIZE UP
I have not taken these out on a trek yet but given the sizing issue I wanted to drop a note right away. These shoes feel GREAT as far as the foot bed, like wearing well worn slippers, however, the toe box is VERY TIGHT. With an E width foot I do run into this from time to time but the toe box is always too tight laterally. This toe box is too tight vertically (very short height). I normally wear a 9.5/10 and the toe box on the 10 was so tight vertically it felt like someone was standing on the toe of my shoe. This model also runs short as far as the length as well which may be why the toe box feels so cramped. I returned the 10 and went to an 11 (EU 45) and it's fits a lot better but that's a full size larger for me, and I've never had to wear a shoe larger than 10.5 EVER for any type of shoe or sandal! Even with the good fit when I put this Chaco size EU 45 next to my previous pair of Merrell's (Eu 45) the entire shoe is at least full 1/2 inch shorter and my toe is signifianctly closer to the toe of the shoe. DEFINITELY SIZE UP! They are a great feeling shoe once you get the size right! ...... I SIZED UP A FULL SIZE AND THE SHOE FITS PERFECT. I'VE WENT ON NUMEROUS HIKES AND EVEN WENT TO A MUSIC FESTIVAL WHERE I WAS JUST STANDING AROUND FOR 6 HOURS AND THESE SHOES KEPT MY DOGS FEELING GREAT!!! I BOUGHT A SECOND PAIR!!!
don't get me wrong it's a great boot
the boot is awesome for long hikes in the desert the only thing i have against them is the odd sizing and after using them a lot the pretty much became huge. There was a looot of room in ma feet so i got lots of blisters which was the time to return them. Great boot for the prize just not really my cup of tea. Nevertheless, i had good times with them
I wish I could find these boots in a size larger than 12. Some people might think these shoes are not worth their price but I look at it as if the shoes came with a 30+ dollar insole. The insole the comes with these is quite amazing, very supportive to say the least. It has a thin sole which gives you more of a feel as to what you are stepping on and makes you feel somewhat lower (planted?) to the ground. I like that a lot about this boot.
Sadly I had to return them because there just wasn't enough room for my toes :(
Good shoe, tough to clean
Simply put, this boot is lightweight, more breathable than comparable XCR boots, and has a roomy toe box.

The water-proofing is mostly good, although water can creep around the tongue into the boot is partially submerged.

The sole is grippy on wet surfaces but doesn't help you on ice. Crap tends to cling to the sole, which makes it difficult to clean. If you step in gum-- forget it. The soles clack on hard surfaces.

A fair bit of beer has been spilled on my pair. Unfortunately, the spilled beer has left a stain on the leather. Make sure you clean these when you come home from the pub.
LAAAAAAAAAAAVVVVEEEE 'um!
I live in a climate where the winds take us down to -45 F. These boots were roasty toasty. I can slap them into my snowshoes on warm days and be fine. or wear them casually on really cold days and laugh at the wind. Great shoe, Great price. Only what I have come to expect from Chaco and SAC
Do these shoes cover your ankles?
Do these shoes cover your ankles?
I'm in the market for a new pair of boots...
I'm in the market for a new pair of boots for a 5-day backpacking trip in the grand canyon. Are these boots sturdy enough for the terrain/weight?
How much do these shoes weigh? One reviewer...
How much do these shoes weigh? One reviewer said 15oz but is that per shoe or pair? Any info would be great!
, ☃bcs_badge_alumni_label☃
Go for it....I hate buying shoes mail order, but picked a winner this time. Size yourself up half a size for extra comfort if you have the wide Fred Flintstone foot. I may wear them to my wedding next week. They are that comfortable, besides couples should wear hiking boots to their wedding as a sybolic gesture of the journey they are about to take.
Mountain Norm
For their purpose, they are an excellent pair of boots. Even though they are medium width, the room in the toe box is a pleasure for my wide feet. Haven't worn them a lot, but will get the chance during the holidays. That will tell the tale.
Comfortable, supportive, and lightweight.
At 15oz, these are some the lightest hiking boots you will find that are leather and waterproof. They also have excellent arch support, I have never worn a any shoe that has had good arch support until I wore these. If you are like me and usually get arch pains after hiking for a long time, then you will appreciate these boots. These boots are also wider in the forefoot, like all Chacos, which is nice because you can layer warm socks in the winter when the temperature drops and not pinch your toes. I found that these boots fit true to size, I normally wear a 9-9.5 and either size fit me great, but I went with the 9.5 so I could layer socks. Chaco sandals are a whole size too big though, I have the Z2 sandals in a size 8.